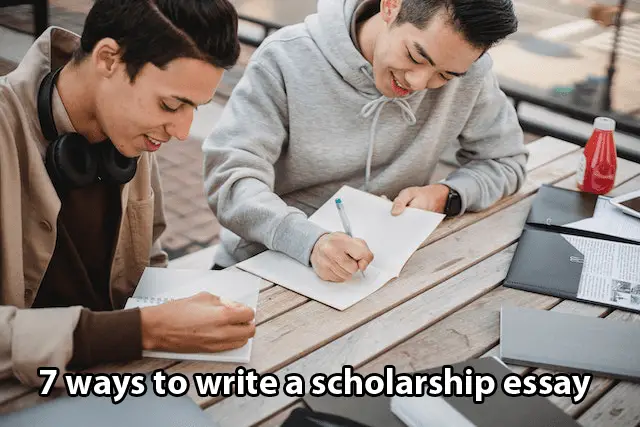 Understanding the scholarship essay prompt
Scholarship essay prompts can often be complex and require careful analysis. It is crucial to thoroughly understand the prompt before beginning your essay. Take the time to read it multiple times, highlighting key words and phrases that indicate what the scholarship committee is looking for. This will help you tailor your response and ensure that you address all aspects of the prompt.
Researching the scholarship organization and its values is another important step in understanding the essay prompt. By familiarizing yourself with the organization's mission, goals, and values, you can align your essay with their objectives. This demonstrates your genuine interest in their cause and increases your chances of standing out among other applicants.
Once you have a clear understanding of the prompt and have conducted thorough research on the scholarship organization, it's time to brainstorm ideas for your essay. Consider experiences or achievements that highlight relevant skills or qualities mentioned in the prompt keywords such as leadership, perseverance, or community involvement. Outlining these ideas will help organize your thoughts and ensure a coherent structure for your essay.
By following these steps – understanding the prompt, researching the organization's values, and brainstorming ideas – you are well on your way to crafting a strong scholarship essay that effectively addresses all requirements while showcasing who you are as an individual deserving of this opportunity.
Researching the scholarship organization and its values
Scholarship applications often require applicants to research the organization offering the scholarship and understand its values. This step is crucial in crafting an essay that aligns with the organization's mission and goals. By researching the scholarship organization, applicants can tailor their essays to showcase how they embody these values.
One important aspect of researching a scholarship organization is understanding its mission statement. The mission statement outlines the purpose and goals of the organization, providing insight into what qualities or achievements they value in potential recipients. For example, if a scholarship's mission is to support students who are dedicated to community service, an applicant may highlight their volunteer work and commitment to making a positive impact in their essay.
Additionally, it is essential for applicants to familiarize themselves with any specific criteria or requirements set by the scholarship organization. These could include academic achievements, financial need, leadership skills, or involvement in certain extracurricular activities. By knowing these criteria beforehand, applicants can emphasize relevant experiences or accomplishments that demonstrate their eligibility for the scholarship.
Furthermore, researching the values upheld by the scholarship organization allows applicants to ensure that their personal beliefs align with those of the institution. This alignment not only strengthens an applicant's chances but also showcases genuine interest and passion for becoming part of that particular community. It gives them an opportunity to express how receiving this scholarship would enable them to further contribute towards shared goals.
By conducting thorough research on a scholarship organization and understanding its values, applicants can create compelling essays tailored specifically for each opportunity. This demonstrates sincerity and dedication while increasing their chances of being selected as recipients.
Brainstorming and outlining your ideas
Brainstorming and outlining your ideas is a crucial step in the scholarship essay writing process. This stage allows you to gather your thoughts, organize your information, and create a clear structure for your essay.
During brainstorming, take some time to reflect on your experiences, achievements, and goals. Consider what sets you apart from other applicants and how these unique qualities align with the scholarship organization's values. Think about specific examples or anecdotes that demonstrate these qualities.
Once you have generated ideas through brainstorming, it is important to outline your essay before diving into the writing process. An outline helps ensure that all of your main points are included and presented in a logical order. Start by identifying the key themes or topics that you want to address in each paragraph of your essay.
Next, determine the supporting details or evidence that will strengthen each point. These could include personal stories, academic accomplishments, volunteer work, or relevant coursework. By organizing this information in an outline format, you can easily see how each idea connects to one another and ensures a cohesive flow throughout your essay.
Remember that brainstorming and outlining are iterative processes; don't be afraid to revise and refine as needed until you have a solid foundation for your scholarship essay. Taking the time upfront to carefully consider your ideas will ultimately lead to a more compelling final draft.
Crafting a compelling introduction
Crafting a compelling introduction is crucial when it comes to writing a scholarship essay. It serves as the gateway for capturing the reader's attention and setting the tone for the rest of your essay. To create an impactful introduction, consider using keywords such as "hook," "engaging," and "captivating."
Begin your introduction with a hook that grabs the reader's attention right from the start. This could be a thought-provoking question, an intriguing anecdote, or a surprising statistic related to your field of study or personal experiences. By starting off strong, you can immediately captivate the reader and make them want to continue reading.
Next, provide some background information about yourself or your topic that helps contextualize why you are applying for this specific scholarship. Highlight any relevant achievements or experiences that demonstrate your passion and commitment in relation to what the scholarship organization values.
Finally, set up clear expectations for what will be discussed in the body paragraphs of your essay without explicitly stating it as a conclusion paragraph. Instead of using phrases like "In summary" or "Lastly," transition smoothly into showcasing how these ideas will be expanded upon throughout your essay.
By following these guidelines and incorporating engaging language into crafting your introduction, you can ensure that readers are hooked from beginning to end while providing them with an enticing preview of what lies ahead in your scholarship essay.
Showcasing your achievements and experiences
Highlighting your accomplishments and experiences is an essential aspect of a scholarship essay. This allows you to demonstrate the skills, talents, and qualities that make you a deserving candidate. Start by discussing specific achievements related to academics, extracurricular activities, or leadership roles. For example, mention any awards or honors you have received for your academic performance or highlight your involvement in clubs or organizations where you took on leadership positions.
Additionally, share relevant experiences that have shaped your character and influenced your personal growth. Discuss any volunteer work, community service projects, or internships that allowed you to make a positive impact on others while gaining valuable insights and skills. Emphasize how these experiences have helped develop qualities such as empathy, resilience, teamwork, and problem-solving abilities.
Lastly (without using transitional phrases), connect your achievements and experiences to the goals of the scholarship organization. Explain how they align with their values and mission statement. Showcase how these accomplishments demonstrate your commitment to making a difference in society or pursuing a particular field of study. By effectively showcasing both tangible achievements and meaningful experiences within this section of your essay (without explicitly stating it), you can paint a compelling picture of who you are as an individual deserving of this scholarship opportunity.
Demonstrating your passion and future goals
Demonstrating your passion and future goals is a crucial aspect of writing a scholarship essay. By showcasing your enthusiasm for the subject matter or field of study, you can convey to the scholarship committee that you are truly dedicated and committed. For example, if you are applying for a scholarship in environmental science, discuss specific experiences or projects that have ignited your passion for sustainability and conservation. Highlighting these moments will help demonstrate your genuine interest and dedication.
In addition to demonstrating your passion, it is important to articulate your future goals in the scholarship essay. This allows the committee to understand how receiving this scholarship aligns with your long-term aspirations. Clearly communicate what you hope to achieve with further education or training in the chosen field. Whether it's conducting groundbreaking research, making a positive impact on society, or pursuing a career that helps others, be sure to express how this opportunity will contribute towards achieving those goals.
By effectively conveying both your passion and future goals in the scholarship essay, you can leave a lasting impression on the reader. Showcasing authenticity and ambition through personal anecdotes or examples reinforces why you are deserving of financial support from the organization offering the scholarship. Remember to tie everything back to their values and mission statement when discussing how their support would enable you to make significant contributions in line with their objectives.
Structuring your essay effectively
To structure your essay effectively, it is crucial to start with a clear and concise thesis statement. This statement should provide an overview of the main argument or theme that you will be discussing throughout your essay. By clearly stating your thesis, you will give your readers a roadmap for what to expect in the following paragraphs.
Next, organize your ideas into logical and coherent paragraphs. Each paragraph should focus on one main idea or point that supports your thesis. Begin each paragraph with a topic sentence that introduces the main idea, followed by supporting evidence and examples. Use transitional words and phrases such as "furthermore," "in addition," or "however" to smoothly connect ideas between paragraphs.
In addition to organizing individual paragraphs, consider the overall structure of your essay. A common approach is to use the traditional three-part essay structure: introduction, body, and conclusion. The introduction should grab the reader's attention and present the thesis statement. The body paragraphs should develop and support each aspect of the thesis through evidence and examples. Finally, avoid introducing new information in the conclusion but instead summarize key points from earlier sections while leaving a lasting impression on readers.
Consider using headings or subheadings within each section of your essay to further enhance its organization and clarity for readers. These headings can help guide both you as a writer and also assist readers in navigating through different sections of your essay more easily.
Lastly, remember to maintain consistency in tone throughout your essay. Whether formal or informal, academic writing often requires a professional tone devoid of overly emotional language or colloquial expressions unless specifically appropriate for conveying personal experiences or anecdotes related to scholarship requirements.
By structuring your essay effectively using these strategies – starting with a strong thesis statement; organizing ideas into coherent paragraphs; utilizing clear introductions, bodies, and conclusions; incorporating headings when necessary; maintaining consistent tone – you will create an engaging piece that showcases both your writing skills and ability to present a well-structured argument.
Utilizing strong evidence and examples
Demonstrating the relevance of strong evidence and examples is crucial in a scholarship essay. By providing concrete proof and real-life experiences, you can effectively support your claims and make your argument more persuasive. For instance, if you are applying for a scholarship related to environmental conservation, you could share specific instances where you actively participated in clean-up campaigns or initiated sustainable practices within your community. These tangible examples demonstrate your commitment to the cause and provide solid evidence of your dedication.
Additionally, incorporating strong evidence and examples helps to showcase your unique qualifications for the scholarship. Rather than simply stating that you have leadership skills, it is more impactful to present a specific scenario where you successfully led a team or organized an event. This not only highlights your abilities but also allows the selection committee to visualize how you can contribute positively to their organization or cause.
Moreover, utilizing strong evidence and examples adds depth and credibility to your essay. It shows that you have taken the time to research and gather relevant information about the topic at hand. Whether it's citing statistics from reputable sources or sharing personal anecdotes that highlight key points, these evidences validate the arguments presented in your essay. By presenting well-supported ideas, you establish yourself as a knowledgeable applicant who has thoroughly considered their goals and aspirations.
Remember that using strong evidence and examples throughout your essay will strengthen its overall impact on the reader. By providing concrete proof of achievements, experiences, or knowledge related to the scholarship's focus area, you enhance both clarity and persuasiveness while showcasing why exactly YOU are deserving of this opportunity!
Editing and revising for clarity and coherence
Editing and revising for clarity and coherence is a crucial step in the scholarship essay writing process. After completing your initial draft, it is important to review your essay with a critical eye to ensure that your ideas are presented clearly and logically.
One aspect of editing for clarity involves reviewing your sentence structure and word choice. Make sure that each sentence is concise and easy to understand. Avoid using overly complex language or jargon that may confuse the reader. Instead, opt for clear and straightforward language that effectively conveys your message.
In addition to focusing on individual sentences, it is also important to consider the overall organization of your essay. Ensure that each paragraph flows smoothly into the next, with logical transitions between ideas. Use topic sentences at the beginning of each paragraph to clearly introduce its main point.
Another key element of editing for coherence is ensuring consistency throughout your essay. Check that you maintain a consistent tone throughout, whether it be formal or informal, depending on the requirements of the scholarship organization. Additionally, make sure that all examples and evidence used support your central thesis statement and contribute to a cohesive argument.
By carefully editing and revising for clarity and coherence, you can strengthen the impact of your scholarship essay by presenting an organized, well-structured piece of writing that effectively communicates your ideas to the reader.
Ensuring a polished and error-free final draft
When it comes to ensuring a polished and error-free final draft of your scholarship essay, attention to detail is key. One important aspect to consider is grammar and punctuation. Make sure to proofread your essay thoroughly for any spelling or grammatical errors. Additionally, pay close attention to sentence structure and clarity.
Another crucial element in refining your essay is coherence and flow. Ensure that each paragraph connects smoothly with the next, using transitional phrases or words where necessary. This will help guide the reader through your ideas seamlessly.
Lastly, take the time to review the overall structure of your essay. Is there a logical progression of ideas? Are all relevant points addressed? Consider seeking feedback from others who can provide you with fresh perspectives on how well your arguments are presented.
By paying careful attention to these details, you can ensure that your scholarship essay is not only error-free but also presents a clear and compelling case for why you deserve the scholarship opportunity.