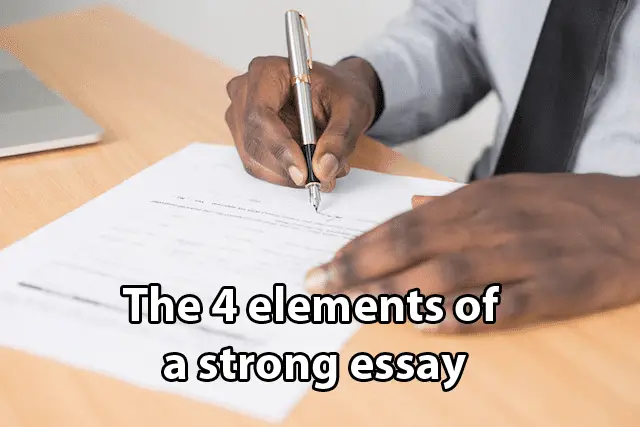 The Importance of Structure in Essay Writing
Effective essay writing requires a solid and clear structure. A well-structured essay not only helps the writer to organize their thoughts but also aids the reader in understanding the central argument. Without a proper structure, an essay can appear haphazard and confusing. Therefore, it is crucial to pay attention to the organization of your essay.
Firstly, an essay should have a clear introduction that provides background information and presents a compelling thesis statement. This acts as a roadmap for the rest of the essay and guides the reader through your arguments. Additionally, each paragraph should focus on a single point or idea and be supported by relevant evidence and examples. This helps to establish coherence and ensures that your arguments are logical and persuasive. By following a structured approach, you can enhance the overall clarity and impact of your essay, making it easier for readers to follow your line of reasoning. Additionally, a well-structured essay demonstrates your ability to think critically and present ideas coherently, which are essential skills in both academic and professional writing contexts.
Crafting a Compelling Thesis Statement
A thesis statement is the backbone of any well-written essay, as it sets the tone and direction for the entire piece. It is a concise, clear, and arguable statement that presents the main argument or central point that the writer will be discussing and supporting throughout the essay. Crafting a compelling thesis statement requires careful consideration of the topic at hand and a deep understanding of the intended message.
When crafting a thesis statement, it is crucial to be specific and focused. Avoid vague language or broad statements that may confuse or mislead your readers. Instead, use keywords that are relevant to the topic and clearly communicate the main idea of your essay. By doing so, you will provide your audience with a clear understanding of what to expect and why your argument is important.
In addition to being specific, a compelling thesis statement should also be arguable. Avoid stating facts or obvious statements that do not require further discussion or analysis. Instead, strive to present a claim or position that can be supported with evidence and reasoning. This will engage your readers and encourage them to delve deeper into your essay to explore your argument further. By crafting a compelling thesis statement, you lay the foundation for a strong and persuasive essay that will captivate your readers' attention.
Developing a Clear and Coherent Argument
Developing a clear and coherent argument is essential in essay writing. Without a strong argument, your essay may seem disjointed and confusing to readers. To avoid this, it is important to plan and structure your argument in a logical and organized manner.
First and foremost, it is crucial to have a well-defined thesis statement that encapsulates the main idea or argument of your essay. This thesis statement should be clear and concise, serving as a roadmap to guide your reader through your argument. Additionally, it is important to ensure that your supporting points and evidence align with your thesis statement, providing a strong foundation for your argument.
Moreover, the use of effective transitions within your essay can further enhance the clarity and cohesiveness of your argument. Transitions help to connect ideas and thoughts, making it easier for readers to follow your line of reasoning. By utilizing words and phrases such as "furthermore," "in addition," or "on the other hand," you can create a smooth flow within your essay, allowing your argument to unfold seamlessly.
By following these guidelines and paying attention to the structure and coherence of your argument, you can effectively communicate your ideas to readers and make a compelling case for your point of view. Developing a clear and coherent argument not only helps you convey your thoughts effectively, but it also demonstrates critical thinking and analysis skills, showcasing your ability to engage readers and persuade them of your perspective.
Utilizing Effective Evidence and Examples
Utilizing effective evidence and examples is crucial for strengthening the arguments presented in an essay. By incorporating relevant and persuasive evidence, writers can provide support for their claims and enhance the credibility of their ideas. Examples serve as concrete illustrations that bring abstract concepts to life, making them more relatable and convincing to the reader.
When selecting evidence, it is important to consider its quality and relevance. Strong evidence is often derived from reputable sources such as scholarly articles, books, or expert opinions. Statistics, data, and case studies are particularly effective in providing concrete evidence that can be analyzed and interpreted. Examples, on the other hand, can come from a variety of sources including personal experiences, historical events, or literary works. By carefully choosing evidence and examples that align with the main ideas and thesis statement of the essay, writers can effectively support their arguments and engage their readers in a meaningful way. In order to maintain a strong and balanced argument, it is crucial to present evidence from multiple perspectives and address counterarguments that may arise. Overall, utilizing effective evidence and examples ensures that the essay is well-supported and substantiated, leading to a more convincing and persuasive piece of writing.
Mastering the Art of Critical Analysis
When it comes to writing a successful essay, mastering the art of critical analysis is crucial. Critical analysis involves closely examining a text or an idea and providing a thoughtful evaluation of its strengths and weaknesses. This process allows you to delve deeper into the subject matter and develop a more comprehensive understanding of the topic at hand. By applying critical thinking skills, you are able to critically analyze the evidence, identify any biases, assess the credibility of sources, and present a well-rounded argument.
One important aspect of mastering the art of critical analysis is learning how to effectively evaluate the evidence and examples used to support an argument. It is essential to consider the relevance, reliability, and validity of the evidence presented. This involves asking questions such as: Is the evidence based on reliable research or credible sources? Does the evidence adequately support the author's claims? Are there any potential biases or logical fallacies present? By critically analyzing the evidence, you can ensure that your own arguments are well-supported and persuasive.
Enhancing Clarity and Coherence Through Transitions
One of the key elements in writing a cohesive and well-structured essay is the use of effective transitions. Transitions not only serve as bridges between ideas, but they also enhance clarity and coherence within your writing. By seamlessly connecting one paragraph to the next, transitions guide the reader through your essay, making it easier to follow your line of thought.
One way to achieve this is by using transitional words and phrases, such as "however," "in addition," and "on the other hand." These words act as signposts, indicating shifts in ideas or providing connections between different sections of your essay. For example, when introducing a contrasting viewpoint, you might use the transition word "however" to alert the reader that your argument is about to take a different direction. Similarly, transitions like "in addition" or "furthermore" help to emphasize supporting evidence or illustrate a point with additional examples. Overall, the strategic use of transitions ensures that your essay flows smoothly and logically, enhancing the overall clarity and coherence of your writing.
Achieving a Consistent and Appropriate Tone
One essential aspect of effective essay writing is achieving a consistent and appropriate tone. The tone of your essay sets the overall mood and atmosphere, influencing how readers perceive your message. To establish a consistent tone, it is important to consider the subject matter and purpose of your essay. A default tone, which is neutral and objective, is often suitable for academic writing, as it allows you to present information and arguments in a clear and unbiased manner. By using a default tone, you can create a professional and scholarly tone that is appropriate for academic essays.
In order to maintain a default tone, it is crucial to use language that is appropriate for the context of your essay. Avoid slang, colloquialisms, or overly casual expressions, as these can undermine the credibility and effectiveness of your writing. Instead, opt for more formal and academic vocabulary, ensuring that it accurately conveys your ideas without being unnecessarily complex. Additionally, be mindful of the level of formality required by the specific discipline or field you are writing in. While it is important to strike a balance between being too informal and overly technical, using the appropriate level of formality will help you achieve a consistent and appropriate tone in your essay.
Incorporating Proper Grammar and Syntax
In any form of writing, incorporating proper grammar and syntax is crucial. These elements play a significant role in ensuring clarity and communication between the writer and the reader. By adhering to grammatical rules, writers can convey their ideas effectively and avoid any confusion or misinterpretation.
Grammar encompasses various aspects, such as sentence structure, verb tenses, punctuation, and subject-verb agreement. Having a solid understanding of these elements allows writers to construct sentences that are grammatically correct and coherent. Proper syntax, on the other hand, refers to the arrangement of words and phrases in a sentence or paragraph. A well-structured sentence not only enhances readability but also aids in conveying the intended meaning accurately.
While mastering grammar and syntax may seem daunting, it is a skill that can be developed with practice and dedication. Writers must pay attention to details, such as subject-verb agreement, verb tense consistency, and proper use of punctuation marks. By doing so, they can ensure that their ideas are expressed clearly and concisely. Additionally, using varied sentence structures and sentence lengths can add depth and flow to the writing. Through a consistent and appropriate application of grammar and syntax, writers can elevate the quality of their work and engage their readers effectively.
Polishing Your Essay Through Revision and Editing
Polishing your essay through revision and editing is an essential step in the writing process. After completing a draft, it is crucial to review your work carefully to identify any errors or areas that could be improved. One key aspect to focus on during this stage is grammar and syntax. Ensuring that your sentences are structured correctly, with proper subject-verb agreement and coherent sentence flow, can greatly enhance the clarity and readability of your essay. Additionally, paying attention to word choice and using a variety of sentence structures can help maintain the reader's interest and prevent monotony in your writing.
Strengthening Your Essay with Strong Vocabulary and Sentence Variety
When writing an essay, the usage of strong vocabulary and sentence variety can greatly enhance its impact. A wide-ranging vocabulary allows you to express ideas with precision and depth, making your arguments more compelling and persuasive. By selecting the right words to convey your message, you can engage your readers and leave a lasting impression. Additionally, sentence variety adds aesthetic appeal to your essay, preventing monotony and keeping your readers engaged.
Incorporating strong vocabulary begins with expanding your word repertoire and using synonyms to avoid repetitive language. By utilizing a thesaurus or dictionary, you can discover alternative words that better suit the context or tone of your essay. This richness in vocabulary not only showcases your command of language, but also allows for a more nuanced expression of your ideas. Furthermore, varied sentence construction keeps your essay dynamic and engaging. Experimenting with different sentence lengths, structures, and types can evoke different emotions, convey emphasis, or create a sense of rhythm within your writing. This stylistic variation not only maintains your reader's interest, but also showcases your ability to craft well-crafted and polished prose.