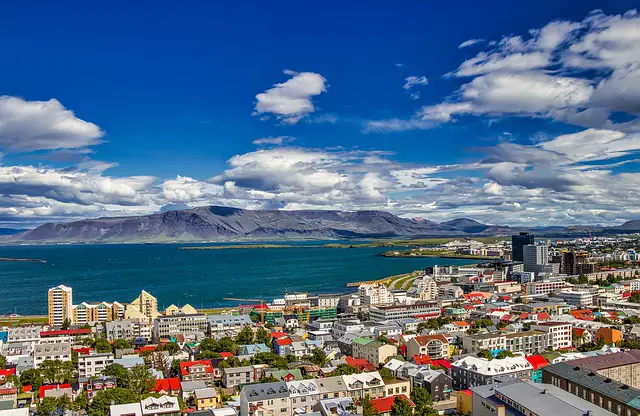 How can international students apply for Icelandic scholarships that are also considered competitive? What countries can apply for these scholarships? What scholarships are available for undergraduate and graduate students?
There are a small handful of universities located in Iceland, three are private and the other are public research instituitions. However, the number one largest is the University of Iceland, where another university follows in a close second largest Reykjavik University. Both of these are located in the capital Reykjavik. Followed by the University of Akureyri in the northern city of Akureyri. 
International students make up a small total fraction of the population btu that is steadily growing each academic year. of all students in Iceland, and universities in Iceland are generally keen to attract more international and exchange students. The larger universities offer a huge inventory of programs and courses that are taught fully or partially in English, and there are good support systems in place for foreign students choosing to study in Iceland. These support systems involve Icelandic language classes if a student wishes to attend.
Education in Iceland is a four-level system.
While Preschool is a univiersal first level of education arould the globe. This is for young kids who until reach the age of six years of age, will go on to the next level of education.
The next educaiton level for students aged 6 years to 16 years of age will be located within the Compulsory education. Compulsory education is free and mandatory for all children who live in Iceland.
Next, when the 16 year old students graduate from the Compulsory level, they will go on to the Upper secondary education. This next education level is available to anyone who has completed compulsory education, and is mostly compromised of students 16 to 20 years of age.
The final educational fourth tier is education at a university, otherwise known as higher education. To apply for university, a student must first have completed upper secondary education. For the most part, universities in Iceland are required to accept all students with an upper secondary degree. Public universities in Iceland are tuition-free, yes free! The only costs a student will come in contact with are associated with higher education registration fees. Registration fees are an annual one time payment.
During the early 1910s era there was really only the University of Iceland that was available for international students to attend, that was solely based in Iceland. In recent years, however, more universities have opened across the country, widening the range of choices available for all students (students espeically from South Africa) to come and become involved with the higher education that is available. In the late 1990's Iceland legislatsion did pass a specific idenifiable requirement that universities needed to have listed, which includes a definition of the term haskoli (to include universities that do not carry out research). Now students can expect to discover that there is a separate legislation in place for each public institution. This allows the public universities to define more of their role in research and general organization, when it comes to private and public universities both receive funding from the state.
Most, if not every undergraduate that wishes to attend and earn admission to an Icelandic university will need to have access or pass a matriculation exam. However, those with sufficient work experience may be admitted in some cases. All vocational programs will not require as strict exam requirements and they only expect that the student applying as a form of work or hands-on experience when registering.
Finance
The only fee a student will need to pay annually, based on the in state-run institutions is a registeration fee. Private institutions have complete different charging fees which may include boarding, daily food, or a type if tuition that is not covered by any in-state registration laws.
All students are eligible for a portion of financial support from the Icelandic Student Loan Fund. Which is available for both domestic and international students who wish to live in Iceland as they complete their higher education.
International Students
International students will need to be guided with any university outline that is posted to the university website. This way students wil need to decide if they wish to attend or intend on going stays in Iceland for a short course or long program. This means students will need to be eligible to stay for up to ninety days without a visa if they're from a visa-exempt country. This means the students can stay in Iceland with just their standard issued native country's passport. Although if a student decided to stay for a longer period of time, then they'll definitely need a visa. To get an Icelandic student visa, every international student needs this following list: 
Student native country passport.
Two passport-sized photos.
Proof of fee payment, a receipt. The visa costs $50.
Completed application form.
Proof of admission to the student's entered study program.
Student must show that they have no criminal offense on their record.
Proof of health insurance that covers up to US$16,000.
Proof of financial self-sufficiency through bank statements.
Iceland has a different set up when it comes to graduation levels, we will discuss what they are below:
First Tier – this is the undergraduate level. Bachelor's degrees take three or four years to complete. Some subjects, like medicine or engineering, take the full four years.
Second Tier – this is the postgraduate level. Master's degrees take one to two years to complete. Some part-time courses can take three years to complete. 
Third Tier – this is the doctoral level. Most PhDs take three to five years to complete. It depends on what you're studying and whether or not you teach whilst researching. 
What do international students need to worry about most?
International students will need to learn to budget when it comes to housing and living costs. Iceland is known for being on the more expensive side when it comes to monthly rent or weekly grocery shopping. There are available tables and estimations available on the Study in Iceland website for students who are interested in seeing what the typical amount per month, may add up to.
As of 2020 traditional rent in Iceland was $1,650 USD which is even high for United States standards, but the hidden quality or hidden gem is that international students should be applying for scholarships that can cover excess costs. While multiple Icelandic scholarships never mention the cover of living costs, there are hidden elements within those scholarships that work to slash prices. And that 25 – 70 % of official costs can greatly accommodate to lowering living expenses.
First, let's look at the universities that are open to international students in Iceland:
University of Iceland
Reykjavik University
University of Akureyri
Iceland University of the Arts
Bifrost University
Agricultural University of Iceland
Holar University College
Iceland College of Education
College of Navigation in Reykjavik
The School for Renewable Energy Science
Let's walk through the universities and what type of international graduates they are looking for, while academic excellence is always a top priority with any abroad university, there are other factors that come into play. Sometimes, students that come from low-income backgrounds, engineering backgrounds, or language studies would be considered top priorities as well.
The School for Renewable Energy Science
The School for Renewable Energy Science is a two-year graduate private institution. This is a non-profit international graduate school located in the city of Akureyri. Akureyri is located in northern Iceland and shares its facilities with the University that shares the cities local name.
The scholarships availabe at The School of Renewable Energy Science are:
The Watanabe Trust Fund at the University of Iceland Scholarship – only accepts Japanese students
Scholarships in the United States – The Leifur Eiriksson Foundation
Scholarships for new students at the University of Iceland
Scholarship and research grants for blind and visually impaired students
Gates Cambridge Scholarship for International Students
University of Iceland
The University of Iceland is a public research institute that also happens to be the largest college in the country. The majors available for students to study in are: Anthropology, Archaeology, Applied Studies in German in Tourism and Communication, Applied Inter-American Studies, Computational Engineering, Dentistry, Environment and Natural Resources, Food Science, Folk Lore, French Studies, Gender Studies, Geology, German, International Affairs, Japanese Language and Culture, Law, Literature, Culture and Media, Midwifery, Museum Studies, Medical, Nursing, Physics, Political Science, Sociology, Spanish, Software Engineering, and Tourism Studies.
The University of Iceland Research Scholarship Fund
University of Iceland Equipment Purchasing Scholarship Fund: Any international student who wishes to teach at the university but does not have the funds to pay off equipment fees for classrooms.
The Doctoral Grants of The University of Iceland Research Fund: This is for all international students (no domestic students may apply) but this is for a two-three year grant propsoal. The grant can easily be awarded to around $100,000 USD per year.
The Eimskip University Scholarship Fund: Very similar to The University of Iceland Post-Doc Grants.
The University of Iceland Post-Doc Grants: this is a specific international scholarshpi that covers all tuition for 7 years, so students can reach their Ph.D. degree status. This grant extends and renews for 7 years.
University of Iceland, International Research Fund – Travel Grants: The total amount in 2021 was 100.000 ISK, however, this is talk that this may be tripled to 300.00 ISK for chosen recepients.
Reykjavik University
A lot of international students do not know that Reykjavik University is a private institution with nearly 4,000 – 5,000 of a peer student population at all academic times. The degrees available at this university include: Innovation Management, Marketing, Tourism and Hospitality Management, Corporate Finance, Accounting and Auditing, Applied Behaviour Analysis, Clinical Psychology, Exercise Science and Coaching, Sports Health Education, Artificial Intelligence and Language Technology, Data Science, Law, Financial Engineering, Mechanical Engineering, Electric Power Management, and Sustainable Energy Engineering.
Sustainable Future Scholarships: This scholarship is for international graduates who are looking to have their tuition fees cut in half. That means that only international students who attend the Iceland School of Energy can apply for the Sustainable Future Scholarship. The other scholarships connected to this are the Women in Energy Scholarship, Electric Power Innovation Scholarship, and The GREEN Program Alumni Scholarship.
Future Arctic Energy Scholarships:
Aga Khan Scholarship: For all international students who are citizens from Bangladesh, India, Pakistan, Afghanistan, Tajikistan, Kyrgyzstan, Syria, Egypt, Kenya, Tanzania, Uganda, Madagascar and Mozambique.
Global Sustainable Electricity Partnership: For students from Africa and India will be the prioroity applicants.
Joint Japan/World Bank Graduate Scholarship Program: 10 students are picked (mainly from the South Africa region) to apply for a $20,000 two-year scholarship.
Robert S. McNamara Fellowships Program: Students from Afghanistan, Albania, Algeria, Angola, Antigua and Barbuda, Argentina, Armenia, Australia, Austria, Azerbaijan, Bahrain, Bangladesh, Benin, Bhutan, Bolivia, Bosnia and Herzegovina, Botswana, Cameroon, Central African Republic, Chad, China, Colombia, Comoros, Costa Rica, Cote d'Ivoire, Croatia, South Africa and more are able to apply.
IPCC Scholarship Program: Students from Ghana, Brazil, Indonestia, Cape Verde, India, Togo, Senegal, Uganda, Nepal, Ethiopia, Gabon, Nigeria, Benin, and more should apply.
The Colfuturo Scholarship Loan program: For all international studens who wish to study in the United States, recpients are guaranteed $50,000 for their first tuition year.
The Canadian Institute for Nordic Studies: This scholarship was created to help students to study in Canada or split their time between Canada and Iceland.
Fulbright Student Grants: United State-based grant and scholarship where students from any country can apply to have their entire tuition paid for.
American-Scandinavian Foundation: This is for disavantaged American studnets to earn a credited scholarship to help with all fee payments that may pop-up in a 4-year college space.
Holar University College
Holar Univeristy College may best be known for it's historical contiburtion to Iceland's history. With agriculture being a huge part of Iceland's historical ancestry. This means ariculture-based degrees would be the best degrees to earn here.
Department of Aquaculture Scholarships
Bifrost University
Bifrost University has always been known from the early 1910's as the prime business school that was available to educate business leaders and political leaders.
Programs available at Bifrost include: Philosophy, Politics and Economics, Business Administration, Business Law, Cultural Management, Law, International Business, and Leadership and Management.
College of Navigation in Reykjavik
The College of Navigation is known as one of the only vocational colleges available in Iceland. Since navigation is in the title is is simple to idenitify what the prime program available happens to be for this university.
The other programs available for international studies involve: Navigation Fishing Vessels – Certification Levels A,B, and C. Captain of coast guard ships which is a certificate E.
The schools associated and attached to the College of Navigation also include: School of Building & Construction Trades, School of Continuing Education, School of Electrical Technology, School of General Academic Studies, School of Design and Handicraft, School of Information Technology, School of Marine Engineering, and School of Navigation.
Iceland College of Education
With over 2,000 students in enrollment per year, the Iceland College of Education started out as a typically community college in the country. However, the Iceland College of Education has merged with the University of Iceland to form a better field study program system. This mwans this college has all of the same field study programs that are avaliable at the University of Iceland.
Iceland International Student Population
Starting back in 2010, there has been an estimated international student population of 13,000+ peers. A huge reason international students may choose Iceland to continue their highed eduaction studies is for one pure fact. In Iceland, international students can readily apply for career jobs within the last senior year or evne college junior year, where students can start earning income. Along with Iceland's excellent scholarship and grant programs that are available to international students.
International students make up 5% of the entire college population. While international students are expected to pay for their day-to-day necessities and living situations… it goes without saying that students find it quite easy to earn a part-time job that helps with the excess amount need to get by. However, most students simply enter work-study programs to start earning a bit of extra money on the side.
Now in Iceland there are no university tuition fees, at least at the University of Iceland. However, there is the annual registeration fee, which will cost a certain amount for students. This acts as a type of student pass for the university they are attending. Along with any other extra living necessitiy like lunch passes and dinner passes.
Second Rated Education In The World
That's right! International students have ranked Iceland as the 2nd best place in the world to further a higher education. Typical, annual register for a whole year comes to maybe $600 USD which is easily managable. Espeically, since a top private college such as Yale can cost $160,000 in the first tuition year.
Iceland's education system works with many other universities from around the world. As a matter of fact, Iceland has geared up to ensure that international students from all over the globe can have a better school transfer transition such as any student who attend an Icelandic university can transfer to unvieristies in Australia. There are mulitple scholarships and grants available to cover the travel costs for this transfer. With any students studying a Ph.D. in Technology can easily transfer to earn a Ph.D. as well as apply for separate Ph.D. scholarships at Queensland University Of Technology.