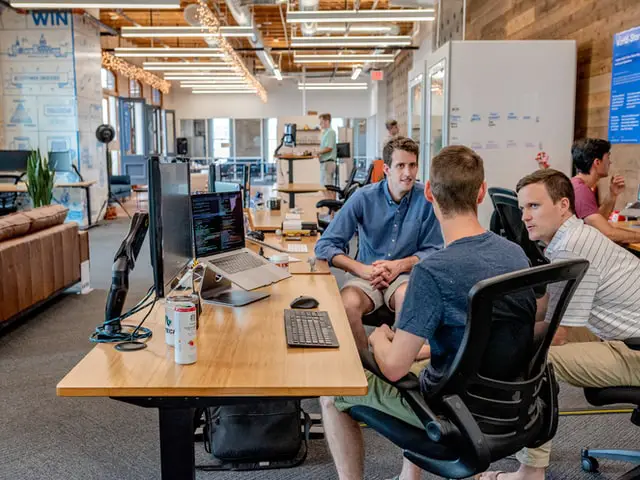 College students may desire—or require—more than just studying and socializing throughout their time in school. Working at an on-campus job can be a terrific way to keep busy while also providing some exciting opportunities and earning a little additional money. Because on-campus firms understand the needs and expectations of a student's schedule, many can provide flexible employment hours that allow you to make money while also keeping up with your academics and extracurricular activities on a part-time basis.
Due to the fact that everything takes place within a short drive, it is very simple to transition from class to work and back to class. An on-campus employment, on the other hand, is more than just being flexible and convenient. On-campus employment provide you with an opportunity — sometimes your first — to work in a professional setting, meet new people, and make valuable contributions to your professional network. On-campus jobs can be a terrific way to build your professional network. When you begin looking for internships and full-time positions, keep in mind that your previous bosses would be excellent references.
Job opportunities on-campus can be obtained through the Federal Work-Study program or through a conventional part-time work. Students may choose to study the differences between the two before beginning their quest. Because of the Covid-19 epidemic, it is possible that some prospects for students have been impacted, and additional study may be required while considering employment options.
A student can hunt for a regular part-time employment on their own time while in university. Although the compensation will vary and the employment may have nothing to do with the student's degree, there are still advantages to working on or near the university campus. Students can save money to help pay for their school or other expenditures such as food, transportation, and entertainment, while also gaining useful work experience in a variety of fields, regardless of their subject of study.
Employment that are either work-study opportunities or regular part-time jobs that are related to a student's major might help them develop skills that they can mention on their resumes to demonstrate prior work experience in preparation for their post-college job search.
Jobs can provide possibilities for mingling and networking with coworkers. As a result, students can make new acquaintances and develop new contacts that they can use when seeking for internships throughout college and jobs after graduation.
The fact that you have a job while attending college has numerous advantages (besides just the extra cash, of course). Some of the most convenient employment available are situated on campus, making them an excellent choice for students.
In this essay, Pickashorlarship.com will be laying claims to the on campus jobs you can do as a student
1.  Tour Guide
Students who want to work as campus tour guides through the admissions office must be well-versed in the facts and figures concerning their respective schools, as well as possess excellent interpersonal skills. They will give tours of the campus to potential students and their families while also providing information about the many majors, activities, events, and other opportunities that their respective universities have to offer. Among prospective students and candidates, as well as their parents, college tours are a popular campus activity on college campuses across the country. Because the campuses are vast in size and contain a significant amount of historically significant architecture, guided and paid tours are simply a means of getting a better understanding of the school. You can begin working in this position during your second, third, or fourth year of college, once you have become familiar with your campus. When you take on this position, you will report directly to the Admissions Department of your institution or university. For this profession, you must be outgoing and friendly in order to give group tours, give personal tours, and speak with prospective students about the college's various programs and services available.
2.    Library Monitor
Maintaining the decorum and calm atmosphere in the college library, as well as supervising study areas, are some of the responsibilities of this job description. A lot of quiet time will be provided for you in this work, which will allow you to catch up on your own studies or study for an impending exam. So, in addition to earning some additional money, you will be able to devote more time to your studies, or if you are a voracious reader, this job will provide you with an excellent opportunity to discover new works. They To assist librarians in their efforts to locate books and other resources by assisting readers in using library catalogs, databases, and indexes to locate those books and other items, and by answering inquiries that require only a brief study of standard reference materials. Records are compiled, books or other media are sorted and shelved, broken books or other media are removed or repaired, patrons are registered, and materials are checked in and out of the circulation process. Materials in the shelving area (stacks) or files should be replaced. Bookmobile drivers who assist in the provision of services in mobile libraries are included in this category. In addition, there are opportunities to meet new and intriguing individuals, particularly if you talk with students and professors who are engaged in research. When I was in college, I worked in a library and became friends with an elderly librarian who enjoyed teaching me terms in Japanese! Even if the library appears to be "boring," you never know who you might meet or what you could learn there.a
3. Research Assistant
Researchers can benefit from research assistant positions if they desire to build relationships with professors and/or graduate students in their department. They're also a wonderful approach to discover if you have a passion for research or academia.
A research assistant position might be extremely social (for example, if you're conducting research in the social sciences) or extremely solitary (for example, if you're working on an autonomous project in a chemistry lab). You may also have the opportunity to learn highly specialized abilities, such as the use of specific software programs or the performance of specialized data analytics. When you apply for employment in the future, even if they are only intriguing things that set you apart from other applicants, these could be very useful to you in the future. Researchers benefit from the assistance of student research assistants, who complete research tasks, collect data, and document their results to aid experts. The majority of graduate and undergraduate students seek research assistant roles in order to obtain valuable hands-on experience in an academic environment. If you are interested in pursuing a career in academia or research, you may be interested in knowing more about what it takes to be a student research assistant in order to make an informed decision. In this post, we will discuss the responsibilities of a student research assistant, as well as how much you can expect to earn in this position and some advice to help you succeed in your endeavors to become one.
Read this; Simple tips to help you manage your time between work and college
4. Barista
Most colleges and universities feature a number of student facilities, food courts, and dining halls on their campuses. The fact that many food stations and coffee shops are owned by students means that there is plenty of opportunity for individuals wishing to supplement their income. You may be eligible for savings on meals if you work at one of these food courts or student center locations. If you're up for the hustle and bustle of a college café, you might want to explore becoming a barista to supplement your income. Besides getting your daily caffeine fix for free — a smart way to save money if you're used to spending $5 per day on a latte—you'll also get to know the "café" regulars and meet new people as a result of your participation.
Additionally, the skills you'll gain as a barista, such as producing espresso drinks, working as a cashier, and counting change, for example, are easily transferable to other café and restaurant professions that you might be interested in pursuing after graduation to supplement your income. (This is especially beneficial when attempting to save money.) The majority of college students rely on coffee to get through the day because they perceive sleep to be a luxury. Because they have so many interesting things going on in their lives, coffee is the most popular beverage on college campuses. If you enjoy coffee, becoming a barista will allow you to learn a great deal about the various types of coffee, espresso, tea, and other beverages. Employee discounts will be provided to you, allowing you to save a significant amount of money on your coffee needs.
5.   Lifeguard
If you have a lifeguard certification, it's a no-brainer that you should look for lifeguarding jobs. This proposal, of course, is only applicable if your school has swimming pools on its grounds. In recognition of the fact that lifeguarding is an extremely specialized skill, you may anticipate these positions to pay slightly more than the ordinary student employment. Swimming pools are available at many universities' fitness centers, which are often on campus. If you haven't already, you'll need to get your lifeguard certification before you can start working. Student athletes and those who worked as lifeguards during their high school years are typical candidates for this position. It's a job that you can carry over into the summer once school has finished! In addition to explaining safety guidelines to patrons and warning them about potentially dangerous circumstances, the lifeguard will enforce policies regarding showers and correct dress. By evaluating the swimming pool areas, locker rooms, and restrooms, you will play an important role in the overall order of the facility. You will be responsible for the upkeep of pool equipment as well as the monitoring and recording of pool temperatures
In order to be successful, you must be able to assess circumstances quickly and make informed decisions on the safety of swimmers on the water. Top applicants are good communicators who are also quick and safety conscious.
Check this out; 15 Cheapest Universities in Paris for International Students
6. Tutor
Depending on the type of organization for which you work, this career could be one of the most financially rewarding possibilities on this list. My only caveat is that As students grow older and take more classes, they gain more knowledge and skill in their respective fields. Freshmen, on the other hand, don't have a lot of tutoring options because they're at the bottom of the academic totem pole.
If you have a lot of experience, the more in demand you'll be and the more money you'll be able to make, the better. In order to take advantage of this, students who continue tutoring throughout college tend to benefit even more (and even after you graduate). To be a peer tutor, you do not need to have a degree in education! Peer tutors may be employed in on-campus tutoring centers that schedule appointments on a daily basis. Alternatively, you could work as a peer tutor who is allocated to a certain group of students and who assists them in integrating appropriate learning and study practices. It is likely that you will spend the majority of your time explaining course content, assignments, and other materials, regardless of how your major/department goes about providing extra assistance. In the same way that you can tutor your classmates or juniors to assist them with the course, you can do so in the United States. You have the freedom to set your own working hours. If your university offers an educational resource center, you might be able to find a formal tutoring position that you can take advantage of. Colleges that place a high value on athletic programs frequently hire tutors to deal with athletes who don't have enough time to devote to their academics while competing.
7. University Book Store Assistant
A bookshop is located on every university's campus and sells course books, reference books, works of fiction, and other educational materials. Along with the convenience of working on campus, you may also be eligible for employee discounts on items such as books, stationery, and other supplies that can be extremely beneficial. If you're interested in working at the bookshop, you can reach out to the manager personally. Among the responsibilities of this position are the stocking of shelves, the organization of requests for new books, the serving of customers as a cashier, and assisting students in finding what they need for their lessons. A large number of schools offer discounts on books to their employees, which may be a tremendous help when it comes to living on a tight financial budget.
As you can see, there are numerous employment opportunities available on campus for students who wish to work during the semester. Check with your college's career office for more information on the unique employment options available at your institution of higher learning. It doesn't matter what your interests are or how much experience you have; there is a job out there for you!
8.  Museum or Gallery Assistant
College and university campuses are home to a wide variety of museums, which range from small, specialized collections to large, well-known galleries. You should consider visiting your local museum to see if there are any open positions in any of the departments that interest you – whether it's an art museum, a museum of Semitic studies, an aquarium, a museum of natural history, an Egyptology museum, or a museum of comparative zoology (the list is endless). I can't think of a better environment to spend my days at work! A school that has an art museum or gallery may hire students to work in the museum or gallery as assistants. Students pursuing an art degree may find this on-campus employment rewarding, as they provide tours, operate in the gift store, and check in visitors to the university.
This will be helpful; How to Write the Perfect Letter of Recommendation
If you're thinking about taking a job while in college, you're probably also thinking about how to keep your finances in order. Begin by learning more about the federal work study program and the types of jobs that are available to you if you receive a work study award. Students can find these positions, as well as other opportunities, on the employment board provided by their college. Job placements for work-study students can be established through a school's financial aid office, with some institutions assigning students to positions and others asking students to apply for positions through the campus job board. It's advisable to seek for and apply for on-campus jobs throughout the summer before the school year begins, because these positions tend to fill up quickly during the academic year.
A student who is successful in securing an on-campus employment should make every effort to conduct themselves in a professional manner while at work and handle the position as if it were an actual job in the "real world." They can learn the skills they will need once they graduate, so they should take advantage of the opportunity to learn as much as they can, dress appropriately for the job, arrive on time, and inquire of their superiors as to how they may be of assistance.
If they have partied too hard the night before, they should refrain from doing their coursework on the job or calling in ill, as this could reflect adversely on them. Some students may choose to use their supervisor as a point of contact for an internship or as a reference for one of those "real world" job opportunities.