Germany has risen to become one of the most popular destinations for non-English speaking international students. It is home to over 380 universities and offers more than 17,000 study programs. It is ranked behind the UK and US as the third most popular university destination globally, as over 357,000 international students currently study there. In this article, we will show you everything you need to know about studying in Germany.
Why Study in Germany?
The main advantage of studying in Germany is free tuition! German government policies have imposed free university tuition for national and international students. As a result, most German universities are tuition-free. In addition, the country has something to offer everyone. From Berlin to the metropolis of Frankfurt to the towering Bavarian mountains, there are extensive ranges of thrilling experiences to the international student community depending on university choice. And if the bustling cities are too much to handle during the school term, you won't have to go far to find a peaceful retreat in the country.
While some international students choose to attend private universities, tuition-free public universities are still the best option. As of 2017/18, only 19 public universities and 93 private universities of applied sciences charged these fees, representing less than 10% of universities in Germany overall.
Famously known as the "land of poets and thinkers," Germany is highly regarded for its advanced teaching and learning. It is home to many great scientists, such as Einstein, Planck, and Born, which went through the German higher education system. In addition, it is known for its continuous modernization of learning, with the most up-to-date and practical approaches to teaching and research being continuously implemented. With their excellent reputation, employers recognize their high-quality products, making them top options for employment.
German Education Compared to the United States.
The significant and most crucial difference is the non-existent tuition fees for international students in Germany. In the United States, Australia, and Canada, international students are expected to pay between $10,000 and $50,000 per year of tuition.
Studying in Germany offers low-cost with an excellent educational experience. This reduces the number of students tied to debt or loans paid off at the end of their studies.
The Best German Universities
German institutions are recognized among the elites of higher Education. Cities such as Frankfurt, Berlin, and Cologne are home to multiple institutions, ranked among the best in the world. Moreover, it is home to some of the most prestigious higher education institutions in all Western Europe, with over 30 German higher education institutions ranked among the top 500 globally according to the World University Rankings.
Top 5 Universities in Germany
Let's look at the top five highest-rated German institutions in the 2019 QS World University Rankings;
Ludwig Maximilian University(LMU) Munich: Founded in 1472, it is one of the oldest public universities in Germany. It has 42 Nobel Prize winners and is widely regarded as a pioneer academic and research institution. Over 13% of the student body consists of international students, and it has the second-largest student population in Germany.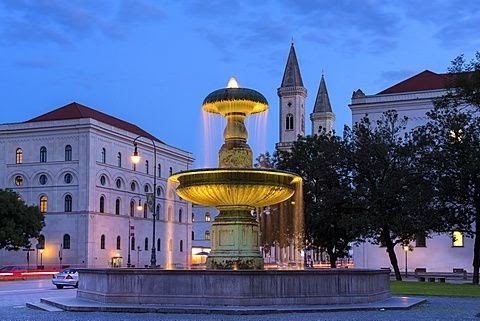 Munich Technical University – this is a public university dedicated to science and technology. Three departments offer over 170 courses focused on engineering, science, and technology. 13 Nobel Prizes have been awarded to university affiliates since 1927. 
Heidelberg University: The is the oldest public university located in Heidelberg, Germany. It is a popular tourist destination and is considered one of the most beautiful German cities. Students from over 100 countries study here.
Humboldt University of Berlin: located in the capital of Germany, the institute is highly regarded and stands out significantly in arts and humanities studies. It has a library containing around 6.5 million books. Approximately 33,000 students attend the university, 16% of which are international.
University of Freiburg: The fifth oldest public research university in Germany. There are over 25,000 students, 16% of whom are international students from 120 different countries. The university is known for its consistency in teaching the humanities and natural sciences and, in addition to 19 university-affiliated Nobel laureates. The university is also famous for its mountain retreat, which is available for outdoor and leisure activities.
Rates for International Students
Tuition is free for undergraduates in most universities. However, exceptions are made for universities located in the Baden-Württemberg area, where students pay € 3,000 per year for tuition fees (excluding refugees and Ph.D. students). This includes universities in Freiburg, Heidelberg, Hohenheim, Stuttgart, among others. 
Exemptions from these fees are made for;
Students from Erasmus member states
Students with permanent residence in the EU,
Students who have an HE qualification from Germany.
Even with free tuition, all students must pay fees to cover enrollment, administration, and student support costs, and it differs between institutions. It is estimated around € 350.
In some cases, Master's Degree students pay tuition fees and cost up to € 20,000 per academic year. Fees are charged to students considered "non-consecutive," which means that the student has not completed a bachelor's degree at a German university in recent years. Students applying for masters directly from a German institution will pay little or no fees. 
Scholarships to Help You Study in Germany
Some government-funded scholarships in Germany are:
DAAD Scholarships: these are grants available s to study at the undergraduate and graduate level offered by the German Academic Exchange Service.
Erasmus Scholarships: these are available for international students participating in a study exchange program in Europe. Grants to support living costs are known.
Non-governmental scholarships also exist for studying in Germany. Some are:
Heinrich Böll Scholarships for International Students – these are available for undergraduate and graduate study at an accredited institution.
Kurt Hansen Science Scholarship Programs – these are accessible to international students seeking to become science educators.
Marie Curie International Scholarships (IIF) for Developing Countries: Available for Postdoctoral Research. Many scholarships are available for students from developing countries.
Deutschland Stipendium – A € 300 / month scholarship for talented students of any nationality studying at German universities.
Many institutions offer university-specific opportunities to study in Germany. Some are:
University of Heidelberg: many opportunities are available to students. One of them is The Amirana Scholarship, which supports students from developing countries who want to study dentistry or medicine.
Frankfurt School of Finance and Management Doctoral Tuition Exemptions: Ph.D. students in Middle English courses in Finance, Accounting, Mathematics, and Business Administration will not pay tuition fees with this application.
University of Hamburg Merit Awards: given to students enrolled for a minimum of two semesters and have demonstrated outstanding ability (any grade level, any subject).
RWTH Aachen Programs: Funding available for international and domestic students.
Living Costs in Germany
In Germany, students have access to affordable housing options. However, they are in high demand and short supply. Shared flats, cafeterias, and laundry areas are another excellent option for students. Rents can cost between € 210 and € 360 per month, based on whether you choose to live alone, with a partner, or on campus.
Larger cities will also offer higher rental prices. For example, a student flat in Berlin is likely to cost € 430, while in Munich, a more expensive German city, the rent is closer to € 665 per month.
In addition to rent, students will also need to budget for food, utility bills, and social activities. It is recommended to budget € 850 per month when studying in Germany, although it will be higher if you choose to live in one of the larger cities, such as Munich.
However, students in Germany are eligible for a "Semesterticket," which helps with the cost of bus, trams, metro, and train travel. This is generally covered in administrative expenses paid to the university at the beginning of the study.
Student Visa
For countries like; 
Australia, Canada, Israel, Japan, South Korea, New Zealand, Switzerland, or the USA: do not require a visa but must obtain a residence permit.
Andorra, Brazil, El Salvador, Honduras, Monaco, San Marino, or Taiwan: You only require a visa if you work before or after your degree. After that, you must obtain a residence permit.
Other countries: Apply for a visa (Schengen Visa – for three months of study, National Visa – for more than three months of research). You can obtain the visa and residence permit from your local German embassy.
For Residence Permit: register with the Resident Registration Office, show that you have a health insurance policy, show that you have access to about € 8700 per year (for housing expenses), show your passport with visa (if necessary ) and lease.
For Visa: it is in the same documents as the residence permit. You may also be asked for a clean criminal record test and medical check-up.
Note: All students must demonstrate proficiency in the language of instruction for their college degree.
Conclusion
In this piece, we showed you everything you need to know about studying in Germany. We also highlighted available scholarships, top universities and necessary documents needed to study and even work in major countries like the US, Australia amongst others. So, if you are looking for the next place to study and why, this article has all the information available.