Scholarship details
DoorLoop is the industry leader in property management software, and we are dedicated to providing assistance to students who are interested in pursuing careers in STEM and real estate. The LoopEd Scholarship is intended to provide financial assistance to undergraduate and graduate students who have exhibited academic distinction and have a strong interest in the aforementioned subjects.  DoorLoop is a people-first organisation, and one of its key beliefs is to Lead With Innovation. We want to assist you in doing the same thing, so please let us know how we can do so. We are looking forward to reviewing what you have to offer.
About the Scholarship Provider:
DoorLoop was established by property managers and landlords with the goals of reducing their workloads, increasing their incomes, and broadening their portfolios. They came to the conclusion that there was no simple software that met all of their needs at a price they could afford, so they made the decision to develop it themselves.
Our top priority will always be to make the expansion of your portfolio as simple as possible. DoorLoop is revolutionising the way properties are maintained by providing property managers with more freedom than they have ever had before in the process. The company has received $30 million in funding, has a world-class workforce, and has received five-star evaluations everywhere online. To assist property managers and landlords in achieving more with less efforts expended. We want to make it as simple as possible for property managers to maintain control of the homes they manage and foster long-term relationships with the people who rent from them. 
SeNSS is one of only 14 Doctoral Training Partnerships in the United Kingdom that is sponsored by the ESRC, and they will be offering a handful of fully-funded ESRC doctoral studentships beginning in September 2023. SeNSS is one of the only 14 Doctoral Training Partnerships in the United Kingdom that is sponsored by the ESRC.
Scholarship Sponsor(s): DoorLoop
Scholarship Country: United States of America
Scholarship Worth: $3,000
Study Level: Undergraduate
Nationality: International Students
Scholarship Offer:
On an annual basis, DoorLoop will select one worthy student to receive a reward of up to $3,000 that can be put towards the recipient's educational expenses.
The Gustafsson & Skrondal Visiting Scholarship is administered by the University of Oslo's Centre for Educational Measurement (CEMO). As part of the visiting scholar program, CEMO and the University of Oslo host a number of young researchers from Norway and elsewhere each year.
Eligibility for Scholarship.
You can choose to apply for the scholarship by submitting either of the following options:

Essay in written form (between 750 and 1000 words).

Video essay (4-5 minutes)
Fields Requirements:
You must be a student who is presently enrolled in either an undergraduate or graduate degree programme in the United States that is approved, and your major must be in either mathematics, science, technology, or engineering.

At the time of submission, you must be at least 18 years old.

You have to maintain a satisfactory academic standing with the school you attend.
Essay Prompt:
At DoorLoop, we have a shared set of company values embodied by everyone on our amazing team. We hold these values closely as we approach new projects and bring our ideas to life.
One of the values we hold most closely is "Passion & Balance." We support professional and personal fulfillment and a healthy work-life balance.
How do passion and balance factor into your studies in STEM? How do you intend to maintain these two values throughout your career in STEM?
Nationality
The LoopEd Students in STEM Scholarship Program is open to all international students.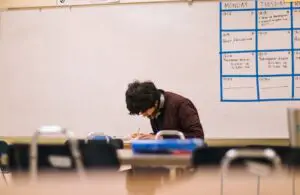 If a student enrolls in one of the degree programs offered by SOAS University of London, they may be eligible to receive a fee waiver award in the amount of £5,000. This award is available to students who are interested in receiving a degree from SOAS University of London.
Application Procedure
Participants are only allowed to submit one scholarship application per academic semester. 
Application Deadline
The application deadline for the LoopEd Students in STEM Scholarship Program is December 1st, 2023. The names of the winners will be announced by the 15th of December.