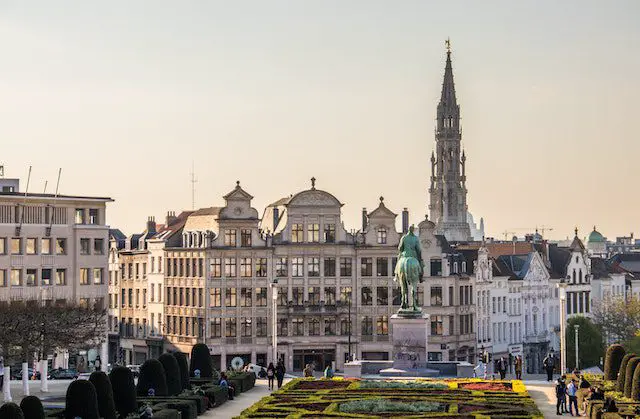 Are you interested in studying in Belgium or learning about low-tuition universities in Belgium for international students and other related topics? This article provides you with all the information you need.
Belgium is a great option for international students looking for an affordable education compared to countries like the United States, Canada, and the United Kingdom. In addition to universities and colleges of lower education, Belgium offers a multicultural environment, a multilingual community, historic castles, and a rich culture, including their famous waffles!
Belgium has three official languages: Dutch, French, and German. English is also widely spoken throughout the region, so international students should have no trouble being understood. Belgians are known for their welcoming nature, and this is evident in the fact that the EU and NATO headquarters are located in the country.
This article highlights the beauty of Belgium not only as a country but also as an excellent academic destination for students and scholars alike. Read on to learn more!
Table of Contents.
About Belgium
Universities in Belgium for international students
Study in Belgium Tuition
Cost of living in Belgium
scholarships in Belgium
List of Low Tuition Universities and Colleges in Belgium for International Students
Ghent University
Hasselt University
Vrije University of Brussels
University of Antwerp
University of Liège
About Belgium
Belgium is a European country that offers low-cost and affordable universities for international students who are looking to study abroad without breaking the bank. In this article, we will discuss different aspects of studying in Belgium, including tuition fees for both international and EU students, the cost of living, and more.
Belgium is a unique country in Western Europe with distinct regions, including Flanders in the north where Dutch is spoken, Wallonia in the south where French is spoken, and a German-speaking community in the east. The country has a population of about 11.2 million people, and its capital city is Brussels.
Universities in Belgium for International Students
Many international students are interested in attending universities in Belgium for various reasons. First, studying in Belgium allows students to experience a new culture and meet new people. It's a great opportunity for those who want to live and study in another country.
Secondly, some students believe that an excellent education from a Belgian university can better prepare them to succeed than studying in their own country. This is especially true for those who live in developing countries, where studying abroad in a developed country like Belgium can provide them with the means to prosper in their own country and beyond.
Thirdly, some international students want to travel, and studying in Belgium allows them to easily explore the country and neighboring countries.
If you're interested in studying abroad, this article about cheap universities in Belgium for international students can be helpful. However, it's important to note that many Belgian universities use Dutch in all their degree programs and some master's programs. Fortunately, almost all universities use English for their doctoral programs. Check out the article and registration links for more information.
Study in Belgium Tuition
Belgian universities offer affordable tuition fees for both EU and international students. In fact, compared to other European countries, tuition fees in Belgium are generally lower. The exact amount of tuition fees varies depending on the university and study program, but on average, tuition fees for EU students are around €900 per year and for international students around €2,500 per year. However, some programs, such as medicine, may have higher tuition fees. It's important to note that some scholarships and grants are available to help offset tuition costs for international students.
Cheap Universities In Belgium For International Students And Annual Tuition Fees
| College name | payment of studies |
| --- | --- |
| University of Antwerp | $2,000 |
| hasselt university | $2,500 |
| KU Leuven | $4,000 |
| University of Liège | $5,400 |
| University of Ghent | $6,100 |
| Vesalius College | $7,200 |
EU Students
This information explains that tuition fees for European Union (EU) students are typically less expensive than the fees charged to international students in Belgium. For instance, for French community institutions, EU students may pay anywhere from EUR 374 to EUR 836.96 per year. Flemish community institutions may charge EU students between 0.70 and 9.30 EUR, while the average for German-speaking community institutions is around 435 EUR.
Non-EU or International Student
For international students, tuition fees at Belgian universities vary depending on the community. In the French community, tuition fees range from EUR 890 to EUR 4175 per year. In the Flemish community, tuition fees range from approximately 0.70 to up to 25 EUR. In the German-speaking community, the average tuition fee is 435 EUR.
Cost of living in Belgium
Living expenses in Belgium are not very expensive compared to some other European countries. To cover expenses like accommodation, transportation, food, books, and other miscellaneous expenses, students should plan on a budget of 800 to 900 EUR per month. Here's a breakdown of the expenses:
Courses and books: 35 EUR
Accommodation: 500 EUR
Meals: 300 EUR
Medical care (insurance, medical expenses): 20 EUR
Public transport: 40 EUR
Miscellaneous expenses (telephone, leisure, etc.): 55 EUR
Scholarships in Belgium
Belgium offers various scholarships for international students. These scholarships are provided by Belgian universities, the government, the Academy of Research and Higher Education, and other organizations. For instance, the Flemish Government offers Master Mind Scholarships, while ARES Scholarships are available for students from developing countries.
The Erasmus Mundus scholarships are also available for international students who want to study in Belgium. These scholarships offer financial aid to cover tuition fees, living expenses, and other costs associated with studying in Belgium.
List of Low Tuition Universities and Colleges in Belgium for International Students
The main language of instruction in Belgium is French, but students are given information ahead of time to help them make informed decisions. Additionally, some specialized university programs are offered in English.
Belgium follows the Bologna system, which makes it easy for students to compare degrees and transfer credits between the 29 countries that have signed the Bologna Declaration.
Students interested in pursuing a career in political science and international relations will find Brussels, the Belgian capital, to be a hub of opportunity. With over 20,000 people working in EU offices, there are increased chances of meeting the right people who can help you find your dream job.
Now that we've talked about how great Belgium is, let's take a look at some of the universities in Belgium that are available for both international students and Belgian citizens who want to study there.
1. Ghent University
The University of Ghent, established in 1930, was the first Dutch-speaking university in Belgium to gain independence through a 1991 decree granting significant autonomy to the university. Ghent currently has more than 120 departments divided into 11 faculties, all of which offer high-quality courses in their respective scientific disciplines.
While the primary language of instruction is Dutch, Ghent University also offers specialized Master's programs in English, making a good command of English essential for international students. Tuition fees for undergraduate students are €750, while full-time undergraduate contracts cost €596.30.
2. Hasselt University
The University of Antwerp was founded in 1971 and has since expanded its faculties to include doctoral degrees. It has various faculties, such as the Faculty of Medicine and Health Sciences and the Faculty of Science, offering courses in mathematics, physics, computer science, chemistry, and biology.
For international undergraduate students, tuition fees range from €750 to €1800 per year, while graduate students can expect to pay between €1800 to €3700 per year.
3. Vrije University of Brussels
This university is split across two campuses, both of which are environmentally-friendly, and offer advanced technology and top-notch research programs in addition to academics. The university provides certificates, diplomas, and undergraduate, master's, and doctoral programs in various fields, such as humanities, administration, and languages.
For international students, the tuition fee ranges from €750 to €1,800 per year for undergraduate programs and from €750 to €1,800 per year for graduate programs.
4. University of Antwerp
The University of Antwerp is a significant academic institution in Belgium, resulting from the merger of three universities, although officially established in 2002. It ranks first in the world rankings and 14th and 15th in the category of young universities. International students are welcome to apply to this affordable university in Belgium.
5. University of Liège
The University of Liège is one of the most affordable universities in Belgium. Unlike many other universities in Belgium where the language of instruction is Dutch, the language of instruction at this university is French. It has a significant number of international students, accounting for over 20% of the student body. As a result, the University of Liège is an excellent choice for international students looking to study in Belgium.
Another List of Low Tuition Universities and Colleges in Belgium for International Students
Belgium is a multilingual country where the primary language of instruction is French, but some courses are also taught in English. Tuition fees are relatively low compared to other countries, although not completely free.
Here are some low-cost universities and colleges in Belgium:
Katholieke Universiteit Leuven
Ghent University
UC Louvain
The University of Antwerp
The University of Liege
The Katholieke Universiteit Leuven charges around $700 for undergraduate studies and $1,200 to $10,000 for postgraduate studies. Ghent University charges around $1,000 for undergraduate studies and $2,000 for postgraduate studies. UC Louvain charges around $1,000 per year. The University of Antwerp charges around $300 per credit for Masters, and some Masters have a reduced fee for EU/EEA citizens. The University of Liege charges around $1,000 for EU citizens, while non-EU citizens pay a higher fee depending on the program.
Other universities in Belgium with low tuition fees include the University of Brussels, the University of Kent, Limburgs University Center, the Royal Military Academy, the Free University of Brussels, Vesalius College (Vrije Universiteit Brussel), Brexgata University Academy, the University of Namur, Flanders School of Business, and American Universities in Belgium such as Boston University and American University.
Conclusion
In conclusion, Belgium is an excellent choice for international students seeking high-quality education at a relatively low cost. With a diverse range of universities and courses offered in different languages, students can find a program that fits their needs and interests.
The universities mentioned above, including the University of Brussels, the Catholic University of Leuven, Ghent University, and the University of Liège, among others, are affordable options for students looking to study in Belgium.
In addition, Belgium's location at the heart of Europe offers numerous opportunities for students to explore the continent and gain valuable experiences. Whether you're interested in humanities, sciences, or business, Belgium's low-tuition universities offer a quality education that won't break the bank. So if you're considering studying abroad, add Belgium to your list of options and take advantage of its affordable education system.