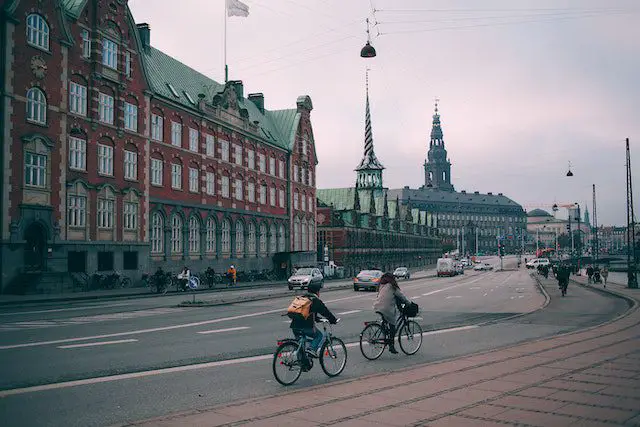 Denmark is a great place to study in Europe because it offers affordable tuition fees, excellent Master's degree programs in English, and unique teaching methods. Not only does Denmark have stunning natural scenery, but it also boasts several historic cities, like Copenhagen, Aarhus, and Esbjerg, making it an ideal study destination for students. If you're interested in studying in Denmark and need guidance on how to apply, keep reading for step-by-step instructions.
What You Need to Know About Denmark
Denmark is a northern European country with a population of about 5.5 million people. It is one of the three Scandinavian countries. Denmark is made up of the Jutland Peninsula and roughly 400 North Sea islands. It is almost two times bigger than the state of Massachusetts.
The Danish government is a constitutional monarchy with a democratic system. The parliament, known as the Folketinget, is the highest authority in the country. Queen Margaret II doesn't have much political influence.
Denmark has a welfare system that provides free and equal access to benefits, like healthcare and education, for all its citizens. The welfare system is a fundamental part of Danish society.
The country's strong welfare system comes with benefits such as economic equality, low crime rates, and little corruption.
Their Economy
Oil, other forms of energy, the medical industry, agricultural products, shipping, and IT services are the primary sources of income in Denmark. Denmark has a diverse economy that the World Bank classifies as a high-income economy. In 2017, Denmark ranked 16th in the world for nominal GNI per capita and 10th for PPP per capita.
Denmark's economy is recognized as one of the freest in the world in the Index of Economic Freedom and the Economic Freedom of the World.
According to the World Economic Forum's Global Competitiveness Report 2018, Denmark is the tenth most competitive economy globally and the sixth most competitive in Europe.
Work-life balance
If you prioritize having a healthy work/life balance, studying and working in Denmark might be a great option for you. Denmark is known for having one of the best work/life balances globally.
In Denmark, a typical workweek is 37 hours long. Since most men and women work, flexible work hours are prevalent.
For parents, Denmark offers 52 weeks of maternity leave with a maternity subsistence allowance. Parents can split 36 weeks of this leave between the mother and father according to their preference.
Education
In Denmark, providing free education for everyone is a significant priority to promote growth, well-being, and competitiveness. Danish educational institutions combine high academic standards with innovative teaching methods to prepare their students to play an active role in today's globalized knowledge-based world.
Denmark's higher education system has a history of collaborating with businesses, industries, and research organizations to create a dynamic and enriching learning environment for students.
Denmark's universities and higher education institutions are highly international and offer a wide range of programs in English, providing international students with many options. Learn how to apply for Denmark's Student Visa today.
Studying in Denmark in 2024
Denmark is a top choice for international students looking to study in Europe because of its high-quality and innovative teaching methods. Additionally, Denmark's excellent standard of living and the wide variety of study subjects available at its universities make it an attractive destination for international students.
#1. University Tuition Fees in Denmark
EU/EEA and Swiss students pursuing bachelor's and master's degrees, as well as those participating in an exchange program, are eligible for free higher education in Denmark.
Moreover, you can also study for free in Denmark if:
You already hold a residence permit, whether temporary or permanent.
One of your parents works in Denmark and is from a non-EU/EEA country.
For non-EU/EEA citizens, tuition fees can range from EUR 6,000 to EUR 16,000 per academic year, and some specialized programs may be more expensive. We recommend visiting the university's website to determine the tuition fee. There are scholarships available to help you study in Denmark too.
#2. Student living costs in Denmark
Tuition fees in Denmark Schools
Denmark's tuition-free policy attracts many students from the EU/EEA, but it is important to note that the cost of living and average prices are higher than in other countries due to the excellent quality of life. To live comfortably in Denmark, international students require between 800 and 1,200 EUR per month. However, the actual amount you will spend depends on your spending patterns, such as how much you spend shopping, going out, and traveling. Additionally, you should expect to pay more if you want to study in Copenhagen, the capital of Denmark.
Accommodation cost in Denmark for Students
Accommodation costs account for almost a third of the monthly living expenses in Denmark. In most places, you can expect to pay between 400 and 670 EUR, while in Copenhagen, you can expect to pay between 800 and 900 EUR. However, if you start looking early, you may be able to find apartments outside the city for 250 EUR per month. There are several accommodation alternatives for students in Denmark, such as living alone for 450 EUR/month, sharing a room with a roommate or co-worker for EUR 500 per month, or living in a kollegier (student housing) for between 250 and 300 EUR per month.
Cost of food in Denmark
Your monthly food expenses in Denmark will be between 200 and 270 EUR, depending on your spending patterns. You can save on grocery prices by shopping at discount supermarkets like Bilka, Lidl, Netto, Fakta, and Aldi. If you prefer to dine out, you can expect to pay about EUR 30 per person on average for dinner and around EUR 5 for a beer or soft drink in a bar.
More than half of the students in Denmark cycle to school, while the other third use public transport. The cost of a monthly public transport pass for the bus, metro, or train ranges from €40 to €50. Denmark is a cyclist's paradise, with bikes seemingly outnumbering people, so you can always rent a bike and ride around the city.
Additional Costs of Living in Denmark
Apart from the above costs, you should budget between 30 and 65 EUR per month for books and other study materials. Students also spend between 120 and 175 EUR per month on social activities. If you sign up for an international youth travel card, you can save a lot of money on sightseeing in Denmark.
However, if you are a non-EU/EEA citizen who does not register with the Danish Civil Registration System, you may need to pay for health insurance. It is advisable to start looking at your housing options months before you move to Denmark to compare different locations and prices without having to make an immediate decision.
How to apply to study in Denmark in 2024
#1. Deciding on a university
It is time to choose a university and a degree now that you have decided to study in Denmark. It is one of the ways you can apply to study in Denmark.
In the QS World University Rankings 2021, five Danish universities are in the top 400, with the University of Copenhagen at the top, at 76th.
The Technical University of Denmark (103), Aarhus University (147), Aalborg University (305 joint) and the University of South Denmark are among the other listed universities in Denmark (SDU, 353 joint).
You can find a full list of programs offered by Danish institutions here to help you select the right course for you.
2. Check the admission requirements
This is one of the steps on how to apply to study in Denmark.
You should have already decided on your university and course. Before applying, double-check that your credentials will be accepted by the university of your choice.
Your grades must be equivalent to a Danish upper secondary school completion certificate in order to be admitted to a Danish university.
However, a qualifying vocational certification may be suitable for many undergraduate programs.
Additional entry requirements may be required for some courses. Certain subjects with a specific grade, passing an admission test or interview, or a certificate with a minimum GPA are examples of these requirements. On the university's website, look up individual course prerequisites.
If you do not meet the prerequisites, you may be able to take a supplemental course that will allow you to apply. This course, however, will not improve your GPA.
#3. Language skills
This is the third way to apply to study in Denmark and it is an important one.
English language tests
Many non-Danish students apply for programs taught in English. To enroll in an English course, you must demonstrate a command of English equivalent to a Danish B level. On their websites, universities often mention the exact grades they want.
Danish language tests
If you want to follow a Danish language course, you will need to pass a Danish language test to prove your ability.
You can choose between 'Danish as a foreign language' ('Studieprven I dansk som andetsprog') and 'Danish Test 2' ('Danskprve 2'). Some programs may require you to pass the 'Danish Exam 3' ('Danskprve 3').
If you studied Danish, Norwegian or Swedish as part of your entry requirements, you will not be required to pass a Danish test if you are a student from one of the Nordic nations.
#4. Rates and Financing
Higher education in Denmark is free for students from the EU/EEA and Switzerland, for both undergraduate and postgraduate programmes.
You will have to pay tuition fees at Danish universities if you are from outside the EU/EAA. These costs range from $8,000 to $21,000 per year on average.
#5. Request
Applications to study in Denmark must be made through the national admissions site www.optagelse.dk before March 15 at 12 noon (CET).
Here you will apply to the universities and attach the relevant documents required by the university to which you are applying.
Signature
To apply, you will need a signature and proof of identification (ID) for each course you are interested in.
If you are a Danish citizen or have a residence permit, you will use the electronic signature NemID, a digital identity instrument that was previously granted to you.
If you are an international student, you will need to print, sign and deliver an optagelse.dk signature sheet to the universities you are applying to.
An App ID will appear on the page, which institutions will use to download your app.
Other documents
In the 'attachments' part of the application, you must attach your high school diploma. Also, they will need a personal essay from you, but this depends on the course and the institution.
Request courses and receive responses
You can apply to up to eight different programs. In addition, you must list them in order of importance, and each request must be accompanied by a signature. You have until July 5 to adjust the priority of the universities.
Also, you will receive only one response after that. This will be written in letter format. If you receive an acceptance letter, it may not be your first choice if they don't have a spot available.
It could be from your second or even third choice. If you receive a rejection letter, it means that you have been rejected for all of your options. In early August, you must respond to this letter.
#6. Get health insurance
Once you've accepted your college offer, it's time to get to work on the tedious (but crucial) aspects of preparing to study abroad.
If you are a citizen of the European Union (EU) or the European Economic Area (EEA) or a Swiss citizen visiting Denmark for less than three months, you can use your European Health Insurance Card (EHIC) to obtain essential medical care.
If you plan to stay in Denmark for more than three months and you are from the EU/EEA or Switzerland, you must register with the Civil Registration System.
You will need an S1 portable document or a valid EHIC card from your state's mandatory health insurance to do this.
International students will purchase travel insurance for the duration of their studies in Denmark.
However, under the Danish Health Act, all non-residents traveling to Denmark will have free emergency hospital care in the event of an accident, childbirth, acute illness, or sudden exacerbation of a chronic condition. Also, this is one of the steps on how to apply to study in Denmark.
#7. Get a visa
You will not need any documents to live, work or study in Denmark if you are a citizen of Norway, Sweden, or Finland. Your Danish personal identification number is all you need.
You can study, work and live in Denmark for up to three months without documents if you are from the EU/EEA or Switzerland. You then need to obtain a Danish registration certificate.
To receive it, go to the Regional State Administration with your passport, two passport-size photos, and an acceptance letter from your university (Statsforvaltningen).
After that, they will give you a personal identification number.
If you are going to study in Denmark for more than three months and you are not from the EU/EEA or Switzerland, you will need to apply for a residence permit. Also, if you are staying for less than three months, you will need a tourist visa. (https://www.schengenvisainfo.com/download-schengen-visa-application-form/)
To obtain a residence permit you will need:
An acceptance letter from your university.
Language proficiency test
Proof that you have the financial resources to support yourself (usually around €1,000 per month [around US$1,080])
Proof that you have purchased travel insurance.
A valid passport.
passport photo
#8. Order the accommodation
Once you have obtained your visa, you will need to find a place to stay. Off-campus student residences, which typically cost €240-460 per month (approximately US$280-496), house the majority of Danish students. You can find more information about this on your university's website.
You can also choose to live in a private residence. This is typically more expensive, though it varies based on size, location, and the number of people sharing the space. A one-bedroom apartment in the city center of Copenhagen costs an average of €1,333 (about US$1,444). Also, this is one of the ways to apply to study in Denmark.
#9. Sign Up
Finally, this is the last step on how you can apply to study in Denmark. You will need to register with your university shortly before starting your course. This is done online, and your university will provide instructions on how to do this shortly before you begin.
Conclusion
In conclusion, studying in Denmark in 2024 may seem daunting, but with the right preparation and guidance, it can be an enriching experience. From identifying your study interests to finding the right institution, navigating the visa process, and settling into a new country, this step-by-step guide has provided a roadmap to success.
Denmark offers a unique blend of high-quality education, multiculturalism, and work-life balance, making it an ideal destination for international students. By following these guidelines and embracing the opportunities that Denmark has to offer, you can set yourself up for a fulfilling and rewarding academic journey in the years to come.