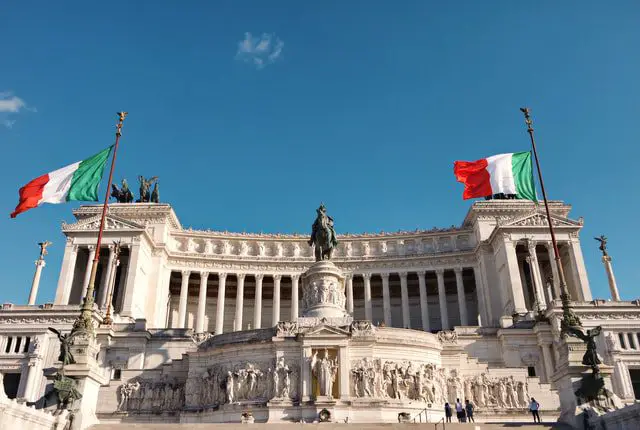 Due to the exceptionally high standard of education that is provided in the country, Italy is consistently ranked among the top countries to visit in this respect. Italy's tourist attractions are another factor that contributes to the country's popularity among students. The country is mostly famous for the historical sites that dot the landscape as well as the many stunning scenes that can be found there. Therefore, if country offers a large number of scholarships, bursaries, and other financial programs specifically for students. In addition, a number of Italy's universities provide students with access to some of the world's most comprehensive course catalogs. Even though the majority of these degrees come at a high cost to obtain, Italy does provide a number of scholarships that might be of great assistance. Below are the compiled 7 scholarships in Italy for you
1. University of Bologna Study Grants for International Students
The University of Bologna Scholarship is a scholarship that provides complete financial support to international students. This scholarship can be used toward either an undergraduate degree or a master's degree program. The recipient of this scholarship will receive tuition fee waivers for the Unibo Action 1 program in addition to study grants totaling €11,000 gross for the Unibo Action 2 program.
Today, the University of Bologna is paving the way for innovation in a wide variety of domains, including the presence throughout the territory, the international outlook, the research, the programme catalogue, and the information services. The University of Bologna has received applications from 87,590 prospective students for the academic year 2019/2020, making it the most sought-after university in all of Italy. The campuses of Bologna, Cesena, Forl, Ravenna, and Rimini have a combined total area of 1,162,506,81 square meters, which is used for both classroom instruction and extracurricular activities.
The University of Bologna currently provides students with access to 232 different degree programs (a.y. 2020/2021), 84 of which are international and 68 of which are taught in English. In addition, the university provides 86 first and second level professional master's programs, 14 of which are offered on an international scale. There are 53 specialization schools and 48 PhD programs (academic year 2019/2020). Students enrolled in First, Single, or Second Cycle Degree Programs at the University of Bologna are the only ones eligible to take advantage of this offer.
In order to be eligible for this scholarship in Italy, you will need to demonstrate that you have the appropriate academic qualification documents to fulfill the prerequisites for the program that you have chosen. If there are any of the required documents that you do not currently possess, it is imperative that you get them prior to the time of registration. Also, keep in mind that the only people who are qualified for this grant are those who have never received it before.
2.  The Italian Government Scholarships for Foreign Students
  The Italian Government Scholarship 2022-2023 is an opportunity for international students to get full funding to study a master's degree or doctoral degree at one of Italy's most prestigious educational institutions. This scholarship will provide payments of 900 euros each month, as well as cover the cost of tuition and medical insurance.
According to Law 288/55 and its subsequent changes and additions, the Ministry of Foreign Affairs and International Cooperation (MAECI) has the intention of promoting scientific and technological cooperation, international cultural, Italian language and culture, and providing support for Italy's economic system in the world. These goals are all part of the MAECI's mission. Scholarships are available for students who wish to participate in research, training, or study programs at Italian Higher Education Institutes that are both publicly funded and officially recognized.
Italy will educate you more than only Italian thanks to its 61 active public universities, 30 private institutions, 11 public research organizations, ground-breaking university programs, AFAM (Centers for higher artistic education), and 339 courses taught in English. Before submitting an application for this scholarship, candidates are required to verify that they meet the eligibility requirements, just like for other scholarship possibilities.
The primary purpose of the scholarship is to lessen the financial burden that most overseas students have when paying for their education. If you give the table of contents that follows this piece of writing a quick glance, you will find that it contains material that is pertinent to this scholarship. In accordance with the restrictions that are now in place, scholarship recipients are typically excused from having to pay the tuition costs required to attend university. Due to the fact that universities are autonomous institutions, there are times when they do not permit such exemptions.
Candidates are strongly encouraged to make direct contact with the institution of their choice in order to obtain information on any possible taxes or tuition fees.
The recipients of the University Scholarships in Italy that are awarded by the Italian Government are given coverage under an insurance policy against the risk of becoming ill or injured during the entirety of their time receiving the scholarships. Tickets for flights are not provided, with the exception of Chilean citizens
.
3. Scuola Normale Superiore Ph.D. Scholarships
One of the scholarships available in Italy for students pursuing a doctoral degree at the Scuola Normale Superiore is this one. It is a university that receives funding from the Italian government. renowned for its exceptional Ph.D. programs, which are known for their active support of the research aims pursued by international students. At the Scuola Normale Superiore, in addition to having access to highly skilled professors, you can also make use of the institution's world-class facilities. It is often considered to be among the most illustrious institutions in all of Italy. For foreign students who are interested in furthering their education in this nation, this university, which receives funding from the state, provides a variety of scholarship opportunities. The institution's scholarship program for fully-funded Ph.D. courses is likely the one that attracts the most applicants each year. The recipients of this scholarship in Italy will not have to worry about paying tuition because it will be paid, in addition to accommodation and board (total attendance cost).
It is important to bring to your attention the fact that all students who are accepted into Scuola Normale Superiore will be awarded a scholarship that will cover the cost of their whole PhD education. A stipend, in addition to the tuition fees, will be provided to you so that you can improve the quality of your research efforts. The students can also be eligible for free lodging and meals in the institution's dining halls and dormitories.
Read also; 10 Tuition Free Universities in USA for International Students
4. Politecnico International Scholarships
 Scholarships in Italian are made available by the university to overseas students who are interested in the various programs that are on offer. At the establishment, there are a total of five distinct scholarship programs for which you can submit an application.
For example, Alta Scuola Politecnica seeks to enroll bright students from other countries who are interested in the Master of Science degree programs offered by the institution. The COLFUTURO scholarships, on the other hand, are intended for Colombian students who are currently enrolled in Master of Science or Doctor of Philosophy degree programs in the fields of engineering or architecture. Other opportunities for financial assistance come in the form of scholarships such as the Eni Project (Petroleum Engineering), TOPoliTo, and Invest Your Talent in Italy. If you would want additional information on any of these programs, please visit the official scholarship page.
Applicants who are interested in the Politecnico di Milano Merit-Based Scholarships in Italy are required to meet the following eligibility criteria; Applicants who are interested in the Politecnico di Milano Merit-Based Scholarships in Italy are expected to meet the following eligibility criteria; The evaluation of your prior education and how well it meets the prerequisites for the programs that make up the Laurea Magistrale is one of the criteria that will be used to select candidates.
Applicants are required to be students studying in another country.
GPA is an abbreviation for grade point average. Academic achievements, including the portfolio where it is asked, are of the utmost importance.
The Scholarship Awarding Committee will give significant weight to the contribution that a well-written letter of motivation makes in reaching a favorable verdict.
5. Padua International Excellence scholarship programme
Students are provided financial assistance through a variety of scholarship programs by the University of Padua, the Veneto Region, and other organizations. The following is a list of the financial alternatives that are utilized by international students in Padua on the most frequent basis. The University of Padua provides financial assistance to highly qualified prospective students who are interested in enrolling in Bachelor's or Master's degree programs that are delivered entirely in English at the Padua campus. The scholarship program has a very stringent application process.
A scholarship can only be awarded to those applicants who demonstrate the greatest level of accomplishments and school / academic records. Those who are awarded scholarships will have the responsibility of acting as university ambassadors and representing the university at a variety of functions. The University of Padua, which is considered to be one of the best universities in Italy, has placed a strong emphasis on the expansion of its international body. As a direct result of this high emphasis, the University of Padua has established this scholarship program, which will award a total of fifty scholarships to highly prospective students who are interested in pursuing a Bachelor's degree or a Master's degree. Because the instruction is provided entirely in English, we anticipate receiving many applications from students studying in other countries who meet the requirements of this scholarship.
The number of students who wish to be considered for this prize is fairly large, which means that there is a lot of rivalry for this scholarship. Because of the stringent eligibility requirements, only students with the most impressive accomplishments and track records in their academic careers will be considered for this award. This scholarship can be used for a maximum of about three years for candidates seeking Bachelor's degrees, and approximately two years for students seeking Masters degrees.
Check this out; 19 PhD Scholarships for Equatorial Guinea Students in 2023
6. Università Cattolica (UCSC) International Scholarship in Italy
This scholarship will continue to be awarded on an annual basis for the whole duration of the degree program, which is typically four years. Candidates that are selected must be able to keep their enrollment status at full-time in order to graduate on schedule with their degrees. In the event that the candidate is unable to graduate on the date that was anticipated, the student will be responsible for paying any additional charges.
Students will be able to enroll in undergraduate and postgraduate degree programs offered by UCSC in its Milan, Piacenza, and Cremona campuses and have their classes conducted in English thanks to this program. All applicants whose applications are successful will have their tuition fees reduced as part of the Cattolica Africa Scholarship program (see the chart below). However, students will still be responsible for their own living expenses; hence, the Cattolica Africa Program is NOT a program through which full scholarships can be earned. This is due to the fact that students will still be responsible for paying for their own food and housing.
The following is a list of eligibility criteria that applicants to the Università Cattolica (UCSC) International Scholarship in Italy are expected to meet in order to be eligible for the scholarship.
Applicants are required to be students studying in another country.
Candidates should have a strong understanding of mathematics in order to participate in the program, which includes a significant quantitative component.
Entry students are expected to have prior knowledge of the history, institutions, and cultures of the world, as well as a command of fundamental logical, quantitative, and analytical skills.
Candidates are required to provide a certificate verifying their proficiency in the English language to the online application.
Complete their studies at the high school level and obtain their diploma by the 30th of August, 2021 at the latest.
possess a high school diploma that was earned after at least 12 years of prior worldwide schooling and at least 2 years of attendance inside the same national education system in order to qualify.
7,  Bocconi Merit and International Awards
The Bocconi Graduate Distinction Awards are granted on the basis of academic merit to students from Italian universities as well as students from other countries who wish to study in Italy. The Merit Award consists of a tuition and fee waiver that is fully paid for, which has an annual value of around €14,000. The submission of applications is currently being accepted.
The goal of Bocconi University is to make our exceptional quality of higher education accessible to brilliant students, and we are committed to achieving this goal. The distribution of these Awards is made possible by both the University of Bocconi's own resources as well as the generous contributions of private contributors, Alumni, individuals, and foundations. Beyond simply looking at your credentials, Bocconi will challenge you to discover new things about who you are.
The concepts of social and economic advancement served as the basis for the establishment of Bocconi University. After more than a century, we continue to instill in our pupils the importance of upholding strong morals and principles while working toward achieving their goals.
Students that are eager to improve in and outside of the classroom will thrive in our programs since they are designed to develop and challenge them. We provide a variety of extracurricular activities that can assist students in developing their self-assurance, leadership, and ability to collaborate effectively with others. These activities range from sports clubs such as football, basketball, and water polo to performing arts, yoga, and relaxation techniques.
Because our headquarters are located in a city that is rich in culture, we are able to provide our students with access to a wide variety of artistic, musical, and theatrical experiences. Our Bocconi Art Gallery initiative shines a light on contemporary art each year in conjunction with prominent galleries and artists from around the world. When they graduate from Bocconi, our students have the opportunity to take with them a high-quality education as well as a broad grasp of the wonder and potential that exists in the world.
Want to study as a Colorado Student. This is for you 15 Best Colorado Student Grants 2022
Studying in Italy is guaranteed to deliver more than meets the eye for any student who chooses to participate in study abroad there, in addition to the obvious benefits, such as the country's delectable cuisine, attractive streets, varied natural landscapes, and history that seeps out of every crevice. Students from other countries who want to study in Italy can take advantage of everything the country has to offer while still pursuing academic credit in the subject matter and concentration that most piques their academic and professional interests. When deciding where to go to school, it is important to take into consideration a number of factors, including the higher education system, the student life, and the estimated costs.
I sincerely hope that you found this article on Italy's scholarship opportunities for foreign students to be informative.