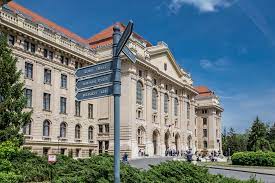 Study in Hungary? The Hungarian Government Scholarship Program 2022 is open at the University of Debrecen under the Stipendium Hungaricum Scholarship Program 2022 for International Students in Hungary.
The University of Debrecen Scholarship is a highly competitive and fully funded scholarship in Europe that provides financial support for undergraduate, master's, and doctoral students.
The University of Debrecen is a research-oriented public university located in Debrecen, Hungary. It is one of the oldest higher education institutions in Hungary. They offer highly competitive professional bachelor's, master's, and doctorate degrees. Degree programs. Furthermore, all of these professional degree programs are recognized outside of the countries of the European Economic Area (EEA).
It is a fully-funded scholarship for international students from all over the world. You will cover all expenses during the study in Hungary. Furthermore, studying in Hungary at a Hungarian university is a great international experience and many career opportunities in the heart of Europe.
Hungarian Government Full Scholarships 2022
Institutions where the studies will be carried out:
University of Debrecen, Hungary.
Levels and areas of studies:
Bachelor, Master, and Doctorate.
Undergraduate / Bachelor Programs:
Agriculture programs
Food engineering
Business Programs Business
Administration and Management
Commerce and Marketing
Engineering
Programs  Biochemical
Engineering Chemical
Engineering Civil
Engineering Electrical
Engineering Mechanical Engineering
Specialization in automotive production process control
Specialization in Building Services Engineering
Specialization in operation and maintenance
Mechatronics Engineering
Professional pilot
Health Programs
Nursing and patient care (physical therapy)
Public Health

English and American Studies Humanities Program
Business
Information Technology Programs Computer
Science Computer Science
Engineering
Musical Programs
Creative Musical Art and Musicology
Classical Performing Arts (music)
Science Programs
Biology
Chemistry
Earth Sciences
Geography
Mathematics
Physics
Graduate Programs:
Agriculture Programs
Animal Husbandry
Engineering , Master's Degree in Agricultural Environmental Management Engineering , Master's Degree in Agricultural
Water Management
Engineering , Master's Degree in Food Safety and Quality Engineering, Master's Degree in
Plant Protection, Master's
Degree in Rural Development Engineering, Master's Degree
Business
Economics and International Business Program, Master
Engineering Programs Engineering
Management, MSc
Environmental Engineering, MSc
Mechatronics Engineering, MSc
Mechanical Engineering, MSc
Urban Systems Engineering, MSc
Health Programs
Complex Rehabilitation, MSc
Public Health, MSc
Social Work in Health Care, MSc
Social Work and Social Economy, MA
Humanities Programs
English Studies, MA
American Studies, MA
Science Programs
Applied Mathematics, MSc
Biology, MSc
Chemistry, MSc
Environmental Sciences, MSc
Geography, MSc
Hydrobiology – Water Quality Management, MSc
Molecular Biology, MSc
Technology Programs
Computer Science, MSc
Computer Science Engineering, MSc
Law Programs
European and International Commercial Law- LL.M.
Music Programs Classical
Musical Performance, MA
You can find more details about the programs in the following links:
Undergraduate
Masters
Ph.D.
One level programs
Who can participate ?:
2022 international students from different parts of the world can apply for the Hungarian Government Full Scholarships for 2022.
Endowment of the scholarship:
Free registration for the entire duration of the studies.
Monthly stipend for the bachelor's or master's level.
Contribution to accommodation
Free medical insurance for the entire duration of the studies.
Conditions that participants must meet:
Students must have an excellent academic record.
Be medically fit.
There are different eligibility criteria for students from each country; Please check when you apply through the appropriate form of the online application section.
Documents you must submit to apply for the Hungarian Government Full Scholarships:
Education certificate (end of study grade, high school diploma, a graduation document or any equivalent, college or university diploma / certificate or any equivalent – all in English (translated).
Certificate or proof of citizenship and / or permanent residence (for example, passport).
Short resume / CV
Medical certificate
Note: Having an IELTS / TOEFL language certificateis not a mandatory requirement.
More details about the requirements can be seen: here
Instructions to apply:
Students must apply online for admission to the University of Debrecen Stipendium Hungaricum Scholarship.
Please check the eligibility criteria first before applying for the Hungarian Government Scholarship.
Submit your application online through the official university portal through the help of the application guide.
The application for the Stipendium Hungaricum scholarship program 2022 will open in early November 2021.
Deadline:
Until January 15, 2022.
Page Link: