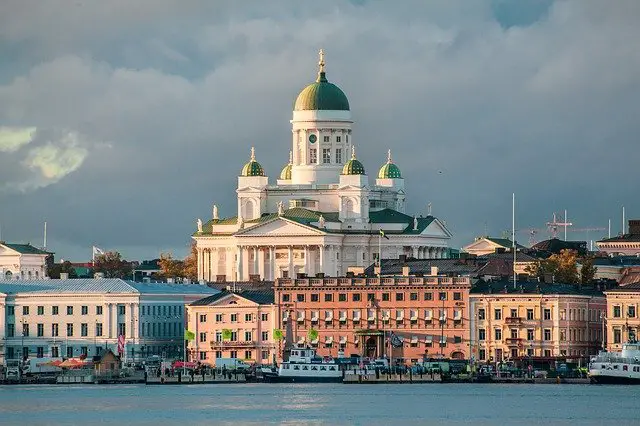 Aalto University is a public research university located in Espoo, Finland. It was established in 2010 as a merger of three major Finnish universities: the Helsinki University of Technology, the Helsinki School of Economics, and the University of Art and Design Helsinki. The close collaboration between the scientific, business, and arts communities is intended to foster multi-disciplinary education and research.
The Finnish government, in 2010, set out to create a university that fosters innovation, merging the three institutions into one. The university is composed of six schools with close to 17,500 students and 4,000 staff members, making it Finland's second-largest university. The main campus of Aalto University is located in Otaniemi, Espoo. Aalto University Executive Education operates in the district of Toolo, Helsinki. In addition to the Greater Helsinki area, the university also operates its Bachelor's Programme in International Business in Mikkeli and the Metsahovi Radio Observatory in Kirkkonummi.
Aalto University's operations showcase Finland's experiment in higher education. The Aalto Design Factory, Aalto Ventures Program, and Aalto Entrepreneurship Society (Aaltoes), among others, drive the university's mission for a radical shift towards multidisciplinary learning and have contributed substantially to the emergence of Helsinki as a hotbed for startups. Aalto's is Europe's largest and most active student-run entrepreneurship community that has founded major concepts such as the Startup Sauna accelerator program and the Slush startup event.
The university is named in honor of Alvar Aalto, a prominent Finnish architect, designer, and alumnus of the former Helsinki University of Technology, who was also instrumental in designing a large part of the university's main campus in Otaniemi.
But What Are The 6 Reasons Why Students Should Choose The University Of Alato?
The first reason is that Alato University cares about its students and the possible employee status that follows their graduation as a senior in college. Alato as a community goes out of its way to ensure graduating students have a career or a job lined up for them as they exit their higher learning education.
Since the university's main purpose is to help students utilize education through science, art, technology, and business. We spark the game changers of tomorrow and renew society with research-based knowledge, creativity, and an entrepreneurial mindset. All students' work is guided by the values of the university: responsibility, courage, and collaboration.
With a vast community of over 30,000 individuals who have worked or are working at the university and around its campus they have open positions available as well as, tenure spots and doctoral programs. It can be scary for 4-year students who just want something lined up after spending 4 years on education and studying. Alato allows their own students to apply for a position at the university to ensure employment.
One Of The Biggest Networking Platforms Available Today
Networking is an aspect that all students at university will come to know all too well. If a student does not somehow network within their own college they can fall behind on work and possible opportunities that are generally waiting for them. Networking can open the door for a student who for example is interested and studying S.T.E.M. to land a job with any scientific lab in the world.
Also, students should be able to write a motivation scholarship letter that depicts why the students has chosen the university they have. Aalto University asks all of their students to do this when sending in an admissions request.
The Full Branded Mission That Aalto Lays Out For Its Students And Faculty Is That:
Following the Aalto strategy, especially the plans for driving excellence and its actions new collaboration across fields and attracting and fostering talent, the Aalto Networking Platform's mission is to facilitate matchmaking and networking of joint multidisciplinary activities leading to bigger research initiatives and solutions for grand challenges.
Aalto Networking Platform has all the three cross-cutting themes Sustainability, Radical Creativity, and Entrepreneurial Mindset visible in its activities. 
Cooperation And Fostering Talent
Arrange events to enhance the internal and external networking of Aalto's researchers, as well as spontaneous research collaboration between Aalto's Schools and Departments. 
Foster talent by helping newcomer researchers to get to know Aalto colleagues. Facilitate the onboarding and mentoring of newcomers.  
Facilitate the discussions between Schools and Departments to set up joint study programmes, research infrastructures and other joint initiatives. 
Communication 
Enhance the visibility of Aalto key research areas within Aalto and towards stakeholders. Act as a contact point internally and externally.
Support large research consortia in the communication and visibility aspects of top-level funding applications and projects. 
Maintain versatile interaction with Aalto's stakeholders. 
When relevant, showcase student activities as part of multidisciplinary networking events.
Platform Impact
The support granted by the Platform initiative has helped Aalto University researchers join together and start such great collaboration projects as
Aalto Industrial Internet Campus,
European Microkelvin Platform
Organization
Aalto Networking Platform managers come from research backgrounds and have proven track records in promoting cross-disciplinarity. They are broadly knowledgeable about ongoing research projects and programs at both national and European levels and are well connected to Aalto University faculty and research ecosystems in their fields.
A task force consisting of both academic and administrative stakeholders supports the platform. The academic task force members are appointed from all universities and fellow institutions, assuring a fair representation of research conducted at the University.
The Ultra Handy Aalto Research & Teaching Infrastructure Scheduling Tool
That the department of applied physics for a moment, a teacher would be able to access the whole infrastructure and history of this subject. Research at the Department of Applied Physics focuses on condensed matter and materials physics, quantum physics, nano-optics, and advanced energy sciences.
Along with this, the School of Chemical Engineering hosts two open-access research infrastructures. BIOECONOMY RI covers laboratory and bench-scale facilities enabling research on renewable materials. RawMatters RI offers facilities supporting research on inorganic materials, hydrometallurgical and metallurgical processes.
Even, OtaNano Low-Temperature Laboratory is one of the world's centers in ultralow temperature physics and nanoelectronics. The main research fields are ultra-low temperature physics and low-temperature quantum electronics.
Followed by, Metsahovi Radio Observatory is the only astronomical radio observatory in Finland. Metsähovi's main instrument is the 14-meter radio telescope, which is used around the clock, every day of the year. Its observational data is used, e.g., for studying active galaxies, the Sun, and the rotation of the Earth.
Students and faculty would be able to access research that is currently only underway in Helinski, so not public knowledge which is extraordinary.
Aalto Industry and Innovation Infrastructure are for students, researchers, and companies to innovate and co-create smart, connected products and services. Offering a variety of specialized manufacturing and testing facilities, Aalto i3 provides structured access to a unique multi-purpose infrastructure.
Alato University Has A Well Respected Art & Research Culture
Since studying at Aalto will come down to a number of factors, the ranking system of Aalto is 137 as per QS Ranking. Making Aalto one of the few accessible Ivy League universities in the world.
Based on researcher, the university offers its students global economic dynamics, which is defined as the sum of activities that take place both within a country and between different countries. One of the effects of globalization is that drastic changes in one country influence other countries. This is heavily researched and explored, while being presented to students who wish to enter an economic world.
Based on art, they promote knowledge-building activities in art, and design can be characterized by a quest for a human approach to any topic. In this way, Aalto University bridges different areas, such as art, technology, and business.
Our cultural approach focuses on experiences and both sensory and hands-on skills and knowledge.
At Aalto, artistic and design activities are closely linked to the research carried out in the technical fields: many of our art-based researchers do not focus on new technologies or their development, but rather on the use of technologies within art and other socio-cultural contexts.
In addition, art and design knowledge-building activities include technology-based actions related to systems design and sustainable development.
The Aalto Networking Platform brings together our researchers, practitioners, and external parties for multidisciplinary collaboration in the area of arts and design knowledge building.
Focus Areas
Arts, design and architecture
Human experience, including customer experience
Industrial processes and service design
Data-driven experimental design
Cognitive systems
Organizations and teams
Creativity and creative practices
By offering a highly skilled and yet thoughtful art center, Aalto has been looked to for its alumni artists. Specifically,
The School of Arts, Design, and Architecture has been a leader in art and design education in Finland for over 138 years. It is an international postgraduate university institution with students from over 50 countries. It offers doctorate, master and bachelor's degrees in a wide range of disciplines – fine art, design, new media, art education, visual culture, motion picture, and production design. School of Arts, Design, and Architecture is a pioneer in research and in developing interdisciplinary study programs.
The school received its current name at the beginning of 2012 when the architecture department moved in from the School of Engineering (previously part of Helsinki University of Technology). The architecture programs lead to the Master of Science degrees in architecture and landscape architecture.
As a matter of fact, in 2021, the University was ranked the sixth globally according to the QS World University Rankings by the subject Art and Design. Showing why students should apply to Aalto University solely based on worldwide rankings.
Even if this still doesn't answer why students should study in Finland, that's a whole separate section about Finland as an educational country. Not only does the country itself look to developing nations and invite their students, but Finland has an Ivy League education system that essentially acts as a public school opportunity.
Earn A Doctoral Degree In Under 4-Years
The School of Business offers degrees in economics and business administration at the Bachelor, Master, Licentiate, and Doctoral levels, along with MBA programs targeted to business professionals. Many of the degrees and programs are offered in English.
Since Aalto can allow students to combine a few years with a Bachelor's and Master's degree, students should ask themselves what questions would be good to ask administration before pursuing a bachelor's degree.
In its degree programs, the school has a two-step program structure with a three-year bachelor's degree followed by a two-year master's degree. A doctoral degree normally takes four additional years but can be achieved in three. Financial Times ranked Aalto University School of Business 29th in the European Business school rankings in 2013.
Aalto University School of Business is located at the Otaniemi campus. The school offers two Bachelor of Science Programs (one in Finnish at the Otaniemi campus and the other in English at the Mikkeli campus) and 13 Master of Science Programs (12 are offered in English).
The Aalto University School of Business is the first business school in Finland and the first business school in the Nordic countries to have received all three labels of excellence from the world's leading business school accreditation bodies: AACSB, AMBA, EQUIS. This Triple Crown status is an honor held by only a few business schools worldwide. The school is also an active member of the CEMS (Global Alliance in Management Education) and PIM (Partnership in International Management).
Alato University allows students to combine a few master's classes to achieve a shorter term towards reaching a doctoral degree. However, there are standard or basic classes all students must take to reach a doctoral degree.
Students Can Earn Multiple Degrees From These Connected Centers:
Aalto University has participated in nine Centres of Excellences during 2008-2019, selected by the Academy of Finland to represent the top research in the country, and receiving separate, fixed-period funding from the Academy.
Centre of Excellence in Generic Intelligent Machines Research
Centre of Excellence in Smart Radios and Wireless Research
Centre of Excellence in Computational Nanoscience
Centre of Excellence in Computational Inference
Centre of Excellence in Laser Scanning Research
Centre of Excellence in Low Temperature Quantum Phenomena and Devices
Centre of Excellence in Molecular Engineering of Biosynthetic Hybrid Materials
Centre of Excellence in Molecular Systems Immunology and Physiology, together with University of Helsinki and University of Turku
Centre of Excellence in Research on Solar Long-Term Variability and Effects, together with University of Oulu and Finnish Meteorological Institute
Currently, Aalto University Participates In Three Center Of Excellences (2018-2025):
Centre of Excellence in Quantum Technology
Centre of Excellence of Inverse modelling and Imaging, together with University of Helsinki
Centre of Excellence in Research of Sustainable Space, together with Finnish Meteorological Institute
Free Room And Living Expenses Are Completely Covered
Typically, international and even domestic students can go to school while being accommodated by the university campus' free boarding and granted living expenses. This means students would be able to live comfortably without worry and actually be able to focus on their studies. Finland has done a number of statistical reviews suggesting that this may be the only way to help students achieve their highest ability within higher learning education.
Finland And Sweden Tie For The Countries That Give Out The Most Fully Covered Scholarships/Grants
With research conducted in 2015 and 2019, Sweden and Finland have respectively tied when it comes to handing out full-tuition scholarships to students from developing nations.
How this works is based on Finland's Government Funded Programs that work with the education sectors of the country. By default, any application will be considered for full-tuition scholarships when a student applies for admission. Finland has a Centralized Admission System. All students just have to Shortlist the Program of various Universities and apply online through the Finland government website.
Where Germany gives out the most scholarships as a whole, Finland and Sweden promote free education. However, in Finland students can enjoy studying for free. That's right! It's free to study in Finland! While studying in most countries will require handing over an often-hefty tuition fee, Finland has somehow managed to keep university education entirely state-funded – even for international students.
It may not sound like a surprise for most anymore but studying hard at an individual's current level is the best step anyone can take to study for free in Finland. Remember that once an individual's academic profile reflects their own life as a student, and universities base their decisions on the achievements they have shown so far and how promising their potentials are. Also, studying hard can help everyone, at the very least, prepare for the admission test, and at most, develop valuable skills and habits that a single person can utilize in their college life and later, on their career.
All In All, Finland Offers Top Education With Virtually No Cost
Aalto University is one of those top universities that allows students to study for virtually no cost while giving students a monthly income. Now, that's hard to come by! Even if you are from a Non-EU country, studying undergraduate for free in Finland is undoubtedly doable through scholarships. The university offers full scholarships to paying students through a scholarship program. Upon application for admission, applicants can choose to apply for the scholarship as well, and since it is merit-based, the university selects the most successful applicants. The scholarship lasts for three years if the recipient continuously earns at least 55 credits every academic year until the degree completion.
Aalto even has Master's Scholarships available so students can study for free, which is almost unheard of in the academic world. Unlike in the Bachelor's and Master's programs, international students accepted in the doctoral programs of most Finnish universities are exempted from tuition fees regardless of their home country. This policy means a huge financial relief for struggling future researchers. However, students may still need to get additional funding for their living expenses and research costs that may not be provided by their host university.