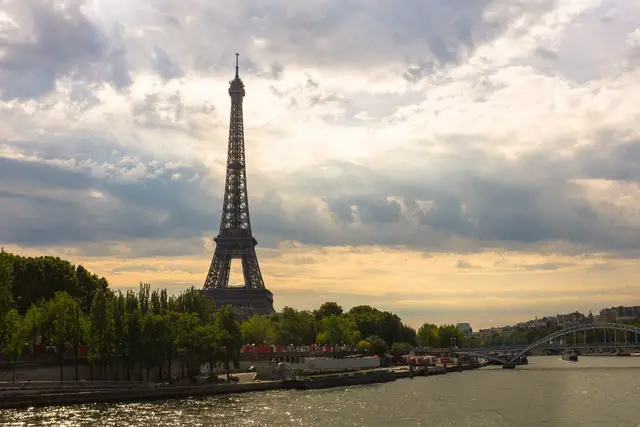 You already know you want to study in France. You have already found scholarship information that can help you. You have already located a university that interests you and that has the study program you want to do. But what do you know about the country? What will you need to enter and live? Here is a little guide to help you get started.
1. Preparing your stay
When preparing your trip to another country to continue your training, you should consider some aspects to take into account when taking your international flight and at the customs of the country where you arrive:
1.1 Airport and customs
• Baggage: carry-on and checked baggage
Before heading to the airport, check with your airline about the specific limitations on the number of packages, the maximum measurements, and the weights that apply to the transport of hand and checked baggage.
In addition, it is very important to check the list of prohibited and limited products for various reasons (security, fiscal,…) both in hand luggage and in checked luggage.
• Food and medicine
If you travel with food or medicine, you should check the regulations of the country of destination.
In general, hand luggage can carry food or medicine that you must use during the trip (outbound flight + stay + return flight) due to the need for special diets, illnesses, or children's food. It is therefore important to have proof of use (prescriptions or medical reports).
If you need to transport other medical supplies (syringes for diabetics, measuring devices, etc.), you must notify your airline in advance, which will inform you of the procedure to follow.
• Money
You must fill out the mandatory declaration requesting information on the amount of money you carry with you in any of the related forms (bill, cash, check,…).
• Companion animals
It is convenient that when you make the reservation or purchase of the ticket, either in the airline or in the travel agency, you communicate your intention to take a pet on board and that you are informed of the specific conditions for its transport (documentation of identification, vaccination, microchip, etc.).
• Luggage incidents
If at the time of receiving your checked baggage you detect destruction, loss, or damage to it and if the event that caused the damage occurred on board the aircraft or while the checked baggage was in the custody of the company, the airline is responsible. In this case, you must immediately go to the company's counter at the airport to file the corresponding report.
However, the company will not be liable to the extent that the damage is due to the nature, defect, or vice of the baggage.
In the case of unchecked baggage, including personal belongings, the company is responsible if the damage is due to its fault or that of its dependents or agents.
• Obtaining a visa
Once you have completed the procedure to obtain your scholarship, having been chosen, you need to obtain the necessary permits to remain in the country or countries of destination during the time of the scholarship. To do this, get in touch from your own country with the foreign consulates where you are going to reside and thus carry out the process of obtaining the necessary permits.
In the same way, if you are going to move with your relatives, they must individually carry out their procedure to obtain their corresponding residence permits.
To obtain all the information necessary to reside in France, visit the French Government portal in the "Study in France" section.  
1.2 Accommodation
This concept is one of those that make life more expensive for students who go to study in another country unless they have obtained it in their scholarship as a benefit. In the event that it is not part of the scholarship, you must reserve accommodation from your country of departure to have a place to arrive and then look for something better.
The cost of accommodation is very variable in France and can be very expensive. The Government of France supports both French and foreign students with grants for this reason.
The most common accommodation for students or researchers in France are:
University Apartments
In France, they are the CROUS (Regional Centers for University and School Works), public bodies, which manage university residences. They are located on campus or in the city; quotas are granted according to very strict social criteria.
They are the cheapest accommodation and reserved for French government scholarship holders or exchange students, masters, and doctorates.
In all other cases, there are very few opportunities to get a place in a CROUS residence. However, there are options even when the course has started, as some may give up their quota during the year.
They usually require a month's rent as a deposit in addition to sometimes a guarantor resident in the European Union.
Residences of Great Schools
The Grandes Écoles and some private establishments have their own residences located on their campus. They are a little more expensive than the CROUS residences.
These establishments try to reserve accommodation for the international students they host.
The website of the school you want to enroll in will tell you in detail. Reserve your room as soon as you have confirmation of your admission.
Student residences (private)
There are private residences for students in most cities with universities. They offer a lot of comforts and can offer different services (reception, intercom, common room, cafeteria, laundry, toilet, garage…) These residences are located close to the campuses. They are much more expensive than the CROUS residences or the Grandes Écoles residences.
If the reservation is made from abroad, they usually require a two-month deposit. Some usually require a guarantor and if they do not have one, they ask for a full year in advance.
Rent in the private sector
This type of accommodation allows you to choose the area and the amenities that you are willing to pay for. It is suitable for students who are sufficiently autonomous and socially well integrated.
The location of the accommodation is achieved either directly with an individual or through professionals, the real estate agents.
If you get a lease through a real estate agent, you will have to pay fees of an amount a little less than one month's rent.
Generally, it will be difficult to get to such a location before your arrival in France.
If you are interested in a rental of this type, when you arrive, contact the reception services for international students or the CROUS of your university, as they can help you with a lot of information to find one of the characteristics you want.
The obligation to get a guarantor in this type of rental is generally problematic. In some cities or regions, institutions or local authorities have implemented devices that replace this warranty.
Shared rental
This formula offers an alternative that is developing more and more. Co-leasing consists of sharing an apartment or a house with other students. It is generally cheaper than an individual rental and can provide the opportunity to meet French students or other foreign students.
Public aid for student accommodation
Like French students, foreign students can benefit from public aid for student accommodation, created to mitigate the high price of accommodation in France.
These grants are calculated based on the rent and the student's income: their assignment is not automatic and the amount is calculated on a case-by-case basis.
The following requirements must be met to be a beneficiary of the aid:
1. Have an accommodation to be able to indicate your address and the amount of the rent
2. Be registered with the compulsory student Social Security scheme
3. Be the holder of a bank account in France, since the subsidy is paid directly to the beneficiary each month.
In the case of a co-tenant, the co-tenants can receive an accommodation subsidy on the condition that their names appear on the lease. Each then submits an individual application. Instead, couples only submit a single application.
The aid application must be made directly on the website of the Family Subsidy Fund, "Caisse d'allocation familiale" (CAF), within three months of arrival at the corresponding accommodation.
There is also the so-called "student locative bond" or Clé (caution locative étudiante), which is a State guarantee that allows students without a personal guarantor to access accommodation for which a bond is requested. The Clé is supervised by the Crous. It is available at all universities, excluding the French overseas departments.
This guarantee from the state can benefit students who are in one of these circumstances:
– with income but no guarantee from family, friends, or a bank
– who wish to stay in France to study.
– Under 28 years of age on September 1 of the year of signing the lease
– Over 28 years of age on September 1 of the year of signing the lease, provided they are a doctoral student or post-doctoral student of foreign nationality.
1.3 Medical insurance
At the time of enrollment in a higher education institution, affiliation to the student Social Security (la Sécurité Sociale étudiante) is mandatory and involves the payment of a fee, except for European students, Quebecers, and those with scholarships from the French government. This affiliation allows you to obtain partial reimbursement of your health expenses throughout your stay as a student in France.
To be entitled to student Social Security, you must:
– be enrolled in a higher education establishment accredited by Social Security;
– be less than 28 years old on October 1 of the university year that begins (the age limit may be postponed in some cases);
– present a document that certifies the regularity of the stay (visa, residence permit…).
Social Security reimburses 70% of consultation with the doctor and the purchase of pharmaceutical products prescribed by the doctor.
It is mandatory for all Latin American students and there is no need to carry out any formalities since the affiliation is done at the time of their administrative registration at your university. It costs about €250 per year.
In addition, you will have to choose one of the two "mutuelles" (bodies that are in charge of student Social Security reimbursements): the LMDE or the SMEREP.
If you want to join a supplementary guarantee with a "mutuelle", in addition to the Student Social Security, you can get 100% reimbursement of your medical expenses, but with the cost of joining.
Being a Latin American doctoral student between the ages of 28 and 32 and having started your doctorate before turning 32, you still have the right to benefit from student social security throughout your doctorate.
If you are over 28 years old and are Latin American, you will not be able to benefit from student social security. In this case, the options are as follows:
1. Private insurance contracted from your country with the following characteristics:
– Guarantee €30,000 of medical coverage for illness or accidents.
– guarantee funerary repatriation.
– guarantee sanitary repatriation.
– in no way can they have deductibles.
2. Make a request for universal health coverage (CMU), in which you benefit from certain conditions by paying a special annual contribution. Enrollment in the CMU is done at the Social Security Center (CPAM) of the district where you reside.
You will require the following documents:
– Copy of the DUE or 1st salary bulletin.
– Sometimes, a copy of the employment contract.
– Birth certificate translated into French.
– Passport and residence permit (or scientific visa for a short stay).
– Bank certificate (RIB).
Finally, in the particular case that in your doctorate you appear as an employee of a research institution, regardless of your nationality, if you work at least 60 hours a month or 120 hours a quarter, you are exempt from affiliating with the Student Social Security. In this case, you will be obliged to join the general Social Security regime.
2. Learning to live
In this section, you will find important information to make your adaptation to France easier on a day-to-day basis.
2.1 Climate
We leave you these portals where you can find the historical, current, and projected temperatures.
2.2 Currency
In France, as a member of the Euro Zone, the currency in circulation is the euro (€). Each euro is further divided into 100 cents. Euro bills are identical on both sides in all countries and their denominations are 500, 200, 50, 100, 50, 20, 10, and 5. Coins, on the other hand, have a common front in all countries, while the reverse bears a distinctive national emblem.
In some shops and establishments, payment with 500-euro bills is not allowed, so it is better to get change for lower-denomination bills if you are going to make purchases.
Remember that the currencies of Latin American countries cannot be exchanged for other currencies outside their own country, so make the change to Euros in your own country of residence before your departure to bring some cash, as it will be very useful.
The following portals are currency converters, to know the current exchange rates:
2.3 Open a bank account
If you are going to stay in France for more than 3 months, opening a bank account should be among your plans, since it is mandatory to take advantage of the benefits and aid granted by the French government: monetary aid for accommodation, student social security and an easier way to get paid, if you are going to work as a student or researcher.
To open it you will only need:
1. Present your passport in order. 2. T
2. Your residence permit.
3. A proof of address.
2.4 Time zones
All-time zones are defined in relation to Coordinated Universal Time (UTC), so they are centered on the Greenwich meridian (0º). When going from one time zone to another in an Easterly direction, you have to add an hour and on the contrary, when going from East to West, you have to subtract an hour.
France is in the UTC+1 time region.
You can check the world times on the World Time website. 
2.5 Holidays and vacations
France occupies the fifth position in the ranking of the countries that have the most holidays worldwide, reaching 35 days a year. That is, adding 10 holidays and 25 annual vacations.
The first positions in the world ranking are:
The following links provide information on public holidays in France:
2.6 Cost of living
It is difficult to determine the cost of living in one country without making it relative to another. In these portals, we suggest you find cost comparisons between countries and cities for basic products.
2.7 Security level
The "Institute for Economics and Peace" annually updates its citizen security indexes and their relationship with the economic cost in each country of the world. This portal will be useful in these aspects:
2.8 Units of measure
In France, the International System is used. The basic units are:
2.9 Electrical system
It is very important when traveling to other countries to take into account the electrical system with which we are going to find ourselves because from the point of view of us as users there is variation in the consumption voltage as well as in the shape of the pins for contacts.
On the following website there is detailed information for all the countries of the world in the "Types of plugs" option in the side menu of "Utilities":
2.10 Emergency phone
If you require health care, firefighting, and rescue, citizen security, civil protection,… all kinds of emergencies are centralized in a single number for the whole of Europe, 112. Cell
phones without a SIM card can also call 112 and it is gratuitous.
2.11 Embassies
These links are very useful for obtaining official information on the countries or assistance in case you want to go to the diplomatic representation of your country abroad:
– Embassy-online
– Embassy-finder
3. Higher Education System in France
3.1 Structure of the higher education system
French higher education applies the system called "LMD" for "Bachelor – Master – Doctorate", common to most countries of the European Union. This system seeks to facilitate student mobility within Europe as in the rest of the world.
The issuance of diplomas structured around this common architecture (LMD) is based on the number of semesters of studies completed since the entry into higher education and the corresponding credits.
The First Cycle or Degree
In France, there are two types of institutions that offer higher education programs. These institutions are the Universités (Universities) and the Grandes Écoles (Great Schools).
The Universités, which are more than 80, are public institutions. They are recognized because most of the French public research is carried out in them.
Grandes Écoles are smaller than Universités and can be public or private. In France, the Grandes Écoles are characterized by their highly selective and competitive selection processes, in which candidates must pass rigorous entrance exams.
The teaching provided in the Grandes Écoles is mainly focused on the requirements of the French business world and industry. So much so that 60% of the Managers and Directors of the 100 largest French companies have obtained their university degrees from a Grande École. In order for their students to have as much contact as possible with the business sector, the Grandes Écoles generally allow their students to undertake internships and international exchanges. Another advantage that you may find if you decide to study at a Grande École is that many of these institutions offer programs that are completely taught in English.
If you are interested in studying at a Grande École, you should know that these are divided into different types of institutions:
Schools of Business Administration, Commerce and Management
Engineering Schools
Higher Normal Schools
Institutes of Political Studies
Specialized Schools (gastronomy, hospitality and tourism, fashion, cinema, and others)
The duration of the bachelor's or degree in France is three years.
The Second Cycle or Master
These official studies are aimed at specializing the student in their academic, professional or research training and culminate in obtaining the Master's degree that is valid in all the signatory countries of the European Higher Education Area (EHEA).
Its duration is two years.
The first academic year of the program (M1), is where you will study the most general topics of your study program.
In the second year of the program (M2), you will see more focused and specialized subjects in your area of ​​study. Although there are people who, due to their previous studies or their extensive professional experience, are admitted directly to the M2, it is advisable that if you make the decision to study your postgraduate degree in France, you initially apply to the M1 and it will be the Admission Committee who, after reviewing your profile, decide if you should enter the first year of the master's degree or the second. Generally, during the M2 you will be able to decide the orientation that you are going to give to your Master's program (Professional Master or Research Master).
You should also be clear that in France there are three types of Masters:
Master Professionel (Professional Master): it is the type of master that is focused on the requirements of the industry and seeks that students who obtain this degree have a rapid insertion into the world of work. If your main interest after finishing your Master is to start or continue your professional life, this will be the ideal type of program for you. During this Master you will be able to receive classes given by different businessmen and you will have the opportunity to carry out internships and business practices.
Master Recherche (Research Master) : are those programs in which the student receives a large amount of theoretical knowledge, and in turn writes and supports a research thesis. If your goal is to continue with a doctorate or dedicate yourself to research and teaching, doing a Master Research will be the way to do it.
Mastère Spécialisé (Specialization Master) : offered exclusively by the Grandes Écoles, they are full-time dedication programs that last one year, and their objective is to provide very specific and specialized knowledge on a topic of particular importance for the sector private. Being a very intensive program, during it the students must take theoretical classes, carry out an internship and write an individual thesis.
The Third Cycle or Doctorate
In France, Doctorate programs are taught in Doctoral Schools that are generally linked to Universities. All research and training during the doctorate are carried out under a Research Unit (UR), made up of several doctoral students who are researching in specific scientific areas under the supervision of a director. 
If you want to do a Doctorate in France, you must first have a master's degree, as well as the approval of a thesis supervisor. If you decide to do a Doctorate, keep in mind that these last approximately three years.
To learn more about the educational system in France, we recommend these websites:
– Ministry of Education of the Government of France
– Page on educational systems of the European Commission
3.2 Educational rankings
Educational rankings are very diverse and with different measurement parameters. It is interesting to review several to give us an idea of ​​the academic level of the institutions without these being definitively an absolute reference regarding educational quality.
We offer you links to the most relevant world rankings in the university and master's fields: