Scholarship details
Exciting Opportunity: Get a Full Tuition Scholarship for Masters Programs in Malaysia!
Attention all students from developing countries and the third world! The Nottingham University Scholarship is now accepting entries for ten incredible 100% Tuition Scholarships. This amazing opportunity is exclusively available for those who want to pursue Master's Programs at the Malaysian Campus in fields related to science, technology, and education.
Imagine the chance to study in Malaysia, a vibrant and culturally diverse country, while receiving a full scholarship to cover your tuition fees. This scholarship is your ticket to unlocking a world-class education and preparing yourself for a successful future.
The Nottingham University Scholarship aims to support talented individuals who have a strong passion for advancing their knowledge in these specific areas of study. Whether you're interested in science, technology, or education, this scholarship can be the stepping stone toward achieving your dreams.
To be considered for this prestigious scholarship, it's crucial that you meet all the eligibility criteria. These requirements are carefully designed to ensure that the scholarship is awarded to the most deserving candidates. So, make sure you carefully review and fulfill all the necessary criteria before submitting your application.
Don't miss out on this incredible opportunity to receive a 100% Tuition Scholarship for your Master's Program in Malaysia. Take the first step towards a brighter future by applying for the Nottingham University Scholarship today!
About The Prize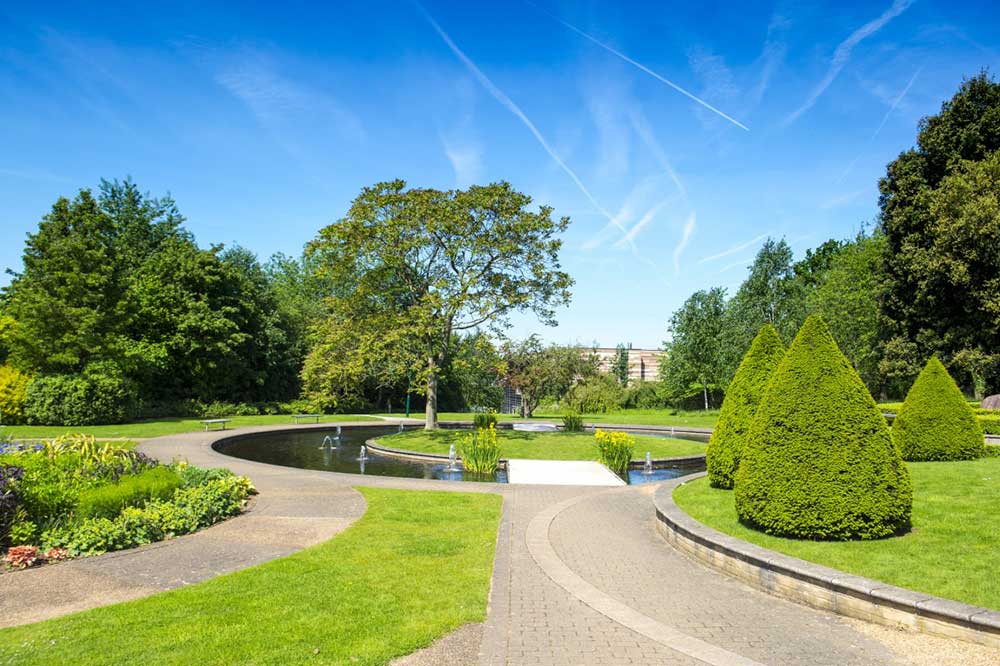 Image source: University of Nottingham
Great news for aspiring change-makers! The Developing Solutions Scholarship Fund is now expanding its reach to support students who possess the potential to create a significant impact on the development and prosperity of their home countries.
This remarkable scholarship fund is dedicated to identifying and nurturing talented individuals who have a genuine desire to make a positive difference in their communities. If you dream of playing a crucial role in the advancement and growth of your home country, this scholarship is the perfect opportunity to turn your aspirations into reality.
By extending the Developing Solutions Scholarship Fund, more students will have access to the resources and support needed to pursue their educational journey and contribute meaningfully to the development of their nations. This initiative aims to empower exceptional individuals who possess the drive, determination, and innovative thinking required to address the unique challenges faced by their home countries.
If you believe you have the potential to become a catalyst for change and bring about prosperity in your community, this scholarship fund is tailor-made for you. It not only provides financial assistance but also opens doors to valuable opportunities, mentorship programs, and networking platforms that can further enhance your impact.
Remember, the Developing Solutions Scholarship Fund is looking for individuals with a genuine passion for creating a better future. If you possess the qualities that can bring about positive change, don't hesitate to seize this incredible chance to receive the support and recognition you deserve.
Apply now and be a part of the expanding Developing Solutions Scholarship Fund, where your potential to transform your home country's development and prosperity can be fully realized!
Scholarship Type at the University of Nottingham
The Master's program is the available program that can be taken.
Application

Deadlines
Exciting Opportunities Await: Apply for September and December 2023 Entry!
Get ready to embark on an incredible academic journey in 2023! The application process for September 2023 entry is now open, starting from March 1, 2023, and closing on August 2, 2023. Similarly, for those interested in December 2023 entry, applications are open from June 1, 2023, until October 18, 2023.
Picture yourself starting your studies in September or December 2023, joining a vibrant community of learners, and pursuing your educational goals. This is your chance to seize these wonderful opportunities and unlock a world of knowledge and personal growth.
The application process is your first step towards securing your place at a prestigious institution. Make sure to submit your application within the specified timeframe to be considered. The selection committee will carefully review all applications and assess candidates based on their qualifications and potential.
If your application is successful, you will be notified by August 23, 2023, for September entry, and by November 8, 2023, for December entry. Receiving that notification will be a moment of joy and anticipation as you embark on your educational journey.
Remember, this is your opportunity to pursue your dreams, expand your horizons, and make valuable connections. Take the leap and apply for September or December 2023 entry to set yourself on the path to success.
Don't miss out on these exciting opportunities! Mark the application deadlines in your calendar, gather your documents and submit your application with confidence. The adventure of a lifetime awaits you in September or December 2023. Apply now!
Eligible Countries
All developing and third-world countries with interested candidates are welcome to apply.
To be taken in (Country)
Welcome to the vibrant Malaysian campus of the University of Nottingham!
Fields of Study:
Explore a wide range of exciting Master's programs offered at the University of Nottingham, Malaysia Campus. Here are some of the fascinating options available:
1. Master in Chemical Engineering
2. Master in Civil Engineering
3. Master in Mechanical Engineering
4. Master in Electronic Communication and Computer Engineering
5. MSc Crop Biotechnology
6. Master of Education Leadership & Administration
7. MA Special Needs
8. MA TESOL (Teaching English to Speakers of Other Languages)
9. MSc International Development Management
These programs encompass diverse fields of study, providing you with the opportunity to specialize in areas such as engineering, biotechnology, education, and international development. Immerse yourself in a dynamic learning environment and gain valuable knowledge and skills to excel in your chosen field.
Whether you aspire to become a skilled engineer, an expert in biotechnology, an educational leader, or a professional in international development, the University of Nottingham, Malaysia Campus has a program tailored to your interests and career goals.
Take the next step in your educational journey and enroll in one of these esteemed Master's programs. Unleash your potential and prepare yourself for a rewarding future filled with exciting opportunities.
Eligibility
Exciting Scholarship Opportunities at the University of Nottingham Await You!
If you're eager to secure a scholarship at the prestigious University of Nottingham, here's what you need to do:
1. Secure an Unconditional Offer: Start by receiving an unconditional offer letter for a full-time Master's program at the University of Nottingham campus in Malaysia for the upcoming admissions year. To accept the offer, you'll need to pay a fee of $1,000. Don't forget to attach a copy of the unconditional offer letter and the acceptance form to your scholarship application.
2. International Student Status: You must be classified as a 'foreign' student for payment purposes. This means that you should be an international student, not a domestic student.
3. Work Experience: Make sure you have at least one full year of work experience after completing your undergraduate program. Please note that recent graduates will not be considered for these scholarships.
4. Financial Planning: It's essential to ensure that you have sufficient funds to cover the cost of living throughout your entire duration of study. Take into account expenses such as accommodation, meals, transportation, and other personal needs.
5. Complete the Online Scholarship Application Form: Fill out the university's online scholarship application form. Remember that only completed forms with all the necessary supporting documents will be considered.
6. Fresh Opportunities: Keep in mind that these scholarships are designed for new students. If you're a current student or graduate of the University of Nottingham, Malaysia Campus, please note that you won't be eligible for these particular scholarships. They aim to provide fresh opportunities for incoming students.
Remember, only applications that fulfill all the requirements mentioned above and are submitted with the necessary documents will be considered. So, make sure you carefully follow the instructions and submit a complete application.
Don't miss out on this incredible chance to secure a scholarship at the University of Nottingham! Take the leap, showcase your potential, and pave the way for a successful academic journey. Apply today and open the doors to a world-class education!
Number of Prizes
The total number of prizes available is 10.
Value of the Scholarship Program
Exciting Opportunity: 100% Tuition Fee Waiver for Ten Dedicated Candidates!
Attention, aspiring students! We have a remarkable opportunity for ten individuals who are eager to pursue their studies. A 100% tuition fee waiver is up for grabs for those interested candidates who are passionate about their education.
Program Duration:
The program is designed to provide a comprehensive learning experience over a period of one year, spanning 12 months. During this time, you will delve deep into your chosen field of study, gaining valuable knowledge and skills that will shape your future.
This exclusive tuition fee waiver not only opens the doors to a world-class education but also relieves you of the financial burden that comes with pursuing higher studies. It is a golden chance to invest in yourself and pave the way for personal and professional growth.
Don't let this opportunity slip away! Be one of the dedicated candidates who seize the chance to receive a 100% tuition fee waiver. Take the first step towards a rewarding educational journey and secure your spot in this prestigious program.
Apply now and embark on a transformative experience that will propel you toward a brighter future!
How to apply for a scholarship at the University of Nottingham
Download the application form (PDF)
Once you have filled out the form, save and attach the form to your email and send it to Developing Solutions Malaysia
Supplier Award:
The provider of this award is the University of Nottingham.