Scholarship details
Georgetown University in the USA is offering an amazing opportunity for talented graduate students from Sub-Saharan Africa. They have a special scholarship called the Full Tuition/Fully Funded Masters Scholarship for the year 2024. This scholarship is specifically for students who want to pursue a Master's degree in the field of international affairs through the Master of Science in Foreign Service (MSFS) program.
Georgetown University has a long-standing tradition of supporting education, especially through its affiliation with the Roman. As the oldest of higher education in the US, they believe in the power of scholarships to advance learning.
This fully funded MSc scholarship allows African students to study for a Master's degree in the United States without worrying about tuition fees. It covers the full cost of tuition, ensuring that students can focus on their studies and immerse themselves in the vibrant academic environment at Georgetown University.
The MSFS program is a two-year, full-time graduate degree program that focuses on international affairs. Students enrolled in this program will have the opportunity to explore various subjects, including international relations, international trade, international finance, statistics, analytical tools, and history. These courses provide a solid foundation for understanding global issues and developing the skills necessary to navigate the complexities of the international arena.
Moreover, students can choose a specific area of concentration that aligns with their interests and career goals. They can specialize in International Relations and Security, International Development, or International Business. This allows students to tailor their education to suit their individual aspirations and gain expertise in their chosen field.
To give you a better idea of what to expect from the MSFS program, here is a table that provides an overview of the courses and concentrations available:
Table of Contents.
About the University

What You Need To Know About Georgetown University Fully Funded Masters Scholarships For African Students 

Level/field of study

Host nationality

Eligible Nationality

Scholarship Worth

Georgetown University Fully Funded Masters Scholarships for African Students' Eligibility

How To Apply For Georgetown University Fully Funded Masters Scholarships For African Students 

Scholarship Application Deadline
About the University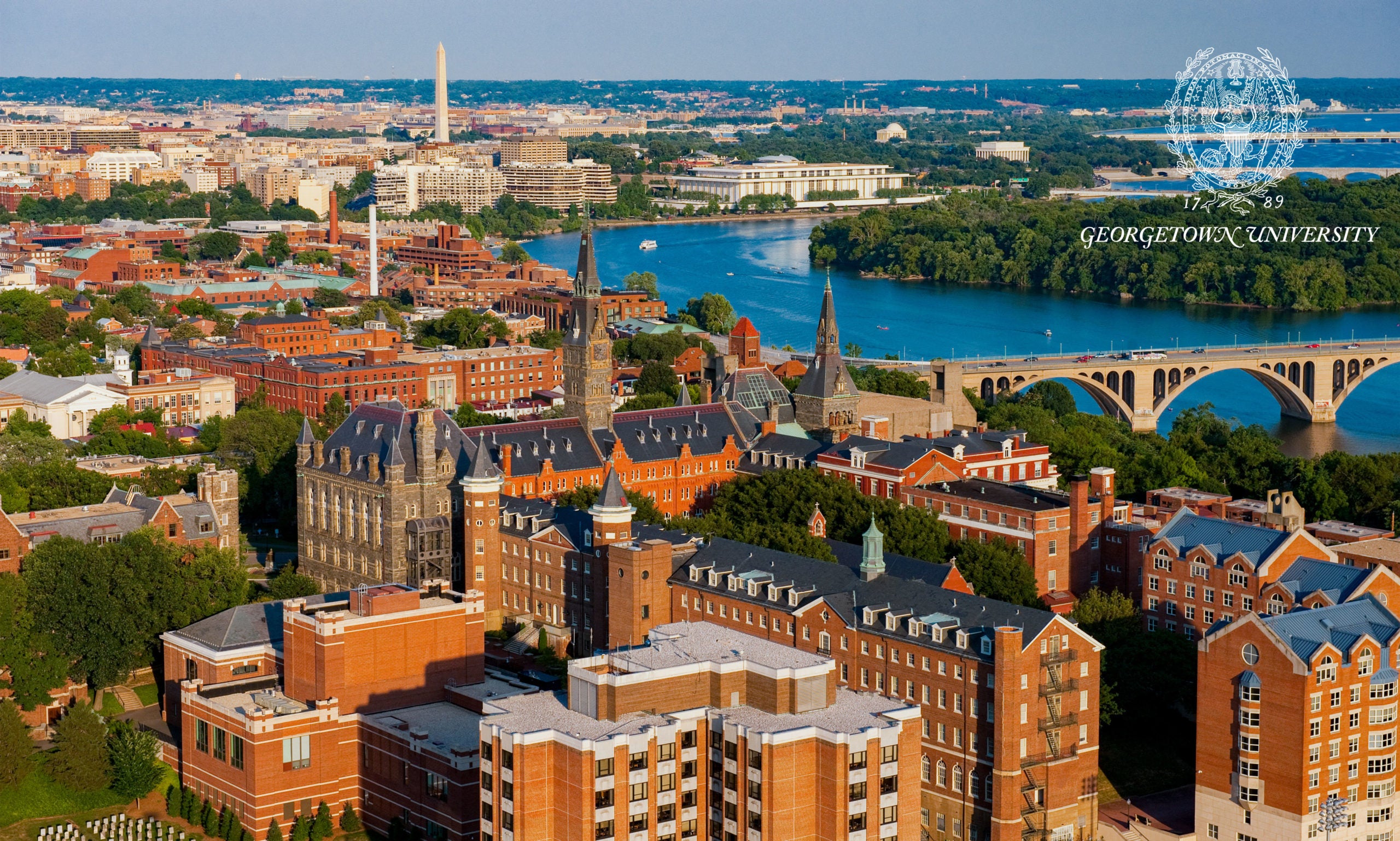 Image Source: Georgetown University
Georgetown University, located in Washington DC, is a prestigious private university and holds the distinction of being the oldest
institution of higher learning in the United States. This esteemed university has an impressive list of alumni, including two former US presidents, Bill Clinton, and Lyndon Johnson, as well as notable heads of state like King Felipe VI of Spain.
Founded in 1789 by John Carroll, the first US bishop, and archbishop, Georgetown University sits on a beautiful hilltop overlooking the Potomac River. In 1817, it awarded its first bachelor's degree, marking the beginning of its educational legacy.
During the American Civil War, Georgetown faced great challenges, and its student population drastically declined from 313 to a mere 17 between 1859 and 1861. However, it was in the aftermath of the war that Georgetown transformed into the institution we know today.
Under the leadership of Patrick Healy, who served as the university's president from 1873 to 1882 and became the first African American to earn a Ph.D., Georgetown underwent significant reforms. Healy restructured the curriculum to emphasize history and natural sciences and initiated the construction of Healy Hall, a magnificent Flemish Romanesque building that stands as the flagship of the university, nestled in the heart of the campus.
Georgetown University is currently organized into nine schools catering to both undergraduate and graduate students. Among these schools are Georgetown College, renowned for its liberal arts program, and the Edmund A. Walsh School of Foreign Service, which has nurtured the education of heads of state and politicians from various corners of the globe.
The university boasts a diverse student body, with over 7,000 undergraduate students and approximately 10,000 graduate students. About 11 percent of Georgetown's students come from more than 130 countries, contributing to its vibrant international community.
Although Georgetown University has always maintained its independence, its heritage continues to exert a strong influence. The university places great emphasis on the values of service and dedication to others, particularly those who are vulnerable and underprivileged.
In addition to its campus in Washington DC, Georgetown University operates a foreign service school in Doha, Qatar, which provides exciting opportunities for students to study abroad in charming Mediterranean villas.
Georgetown University's rich history, academic excellence, and commitment to social responsibility make it a truly remarkable institution that shapes the minds of future leaders, scholars, and changemakers from around the world.
What You Need to Know About the Georgetown University Fully Funded Scholarships for African Students
To have a chance at winning the scholarship, applicants need to complete all the necessary application requirements. These include filling out an online application, writing a personal statement, submitting official transcripts and test scores, and obtaining letters of recommendation.
The scholarship selection will be based on how strong the student's application is during the admission process. It's important for applicants to put their best foot forward and showcase their achievements, skills, and potential in order to stand out from the competition and increase their chances of being awarded the scholarship. Therefore, applicants should take their time, carefully gather all the required materials, and present themselves in the most compelling and impressive way possible. This is their opportunity to highlight their unique qualities and demonstrate why they are deserving of this valuable scholarship.
Level/Field of Study
Scholarships are available to study in the Master's program. The eligible field of study is the Master of Science in the Foreign Service.
Host Nationality
The scholarship is being taken in the USA at Georgetown University.
Eligible 

Nationality
International students, particularly those from the Ivory Coast, Ghana, Kenya, Liberia, Nigeria, Senegal, and South Africa, are eligible for this scholarship. Applicants from these countries will receive special consideration during the selection process.
This is an opportunity specifically tailored to support and recognize the talents and potential of students from these nations. If you are an international student hailing from any of these countries, this scholarship could be a perfect fit for you. Don't miss out on the chance to apply and showcase your capabilities for this valuable opportunity.
Scholarship Worth
This is a full tuition scholarship.
Application Criteria
To be considered for this scholarship, candidates need to meet the following requirements:
1. Eligible Countries: This scholarship is open to international students from any country.
2. Language Proficiency: Applicants must have achieved a minimum TOEFL score of 100 or an IELTS score of 7.0 to demonstrate their English language proficiency.
3. Special Consideration: Priority will be given to applicants from the Ivory Coast, Ghana, Kenya, Liberia, Nigeria, Senegal, and South Africa.
4. Economics Courses: Candidates should have completed at least one microeconomics course and one macroeconomics course. Alternatively, they should have the ability to finish both courses *before* the MSFS program begins in Fall 2024.
By fulfilling these criteria, candidates will enhance their chances of being selected for this scholarship. It's important to ensure that all requirements are met in order to qualify for consideration.
How To Apply For  

The  

Georgetown University Scholarships
To be eligible for the scholarship, applicants must submit all the necessary application materials, which include an online application, a personal statement, official transcripts, test scores, and letters of recommendation. It is important to provide all the required documents to complete the application.
The scholarship selection process will be based on the overall strength of the student's application during the admission process. This means that the committee will carefully review and evaluate each applicant's materials, considering factors such as academic achievements, personal statements, test scores, and letters of recommendation. The quality and compelling nature of the application will greatly influence the chances of being awarded the scholarship.
Applicants should take the time to prepare their applications diligently, ensuring that they present themselves in the best possible light. By showcasing their accomplishments, skills, and aspirations, they can increase their likelihood of receiving this valuable scholarship opportunity.
Scholarship Application Deadline
All applications must be submitted before January 15.