Scholarship details
Star and its partners at Agbami are thrilled to extend a warm invitation to apply for the AGBAMI SCHOLARSHIP 2023 FOR UNDERGRADUATE STUDENTS. This unique scholarship opportunity is tailor-made for Nigerian undergraduate students in their 100 and 200 levels of studies.
Considered by many as one of the most exciting undergraduate scholarships in Nigeria, the AGBAMI scholarship has brought joy to over 10,000 deserving students. This scholarship program opens doors to brighter futures, providing much-needed support to students dedicated to their education.
But wait, there's more! In addition to the AGBAMI scholarship, other prestigious scholarships are available for students at various educational levels. These include the Total scholarship, Shell scholarship, Addax scholarship, Agip scholarship, Chevron scholarship, and numerous other scholarships offered by multinational organizations.
The following table offers a comprehensive overview of all the critical points discussed in this article. This way, students can quickly grasp the valuable information provided.
Remember, pursuing education is a journey that should be supported and celebrated. The AGBAMI scholarship and its partner scholarships pave the way for dedicated Nigerian students to achieve their academic dreams.
Table of Contents.
Why the Agbami Medical & Engineering Professionals Scholarship Award?

Level/field of study

Host nationality

Scholarship Eligibility

Is the Agbami scholarship ongoing?

How can I apply for the Agbami scholarship?

What documents are required for the Agbami scholarships?

Scholarship Application Link
Why the Agbami Medical & Engineering Professionals Scholarship Award?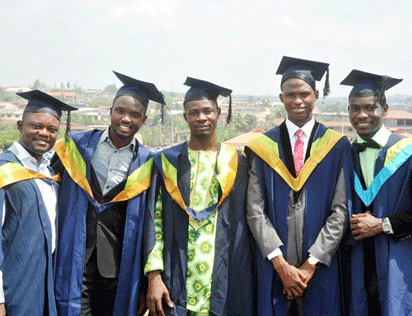 Image Source: Vanguard
Star Deep Water Petroleum Limited, a company affiliated with Chevron and responsible for operating the Agbami Field, is demonstrating unwavering dedication to enhancing skills in health and engineering. This commitment is fueled by the company's desire to contribute to the pool of skilled professionals that form the backbone of the national workforce. As part of this noble endeavor, they present a range of college scholarship awards to deserving Nigerian students from every state within the Federation.
The heart of this scholarship initiative, supported by Star and in collaboration with Agbami, beats in sync with their goal of making meaningful investments in improving Nigeria's health and education sectors. By offering these scholarships, they're helping students and playing a vital role in the strategic growth and progress of the nation's healthcare and educational systems.
These scholarships symbolize their belief in the power of education to shape a brighter future for both individuals and the country. By enabling motivated students to pursue their dreams without financial constraints, they're nurturing the growth of talents that will ultimately contribute to the nation's prosperity.
In a nutshell, the scholarship program by Star Deep Water Petroleum Limited, in collaboration with Agbami, is a remarkable step toward fostering a skilled and capable workforce in Nigeria. Through these scholarships, they are sowing seeds of progress and development that will yield fruitful results for years.
Level / Field of Study
The scholarship is created explicitly for Nigerian undergraduate students currently in their 200 (200l) and 100 level (100l) of studies. If you aim to secure this award, don't miss out on reading: "Essential Tips to Secure a Scholarship."
Host Nationality
The scholarship opportunity is available for studies within the borders of Nigeria. If you are an international student aspiring to pursue education in Nigeria, this is the perfect opportunity tailored just for you. Explore the Latest Nigerian Undergraduate Scholarships for the year 2023 and embark on a journey of academic excellence in Nigeria. This is a golden chance to expand your horizons and experience the vibrant educational landscape of the country.
Scholarship Eligibility
They are inviting online applications from students who are studying full-time at the 100 and 200 levels of studies. This opportunity is available to students from any state within the Federation pursuing specific courses at universities in Nigeria. The eligible courses include Medicine and Surgery, Dentistry, Pharmacy, and Engineering.
How Much Does Agbami Scholarship Pay?
This Agbami Scholarship Application Program for Freshmen and Sophomores in Tertiary Institutions is worth NGN100,000 for engineering students and NGN200,000 for medical students.
Is the Agbami Scholarship Ongoing?
The previous application period ended on October 30th at midnight. But don't worry; you can begin your application right now!
How Can I Apply for the Agbami Scholarship?
Here's a more detailed explanation, written in clear and straightforward language, about how to apply for the scholarship:
To start your application process, follow the steps outlined below:
Qualifying Test Invitation: If your application is selected, you'll be invited to a qualifying test held at specific national test centers. You'll receive an invitation through both email and SMS text messages. To ensure you receive these important notifications, provide accurate and valid GSM phone numbers and email addresses while filling out the electronic forms on the website.
2. Application Steps:
– When asked to upload documents, attach the correct ones.
– Give your documents names that clearly indicate what they are to avoid confusion during uploading.
– Start by clicking "Register/Login" to create a new account or sign in if you already have a Scholastica account. If you're a new user, check your email to activate your account.
– Visit www.scholastica.ng/schemes/agbami to return to the scholarship site.
– Sign in using your registered email and password to upload your information.
– Provide your details, including your national identification number if you have one, educational background, and other relevant information. Also, upload the necessary scanned documents.
– Ensure that the names you use in your application match those on all your documents and are listed in the same order. If there's any discrepancy, upload an affidavit or certificate to clarify.
– Always double-check the documents you've uploaded to prevent errors.
– When prompted, upload a passport photo with a white background.
– Review all your application information before submitting it to avoid any mistakes.
– Once you're ready, click "Apply Now" under the scheme you're interested in. After submitting, a notification will appear confirming your successful application.
– To confirm the submission, go to your profile account's "My Application" section.
3. Verification Profile:
– Return to www.scholastica.ng and log in using your email and password.
– Download your verification profile and have your Head of Department sign it.
– Upload a scanned copy of the signed verification profile. This document will be used for the verification process.
4. Completing the Application:
– Go back to www.scholastica.ng/schemes/agbami and update your application with your National Identification Number (NIN) to ensure your application is complete.
By following these steps, you're on your way to applying successfully for the scholarship. It's essential to provide accurate information and follow the guidelines closely to enhance your chances of being considered.
What Documents Are Required for the Agbami Scholarships?
Before you begin the application process for the Agbami-Chevron Scholarship, ensure you have clear scanned copies of these documents ready:
1. A passport photograph with a white background taken within the last three months (dimensions: 450px by 450px, file size: no more than 200kb).
2. Your school ID card.
3. Admission letter from your university.
4. Birth certificate.
5. O 'Level result.
6. JAMB result.
7. Local Government Area identification letter.
Scholarship Application Link
If you didn't provide your National Identification Number (NIN) in Step 6, you can obtain it by following these steps:
1. Register for NIN:
– Go to http://ninenrol.gov.ng and click "Create Account."
– Fill in the required information in the provided fields.
– Log in using your email and password to complete the registration form.
2. Capture Your Photo and Fingerprint:
– After completing the form, schedule a date for capturing your photo and fingerprint.
– Visit any 37 capture centers listed at http://www.nimc.gov.ng/?q=nin-registration-centres to finalize your registration and receive your National Identity Number (NIN).
3. Alternative Option:
– You also have the option to complete the entire registration process at a NIMC (National Identity Management Commission) office.
Following these steps, you can quickly obtain your National Identification Number (NIN) and complete your scholarship application smoothly.