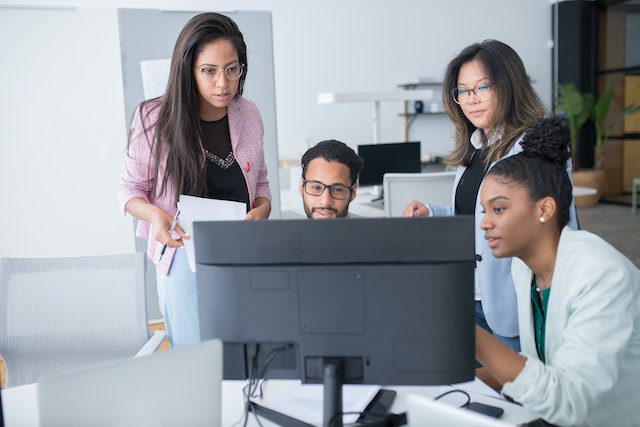 Financial constraints can be a real struggle for many students. However, scholarships are a fantastic solution for those seeking assistance with their education expenses! In this article, we'll take you through 12 straightforward steps on how to apply for a scholarship in any country.
But hey, don't let the costs of studying abroad discourage you! Stick around, and let's explore this exciting journey together!
Let's immediately debunk a common misconception about studying abroad – it doesn't have to break the bank! In fact, thousands of scholarships are available specifically for students interested in studying abroad. All you need to do is apply for them! And let's be honest, who doesn't love the idea of free money? Just thinking about it gives us those heart-eye-emoji vibes.
You might have to make a few sacrifices in the months leading up to your summer, semester, or year abroad. It might mean saying no to that tempting dessert or cutting back on post-Christmas shopping. But remember, being smart with your money before studying abroad is just a small step toward more significant and amazing adventures.
By adopting savvy savings strategies and taking advantage of financial aid options like scholarships for studying abroad, you'll finally have the chance to achieve your travel goals. The key is being willing to put in the effort to complete the scholarship application.
Before we dive into the steps, here's a handy table that gives you an overview of what you can expect:
In this article, you'll discover the answers to some important questions:
What exactly is a scholarship, and how does it differ from grants and student loans?
Who is eligible to apply for a scholarship?
What is the process for applying for a scholarship?
Where can you find scholarships specifically for studying abroad?
What kinds of scholarships are available out there?
But before we dive into all of that, here's a list of a few recommended universities for studying abroad:
University of California, Berkeley (UCB) in the United States
University of Toronto in Canada
Imperial College London in the United Kingdom
IU International University of Applied Sciences in Germany
Université de Lyon in France
EU Business School in Spain
University of Canberra in Australia
What is a scholarship?
Image source: Pexels
According to the Cambridge Dictionary, a scholarship is when a school, college, university, or another organization provides money to help someone with limited finances but exceptional abilities to pay for their studies. It's like a financial support system for talented individuals with little money. It's worth mentioning that some scholarships are more inclusive and open to all students, regardless of their academic achievements or financial situations. So, there are opportunities for everyone to apply and benefit from scholarships.
Differences between scholarships and grants
Let's take a closer look at the differences between scholarships and grants. Both are considered gift aid, meaning students don't have to pay the money back. However, grants are usually given to students based on financial need, targeting those who can't afford the costs of their studies. On the other hand, scholarships are often awarded based on academic, athletic, or artistic abilities.
Differences between scholarships and student loans
Now, let's talk about the dissimilarities between scholarships and student loans. Unlike scholarships, student loans require repayment, often with interest. Student loans can be a mixed bag—they can provide financial assistance but also lead to substantial debt. In the United States, student loan debt skyrocketed to a staggering $1.5 trillion in 2020.
Who can actually apply for scholarships?
So, who can actually apply for scholarships? The answer might seem obvious, but different scholarships target different students. It's important to check the eligibility requirements, application deadlines, and whether the scholarship is open to national or international students.
Here are some common application requirements for scholarships:
Registration or application form
Personal statement or essay expressing your motivation
Letter of recommendation
Acceptance letter from an academic institution
Proof of low-income or official financial statements
Proof of exceptional academic or athletic achievements
How to apply for a scholarship
Now, let's discuss how to apply for a scholarship once you've found one suitable for your study abroad plans. Follow these steps:
Register for the scholarship by completing an online application form.
Check your email to ensure you've received a confirmation.
Write a personal statement or essay, making sure to be original and showcase your unique experiences and ideas.
Obtain official documentation of your academic, athletic, or artistic achievements. If necessary, have the documents translated?
Alternatively, gather official proof of your low income or nationality (for region-based scholarships), and consider translation if required.
Thoroughly proofread all your documents for any errors before sending them to the scholarship provider.
Submit the acceptance letter from your university or an official document confirming your acceptance. Remember, you won't receive the scholarship without verifying your enrollment.
Wait for the results. If you're selected, congratulations! You're a winner! Celebrate responsibly, and remember not to spend all your scholarship money on a single party. Just kidding! Usually, the university or college receives the funds directly to cover your tuition or a portion of it.
Now you're ready to embark on your scholarship application journey!
If you want to boost your chances of securing a college scholarship, it's crucial to approach the application process with careful thought and consideration. After all, this decision can have a significant impact on your future.
To help you navigate the scholarship application process at universities or colleges, here are some more steps to follow:
Complete all sections of the application form: Ensure that you fill out every section of the form thoroughly and provide all the required information.
Follow directions: Pay close attention to the instructions provided. Follow them diligently to avoid any mistakes or oversights.
Make your application form readable: Take the time to write neatly and legibly. Use clear and concise language to express your thoughts.
Customize the form: Tailor your application to highlight your unique strengths, experiences, and qualifications. Showcase what sets you apart from other applicants.
Keep a backup: Create copies or digital backups of your application materials. This ensures that you have a backup in case any documents get misplaced.
Start early: Begin the application process well in advance. This gives you ample time to gather all the necessary documents, write compelling essays, and review your application thoroughly.
Be correct: Double-check your application for any errors or typos. It's essential to present a polished and professional application.
Make it fluent: Ensure that your application flows smoothly and is easy to understand. Use proper grammar, punctuation, and sentence structure.
Beware of scams: Stay vigilant and be cautious of any suspicious scholarship offers. Verify the legitimacy of the scholarship programs before sharing personal information or paying any fees.
By following these steps, you'll be on your way to successfully applying for scholarships and increasing your chances of receiving financial support for your college education.
Scholarship Application Tips
When it comes to applying for scholarships, paying attention to some important tips can greatly improve your chances. Let's explore these tips for a successful scholarship application:
Complete all sections of the form: Once you've found a scholarship program, ensure that you fill out the entire form without leaving any sections blank. If a section doesn't apply to you, indicate that clearly in the provided space. Leaving sections incomplete increases the risk of your application being rejected.
Follow directions: Carefully read and understand the instructions before applying for any scholarship. This will help you provide the information they specifically require without going off-topic or giving unnecessary details.
Make your application form readable: Review it before submitting it to ensure it is clear and legible. If your handwriting is not the neatest, consider typing your responses. This ensures that your application stands out and is not discarded due to being difficult to read.
Customize the form: When writing your application essay or personal statement, make it personal and engaging. Let the reviewers get to know you on a deeper level. Avoid long and monotonous sentences that may make your essay dull and uninteresting.
Keep a backup: Before sending in your application, make sure you have a backup copy. This can be a digital copy or photocopy of all your documents. This precaution ensures that you have a spare in case your application gets lost in the mail.
Start early: Be mindful of deadlines and plan your schedule accordingly. Submit your scholarship application as early as possible to avoid any last-minute rush or missed opportunities.
Review: Before submitting your application, take the time to proofread your work or ask someone experienced in writing to review it for you. Correct any spelling or grammar mistakes to ensure an error-free application.
Make it fluid: Double-check your spelling and grammar to ensure a smooth and polished scholarship application. An application free from errors demonstrates your attention to detail and professionalism.
Beware of scams: Apply for scholarships with confidence, but be cautious of any scams that require payment from you to qualify. Legitimate scholarships do not ask for fees.
Additional 3 Scholarship Application Tips
When preparing to apply for scholarships, it's important to remember that each scholarship has specific requirements and documents. Here are some helpful tips to assist you in choosing the right scholarships to apply for:
Be organized: Keep track of deadlines and gather all the necessary documents. Make sure to make copies of everything you submit. Sending your applications via certified mail can provide peace of mind, ensuring they are received.
Be honest: Being truthful and genuine in your applications is crucial. Avoid exaggerating your grades, memberships, skills, or qualifications. Instead, focus on scholarships that align with your interests and abilities. This increases your chances of receiving scholarships that fit you well.
Follow instructions carefully: Pay close attention to the instructions provided by each scholarship. Some scholarships may require you to write an essay, while others may ask for letters of recommendation. Be sure to submit all requested materials and double-check for any errors or missing items. Typos or incomplete submissions can potentially cost you a scholarship opportunity.
By staying organized, being honest, and carefully following instructions, you'll be well on your way to successfully applying for scholarships that align with your goals and qualifications.
Conclusion
In conclusion, applying for scholarships is an important step towards achieving your educational dreams. By following the tips outlined in this blog, you can increase your chances of securing the financial assistance you need for your studies. Remember to stay organized, be honest in your applications, and meticulously follow the instructions provided by each scholarship. These simple yet essential practices will set you on the right path towards success.
Scholarships offer incredible opportunities for students to pursue their passions and unlock their full potential. They provide financial relief and enable access to quality education, regardless of one's financial background. So, take advantage of the numerous scholarships available and explore the ones that align with your interests and abilities.
Always remember to stay organized by keeping track of deadlines and making copies of all your application materials. Being honest throughout the process will not only uphold your integrity but also increase your chances of securing scholarships that truly suit you. Finally, pay close attention to the instructions provided by each scholarship and ensure that your applications are error-free and complete.
As you embark on your scholarship journey, embrace the possibilities and be confident in your abilities. Scholarships are not just about financial aid; they represent opportunities for personal and academic growth. So, put your best foot forward, showcase your unique qualities, and let your passion shine through in your applications.
By applying these tips, you'll be well-prepared to navigate the scholarship application process successfully. Remember, scholarships are not just rewards for the few; they are opportunities available to many. So, believe in yourself, pursue your dreams, and let scholarships be the catalyst that propels you towards a bright and promising future.