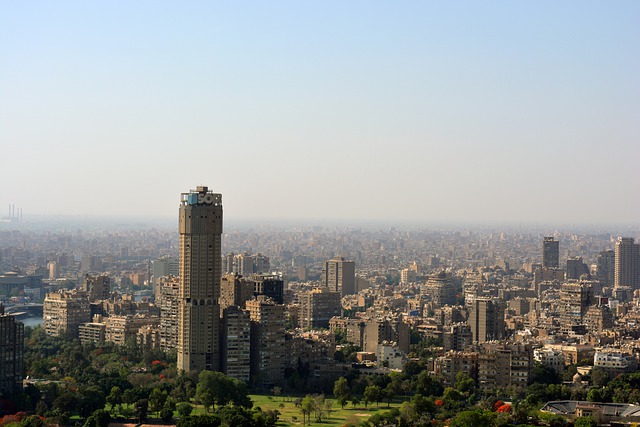 Let's dig into the universities that Egypt has bestowed upon the world, which happened to be ranked within the top 200 universities to attend.
The type of institutions available is essentially split into three different types of higher education schools. These colleges can be vocational or taught with a work-ready on-site approach, the second focuses on all things scientific, while the third is the prime academic sector.
Now, domestic students do not have to pay any kind of tuition or fees, because as an Egyptian citizen, all higher education is free. If a student wishes to not live on campus, there are hostels that work with a number of colleges that provide free accommodation for university students.
Egypt's Universities
What can be expected from Egyptian international universities, or the fact that most of Egypt's schools were initially international institutions, to begin with? International students pay incredibly modest tuition and additional fees that are part of the college process.
Cairo University
Cairo University is ranked amongst the top international universities in the world. As a matter of fact, this ranking has been established since the 1980s. Since the early 2000's multiple new programs and field studies were introduced to the university. These new programs are construction engineering, computer engineering, telecommunications engineering, mechanical design engineering, architecture, engineering, construction, technology, petrochemical engineering, water, and environmental engineering.
The American University in Cairo
This international institution has a record 4.2 out of 5-star rating with over thousands upon thousands of reviews. Also, the school ranks at about 18 on the national and worldwide higher education scale. The tuition is based and paid "by credit hour" which is very different from the annual tuition that most students would face anywhere else. However, this is an effective strategy for students to take their school time seriously.
Undergraduate programs available for any international student to apply for:
Actuarial Science
Architectural Engineering
Biology
Chemistry
Computer Science
Computer Engineering
Construction Enigneering
Data Science
Electronics and Communications Engineering
Mathematics
Mechanical Engineering
Petroleum Engineering
Physics
Ain Shams University
This university provides higher education levels for everyone applying for an undergraduate to post-graduate status. The higher education school has available facilities that act as separate teaching areas within the campus grounds. This was created to help students to focus primarily on the degree or major they wanted to attain.
The faculties available:
Faculty of Agriculture (4 years)
Faculty of Arts
Faculty of Commerce (4 years)
Faculty of Computer and Information Science (4 years)
Faculty of Education (4 years)
Faculty of Dentistry (6 years)
Faculty of linguistics (Al Alsun) (4 years)
Faculty of Law
Faculty of Medicine (7 years)
Faculty of Nursing
Faculty of Pharmacy (5 years)
Faculty of Engineering (5 years)
Faculty of Science (4 years)
Faculty of Specific Education
Faculty of Women for Arts, Science and Education
Faculty of Archaeology (4 years)
Institute of Environmental Studies and Research
Institute of Postgraduate Childhood
The Higher Institute of Cooperative & Managerial Studies
British University in Egypt
The British University of Egypt has successfully poised itself as a top model for international students. This means that the institution upheld some of the best quality efforts that international schools around the world now have adapted as their own mission and motto.
This is a private education school, along with being ranked as the best top 10 colleges rated by international students. The programs available:
Business Administration & Economics & Political Science
Dentistry
Engineering
Energy and Environmental Engineering
Information & Computer Science
Mass Communication
Nursing
Pharmacy
Arts and humanities
Law
Arts and Design
Alexandria University
As a student researching for which university to attend in Egypt, that may feel a bit impossible because, in reality, Egypt is equipped with low tuition costs and an avast array of field studies to choose from. Along with international students being able to secure free accommodation and traveling to the campus using the free transportation that is available.
Alexandria University may be just one of the most stunning archeological wonders to exist. The college opened in 1942 under a different name but was soon changed. Alexandria is one of the three largest universities to exist in the country. Mulitple famous alumni and prior students have studied and graduated from this wonderful college.
Here are the faculties that students can choose from:
Art
Law
Commerce
Communications
Enginnering
Science
Nursing
Medicine
Fine Arts
Physical Education for Girls
Physical Education for Boys
Agriculture
Education
Dentistry
Tourism and Hotels
Economic Studies & Political Science
Veterinary Medicine
Graduate Studies and Research
And mulitple faculties that will be opening within the next three years.
Mansoura University
The Mansoura University is strictly related to providing information and studies about the culture in Egypt. From preserving the language and history, this school is specifically for students who are interested in immersing themselves in the archeology of Egypt.
Zagazig University
The public university is nearing it's 50 year anniversary of being open to students soon. And even a famous actress and geneticist have graduated from this institution. Students can expect to profoundly increase their knowledge of modern standard Arabic since this school does not provide any English classes. However, the best part is that international students are highly welcome to become proficient in modern standard Arabic.
Al Azhar University
A public university that is Egypt's official oldest degree earning building. The insane number of networking and combined education efforts that Al Azhar works with many different colleges, has seen over 2 Million students pass through it's doors. Al Azhar has the most affiliation when it comes to working with research institutions, graduate colleges, and vocational schools.
To gain admission to this stunning university, a student would need to complete and successfully pass the Arabic program. This means international students should apply for admission if they have a standard basic understanding of the language. This will be the biggest test that signifies if a student should be admitted or not.
Programs available include:
Life sciences
Agriculture & Forestry
Business & economics
Business & Management
Physical sciences
Chemistry
Clinical, pre-clinical & health
Medicine & Dentistry
Arts & humanities
Architecture
Social sciences
Geography
Computer science
Computer Science
Engineering & technology
Helwan University
Helwan is massively considered to be possibly the most unique model among Egyptian Universities. The university was able to envelop and evolve several classes such as arts, fine arts, applied arts, art education, music education, and physical education faculties. Located within the industrial area of the city, students have seen Helwan as a beckon or a symbol of hope when it comes to higher education.
Faculties at Helwan University are:
College of Fine Arts
Faculty of Engineering (Helwan)
Faculty of Engineering (Al-Materia)
College of Commerce and Business Administration
Faculty of Computer and Information
Faculty of Tourism and Hotels
Faculty of Applied Arts
Industrial Education (Engineering Science)
College of Home Economics
Faculty of Art Education
College of Music Education
Faculty of Physical Education (Boys) at Al-Haram
Faculty of Physical Education (Girls) in the island
Faculty of Law
College of Literature
Faculty of Education
Faculty of Pharmacy
Faculty of Social Work
Faculty of Science
College of Nursing
Faculty of Medicine
National Intellectual Property Institute
Faculty of BIS – Business Information systems
Faculty of FMI – Financial Markets & institutions
Assiut University
Now Assiut University is solely a pure government institution. Where foreign policy and international trade agreements are studied to an infinite degree. With over 16 facilities and a massive teacher-to-student ratio, about 4 to 5 students per teacher, Assiut has made an impact on the government in Egypt.
The university was founded back in the 1950s, where students have the option to choose which language they would prefer their major field study to be taught in, which include English, Arabic, French, or German.
Assuit may be best known for its affiliations with several hospitals since many doctors end up graduating from this higher education school.
Beni-Suef University
As a prior branch of the university from Cairo University in the last 1970's, this university found its footing in the 2000's and became an independent institution. This university has a mighty unique way of teaching its students the way of economic leadership.
Facilities available for newcomers:
Commerce
Law
Arts
Education
Veterinary Medicine
Medicine
Nursing
Physical Education
Artificial Intelligence
Industrial Education
Pharmacy
Science
Information Technology
Computer Science
Suez Canal University
The most known thing this university has been known for since the 1970s is it's use for non-traditional degrees. There are many centers and events that take place, which have so far have been split into varying areas. For example, The Center Of Open Education looks to provide an open opportunity to continue education for a student who has held a high school degree or a technical diploma. Yet, this student desires to raise and improve their educational and cultural level. This refers to obtaining a bachelor's degree granted by the faculties which participate within the accurate and chosen program.
The Suez Canal University Hospital is known for its top-grade health care services and for its intensive nursing training programs.
The Information and Communication Technology Center looks to have all of its educational centers and systems working at its optimal rate, and the university has created new programs that focus on cyber security and chief finance security based on the ever-changing technological world.
Tanta University
Originally this independent branch was covered by the University of Alexandria as the official medical training center and unit. However, in 1973 the institute would go on to become separate from the University of Alexandria to pursue a different set of desired courses.
Many of the programs available are primarily medicine or health services related. Although they have added Arts, Law, Education in Tanta, and, Agriculture. The Tanta University has opened up a whole new Master's major that works with biotechnology and genetic technology.
Future University in Egypt
Future University in Egypt is one of the best private universities in Egypt, offering high-quality academic education, undergraduate and postgraduate.
The type of faculties available:
Faculty of Oral and Dental Medicine
Faculty of Pharmaceutical Sciences and Pharmaceutical Industries
Faculty of Engineering and Technology
Faculty of Economics and Political Science
Faculty of Commerce and Business Administration
Faculty of Computers and Information Technology
Menoufia University
Maybe the most famous university in the country, where the university originally had started with four colleges (converged as one). They were the College of Agriculture, the College of Engineering, the College of Education, and the College of Electronic Engineering.
The main faculties included:
Faculty of Engineering
Faculty of Science
Faculty of Agriculture
Faculty of Arts
Faculty of Medicine
Faculty of Commerce
Faculty Of Education
Minia University
Minia is known for its encouraging studies and enthusiasm for literature. However, the available faculties will be listed below, they have an average of 17 branches based field studies that go off into various sub-genres.
Facilities available here:
Faculty of Agriculture[9]
Faculty of Education
Faculty of Science
Faculty of Arts (off campus)
Faculty of Fine Arts
Faculty of Engineering (off campus)
Faculty of Medicine
Faculty of Physical Education
Faculty of Dentistry (off campus)
Faculty of Dar Al-Uloom (Islamic teachings)
Faculty of Nursing
Faculty of Tourism and Hotels
Faculty of Al-Alsun (languages)
Faculty of Pharmacy
Faculty of Computer Science
Faculty of Specific Education
Faculty of Kindergarten
A major event the university is known for is their week-long disabilities sporting event which was the first-ever in the country's entire history.
Misr University For Science And Technology
This is a private institution that will take a bit more of the required guidelines to receive a letter of acceptance when it comes to international students. This university is best known for producing some of Egypt's top scientists in the field of science and technology. A lot of connected research labs that are out of Dubai, work with Misr University.
This may even be described as a prime research scientific university but it depends on the category or field subject a student has decided to pursue.
Fayoum University
Fayoum University is known as a great public university located in the Egyptian city of Faiyum in northern Egypt. During the collective years of 1976 to 2005, Fayoum University was granted public institution status within and in partnership with the University of Cairo. In 2005, it was established as an independent campus with 2,000 faculty members and a general enrollment of 25,000 students.
Tourism is one of the biggest major's available at Fayoum. The reason comes down to the location of the university itself, where tourism is booming constantly year-round. This ended up becoming a great graduate degree where business arrangements and marketing can receive first-hand and real-world experience.
The Faculties available include:
Faculty of Ed
ucation
Faculty of Agriculture
Faculty of Engineering
Faculty of Social Work
Faculty of Dar Al-Uloom
Faculty of Science
Faculty of Tourism and Hotels
Faculty of Specific Education
Faculty of Archaeology
Faculty of Medicine
Faculty of Arts
Faculty of Computer science and Information
Faculty of Early Childhood Education
Faculty of Nursing
MSA University
University for Modern Sciences and Arts is located in Cairo, Egypt was founded in the latter part of the 1990s. The actual doctor who discovered and created the university was known as the "pioneer of the Egyptian private education." The university is accredited and in great standing partnership with the United Kingdom by both ties to the Egyptian and British ministry of education. It is here that graduate students from the United Kingdom (who can study in Egypt) or students from Egypt can study in Britain without any equivalence.
Students can earn dual Bachelor's degrees at MSA if they indeed study hard, and choose work-study programs to earn valuable experience and education networking.
Pharos University in Alexandria
This is one of the only non-governmental and profit-making universities in Alexandria, Egypt. Pharos University is still fairly new since its inception in the mid-2000's.
Facilities involved and available include:
Pharmacy
Engineering
Dentistry
Translation
Languages
Administrative Sciences
Tourism
Hotel Management
Business
Physical Therapy
Art
Mass Communication
Design
Nile University
Nile University is the first non-profit, research university in Egypt. Founded in 2006 with the support of the Egyptian Ministry of Communications and Information Technology. Because of the combined effort of staff at the Egyptian Ministry and students alike who were looking for a non-profit institution that could be considered a pure research center.
This is a competitive university that sees an annual waitlist. Students would need to apply early as possible and before the academic new year begins.
Round Up
The clever scope Egypt has entrusted its academic and highly progressive universities, colleges, and institutions with is nothing short of astonishing. Students that transfer or spend a year or two studying at an Egyptian college have shown that not only have their academic grades improved but they far better understand international policy.
Attending a university in Egypt would be essential to a potential student's career if they were to enter politics, science engineering, nursing (Egypt has one of the top hospital centers and nursing schools on record) as well as data scientist. Most students may not even have Egypt on their radar as a possible abroad option, but they should.