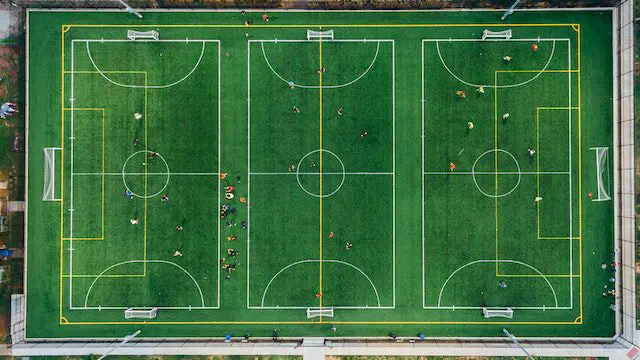 If you are a soccer enthusiast and aspire to build a career in the United States, winning a soccer scholarship can be a great achievement. We understand your eagerness to excel in the field, and we are here to assist you in finding the best soccer scholarships available.
Over the years, United Sports USA has awarded more than a thousand soccer scholarships to talented players across 40 different states in the US. However, obtaining a full scholarship to a soccer academy or university is highly competitive, and only the best players get the chance to secure a full-tuition scholarship.
To help you in your search, we have compiled a comprehensive list of the Best Soccer Scholarships in the United States. These scholarships are not only lucrative but also highly sought after.
Our article covers all the essential information you need to know about soccer scholarships, and we have also included a table of contents for your convenience. So, let's dive in and discover the best soccer scholarships in the US.
Table of Contents.
About soccer scholarships in the USA

 1 #. National Collegiate Athletic Association (NCAA) Football Scholarships
2#. The Walter Byers Scholarship
3 #. The Jim McKay Scholarship
4 #. The NCAA Graduate Scholarship
5 #. NAIA Soccer Scholarships
6#. NJCCA Soccer Scholarships
7#. Ivy League Scholarships
How to get a soccer scholarship

How many soccer scholarships are awarded each year?
A Brief Description Of Soccer Scholarships in the USA
Getting soccer scholarships is not easy, but it can bring many benefits beyond paying for college. Winning a soccer scholarship brings honor and recognition.
To win a soccer scholarship, a lot of hard work and dedication is needed. As a soccer player, it is advisable to start considering scholarships from high school. College recruiters and scholarship donors often consider an athlete's performance throughout high school and may select exceptional players before their senior year.
In this article, we will discuss the various categories of soccer scholarships that you can apply for.
1#. National Collegiate Athletic Association (NCAA) Football Scholarships
The National Collegiate Athlete Association (NCAA) is a group that takes care of student-athletes and oversees college football. There are three parts of the NCAA that make rules for how colleges can recruit players, and give out scholarships and financial aid.
Each part also makes sure that players are amateurs and that coaches follow the rules. They also set the schedules for practices and games.
All NCAA colleges are bound by the organization's rules and are subject to severe penalties for any violation.
NCAA Division I
The National Collegiate Athletic Association has more than 236 NCAA Division I colleges and universities in the United States. They include notable schools like Michigan State, Baylor, UCLA, and Florida State.
Division I football teams are top-notch; only exceptional high school players can access scholarship money from this school.
The NCAA has limited the number of full-ride and partial-tuition scholarships that Division I schools can offer. Division, I colleges are limited to 85 full-tuition scholarships per year.
The competition for these scholarships is beyond fierce, and only elite soccer players will be selected for recruitment.
NCAA Division II
NCAA Division II schools are smaller public universities or private universities. They have more limited finances than Division I benefactors, which is reflected in the number of scholarships they can offer. The NCAA plan limits Division II schools to 36 partially or fully funded scholarships per year.
This limitation leads the school to seek only the most exceptionally best to offer their NCAA football scholarships for their schools.
While Division I schools may offer scholarships to top quarterbacks, Division II schools are interested in multi-talented players who can bring a wide range of skills to their teams.
While the Division 2 opportunities of these soccer scholarships may be more limited, they still provide greater opportunities for more multi-faceted players.
NCAA Division III
These smaller institutions value scholars more than their Division I or II counterparts. Division III schools have very excellent soccer programs, but there is a strict rule about them from the NCAA that they don't offer any kind of scholarships.
However, Division III schools are still looking for exceptional players. But what they are looking for are elite players with a solid academic background.
Division III schools may not be able to offer soccer scholarships. Still, they can provide general scholarships and grants to academically impressive students who have excelled in high school football as an extracurricular activity.
This way, they can build successful varsity teams while bringing the best and brightest to their campuses.
Students who want to pursue soccer at the college level and who have a strong academic background may find Division III colleges offer the best of both worlds.
2#. The Walter Byers Scholarship
The Walter Byers Scholarship is a renewable scholarship that lasts for one year. It was established in 1988 to honor the contributions of the former CEO. The aim of the scholarship is to promote excellence in the academic performance of student-athletes.
Every year, one male and one female student-athlete who has displayed exceptional academic achievement and demonstrated potential for success in graduate study are awarded the scholarship.
The scheme is very competitive because its prizes are up to $24,000.
3#. The Jim McKay Scholarship
The Jim McKay Scholarship is an annual award of $10,000 that celebrates the remarkable legacy and contributions of pioneering journalist and sportscaster, Jim McKay. This scholarship was established in 2008.
Each year, one male and one female student or student-athlete are awarded a one-time $10,000 Jim McKay Scholarship. The scholarship recognizes outstanding academic achievement and the potential of the recipients to make significant contributions to the sports communication or public relations industry.
Recipients of the McKay Fellowship are recognized for their exceptional aptitude and commitment to the field of communications. They must also demonstrate the highest level of professional integrity, including the principles of truth, accuracy, objectivity, impartiality, fairness, and public accountability while displaying compassion – a characteristic that defined McKay's illustrious career.
4 #. The NCAA Graduate Scholarship
The NCAA awards up to 126 graduate scholarships annually. Scholarships are awarded to student-athletes who are excelling academically and athletically and who are in at least their senior year of intercollegiate athletic competition.
One-time, non-renewable $10,000 scholarships are awarded three times a year, corresponding to each sports season (fall, winter, and spring).  
Each sports season, there are 21 scholarships available for men and 21 for women for use in an accredited graduate program.
All former student-athletes who earned an undergraduate degree from an NCAA member school are eligible to be nominated by that school for an NCAA graduate scholarship, regardless of when they received their undergraduate degree.
This scholarship is currently open. The deadline is May 31.
5 #. NAIA Soccer Scholarships
The National Association of Intercollegiate Athletics (NAIA) is a scholarship program that offers student-athletes an alternative to the larger NCAA schools. The NAIA comprises 257 US member colleges and universities.
Although these programs are not as notable as those of the NCAA, they still offer many college football scholarships for students, especially those looking to use their athletic prowess as a springboard to quality education. NAIA schools provide a way to turn your soccer skills into scholarship funds to help pay for college.
6#. NJCCA Soccer Scholarships
The  National Junior College Athletic Association comprises 525 member colleges across the country, 67 of which have competitive soccer programs.
These two-year community colleges often offer an intermediate step for students who are not ready or cannot afford to go directly to a traditional four-year university.
Many student-athletes refuse to consider the financial aid opportunities available at the college level.
Many community colleges offer soccer scholarships for talented high school graduates who continue their education at the community college level.
As with NAIA-supported scholarship programs, these programs offer valuable financial assistance to students who may be more interested in pursuing a degree than a professional career in athletics.
Scholarship programs at NJCAA member universities are not as strictly regulated as those at NCAA or NAIA schools. Each participating college will have its programs, and interested students should contact their school's athletic department and financial aid office for details on soccer scholarships that may be available.
7#. Ivy League Scholarships
Ivy League schools are known for their prestige. However, Ivy League schools are restricted by their own rules to offer athletic scholarships.
This is not to say that they don't want to recruit talented soccer players to their campuses, but those players must be able to stand up to scrutiny in the classroom. Ivy schools are more interested in academics than anything.
How to get a soccer scholarship
The process of obtaining a scholarship begins with the hiring. To get the best players from each recruiting class, coaches look at athletes as early as their freshman and sophomore years of high school, and sometimes earlier.
Coaches are restricted from contacting you early in high school but can view athletes' online profiles and view videos of them if available.
That's why we recommend that every soccer player create a free online profile and get their information online for coaches to see.
You can create a free online soccer profile by clicking the parent or athlete button on the left.
How many soccer scholarships are awarded each year?
There are more than 850 college soccer programs at US colleges/universities covering all three divisions of the NCAA, NAIA, and NJCAA. Of these, 131 are NCAA Div. I. You can get a scholarship to do any of these programs.
Summary
Acquiring a soccer scholarship in the United States allows you to train in world-class facilities with the best coaches!
The US university system is now producing some of the most exciting players in the world. So, take the chance and apply for one or more of these scholarships. You could be the next big college star!