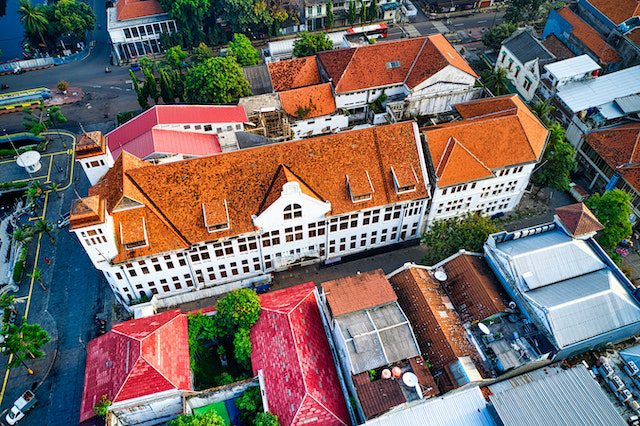 Midwifery is significantly one of the most critical roles in modern healthcare. While for many people, the word "midwife" may sound old-fashioned or mundane, however, nurse midwives are definitely in constant need of humanity.
In fact, they are the present and the future of baby birth. Therefore, studying this course could be for a full-time undergraduate or midwifery apprenticeship. Interestingly, you can find the best midwifery schools to study here in this post.
Generally, nurses must be well trained during school hours and hospital internships, but nurse midwives must take that training one step further. So, are you looking for the best midwifery schools to pursue this career? So don't worry, this article is for you.
After reading this post, you will know the particular school of your choice that best suits your midwifery career. So, just read with me and you will enjoy this.
Midwifery is a holistic approach to women's health and childbirth. Midwives are assistants and caregivers until the birth of a child, with an emphasis on natural childbirth and care for the nursing mother. There is something very significant about the birth of a baby, and these highly trained professionals are there to ensure that this special event runs smoothly.
Also, like any nursing profession, Midwifery requires talent, skill, and dedication. Truly, professionals who undertake this career find themselves in challenging yet rewarding work.
Who is a midwife?
According to Wikipedia, midwifery is the health science and health profession that deals with pregnancy, childbirth, and the postpartum period, in addition to the sexual and reproductive health of women throughout their lives.
Thus, midwives are certified health professionals who are involved during all stages of a woman's pregnancy, childbirth, and early postnatal period. Midwives can deliver babies in birthing centers or even at home, but most can also deliver in a hospital.
However, midwifery is a separate profession from nursing, although there is an abbreviated training path for adult registered nurses. They may also be assisted by maternity support workers who are responsible for supervising them.
Actually, the typical duties of a midwife include:
examine and monitor pregnant women
assess care requirements and write care plans
performing prenatal care in hospitals, homes, and doctors' offices
screening tests
Provide information, emotional support, and reassurance to women and their partners.
take samples of patients, pulses, temperatures, and blood pressures
caring for and helping women in labor
monitor and administer medications, injections, and intravenous infusions during labor
monitor the fetus during labor
Advise and support parents in the daily care of their newborns.
Help parents cope with miscarriage, termination, stillbirth, and neonatal death.
writing registers
student midwife mentoring
identification of high-risk pregnancies
How long will it take to study Midwifery?
In reality, a typical curriculum for a bachelor's degree in midwifery takes four (4) years to cover, one year of nursing experience, and three years in a nurse-midwifery program. Well, students who attend school full time and are successful in their classes can expect to graduate in 8 years.
Also, entry requirements for midwifery degree courses and degree apprenticeships can vary because each university and employer sets their own criteria, but you will likely need three A-level qualifications or level 3 equivalents, as well as supporting GCSEs.
Of course, entry is really competitive, so aim for very high grades at level A (or equivalent grades at level 3). Courses often specify preferred or essential subjects, such as at least one science, such as biology or a social science subject.
How much does a midwife earn? The | Salary
In fact, according to the US Bureau of Labor Statistics, the average salary for Certified Nurse Midwives (CNMs) in the United States was $113,930 in 2018.
Additionally, salaries for other midwifery-related careers were as follows:
| | |
| --- | --- |
| anesthetist nurses | $167,950 |
| nurse practitioner | 107,030 |
| nurse midwives | 103,770 |
The Bureau of Labor Statistics does not keep data for certified professional midwives (CPMs), but the Midwifery Education Accreditation Council reports that CPMs charge $2,000 to $4,000 per birth, depending on location and experience, and that a busy individual practice can expect to be able to attend two to four births per month.
What is the job growth for Midwifery?
However, the US Bureau of Labor Statistics expects the number of midwife positions to grow by as much as 26 percent between 2018 and 2028, much faster than the average for all occupations.
Job growth will also vary by occupation. However, because nurse midwives are such a small occupation, the rapid growth will result in only about 1,000 new jobs over the 10-year period.
Where can I work as a midwife?
As a nurse midwife, you can work in hospitals, doctor's offices, or birthing centers, and recent graduates can look for jobs in these places.
Midwives often make valuable professional connections through their clinical experiences, possibly earning a job offer or advising on job openings in the field.
How much does it cost to study Midwifery?
Most certified nurse midwife programs list tuition costs per credit offered. On average, nursing-midwifery students enrolled in a Master of Nursing (MSN) or Doctor of Nursing Practice (DNP) program can expect to pay between $500 and $700 per credit, although this can vary by school and institution. Location.
Are there any certification or licensing requirements to become a midwife?
Each midwifery path results in certification through a certification agency. Certified Midwives (CNM) and Certified Midwives (CM) are certified by the American Midwifery Certification Board, and CPMs are certified through the North American Registry of Midwives.
Both certification organizations are accredited by the National Commission of Certification Agencies. To become certified, CNMs and CMs must graduate from an accredited nurse-midwifery or midwifery program.
CPMs can also be certified by completing an accredited program but can be certified by passing a portfolio assessment process.
In addition to certification, most states require midwives to be licensed to practice, but licensing requirements for midwives vary by state.
To become certified or licensed, CNMs must have a current registered nursing license, complete an accredited nurse-midwife program, and pass a national board licensing exam given by the American Midwifery Certification Board.
CPM recognition and licensing vary by state. So, most states require CPMs to obtain a license to practice, while in other states licensing is voluntary.
Why study midwifery?
If you have read this far, a career in midwifery really suits you for your patience and passion.
Because no one gets into the midwifery business without a passion for helping women and bringing babies into the world. It is something so beautiful and natural that it is easy to feel a calling for it.
I mean, I would be happy to be a part of this vital life process, to experience the pure joy that comes with the sound of a newborn baby crying and covered in blood.
Also, life can be boring when you do the same job in the same place, day after day. However, with midwifery, your location is constantly changing. You can move from house to house, getting glimpses into the lives of the people you work with. You also get a better understanding of the people with whom you can share these intimate moments. 
Also, midwives can make their own decisions. In most countries, they are considered highly trained medical professionals with the autonomy to govern themselves. This does not mean that midwives isolate themselves from other nurses or medical professionals. This autonomy allows midwives to maintain their unspoken contract with society by keeping up with best medical practices, high-quality care for mother and child, and following a strict code of ethics. 
Best midwifery schools in the world 2022
#1 Utah College of Midwives
According to the wiki, the Midwives College of Utah, formerly the Utah School of Midwifery, is a direct-entry midwifery training institution that is based in Salt Lake City, Utah but offers all programs completely online. Founded in 1980, it is one of the largest and oldest direct-entry (out-of-hospital) midwifery programs in the country.
In addition, Midwives College of Utah offers two midwifery degree programs: a Bachelor of Science in Midwifery (BSM) and a Master of Science in Midwifery (MSM). Degree programs are accredited by the Midwifery Education Accreditation Council (MEAC) which is an independent, non-profit organization recognized by the United States Department of Education as an accrediting agency for entry-level midwifery institutions and programs. straight. 
Childbirth and Postpartum Doula Education certifications are also available through the university along with continuing education courses for doulas, midwives, health professionals, and community members.
Also, it has an acceptance rate of 100% and a graduation rate of N/A. Also, the student-faculty ratio is 6:1. This high acceptance rate and excellent student-faculty ratio help MCUtah rank as one of the best midwifery universities in the world. His tuition is $43,560.
#2 Vanderbilt University
Founded in 1873, Vanderbilt University School of Nursing offers advanced practice nursing specialties to meet a variety of career interests and personal learning styles.
Vanderbilt University offers 3 graduate midwifery programs namely: Master of Nursing Program, Doctor of Nursing Practice, and Ph.D. in Nursing Sciences. They also issue post-master's certificates and postdoctoral programs that provide midwives with the opportunity to further their knowledge in their areas of research, as well as to conduct successful interdisciplinary research projects.
Therefore, this top midwifery university has an acceptance rate of 9.6% and a graduation rate of  92.9%. Also, it has a  student-faculty ratio of 7:1. Tuition is $50,800.
Accreditation: Southern Commission on Colleges and Schools of Colleges (SACSCOC)
#3. St Ony Brook University
Stony Brook is not just a wonderful school, but a pillar of life and learning on Long Island and New York State. Although Stony Brook began as a college for professors in 1957, over the next six decades the college has become a center of great research and development and consistently attracts some of the best people in the medical field.
However, Stony Brook Medicine provides not only research and learning, but also community health care, and overall, the University accounts for nearly $7.5 billion in economic impacts on Long Island.
Therefore, Stony Brooks has an acceptance rate of 40.7% and a graduation rate of 68.6%. Similarly, the student-faculty ratio is 18:1. However, this midwifery school has tuition of approximately $8,999.
Accreditation: Middle States Commission on Higher Education
#4. Old Dominion University
Old Dominion University was founded in 1930 as an extension of the William and Mary College campus. It is also the main public research university. Of course, ODU has greatly exceeded its assets, with a growing demand to make the university one of the largest universities in Virginia and a comprehensive research university.
ODU has made a name for itself, especially in online and distance education in recent years and has become a great option for medical professionals who are considering a possible future in academia and research as well. as in the commercial aspect of the profession. . This is also one of the best midwifery schools.
In addition, it has an acceptance rate of 84.6% and a graduation rate of 51.7%. Also, the student-faculty ratio is 17:1 while the tuition is $5,340
Accreditation: Southern Commission on Colleges and Schools of Colleges
#5. University of Michigan
UMich is a public research university in Ann Arbor, Michigan. The university is the oldest in Michigan; was founded in 1817 in Detroit.
The Nurse-Midwifery study at the University of Michigan begins with a strong foundation in primary care and builds to pregnancy, delivery, and newborn care.
Some examples of courses include antepartum care of essentially normal women, care of women of childbearing age, and intrapartum/postpartum and newborn care.
Furthermore, the University of Michigan, being one of the best schools for midwifery, has an acceptance rate of 28.6% and a graduation rate of 91%. Similarly, the student-faculty ratio is 15:1. However, this school has a tuition of $15,558.
Accreditation: Higher Learning Commission (HLC)
#6. University of Southampton
The Advanced Position Master of Midwifery at the University of Southampton is aimed at qualified practicing nurses in the NHS who wish to become qualified midwives. Two years are required for full-time study and it is not open to international students. 
Therefore, the University of Southampton has an acceptance rate of 80% and a graduation rate of N/A. Similarly, the student-faculty ratio is 13.5. This institution has a tuition  fee of £9,561 for UK and EU students
Accreditation: Privy Council
#7. King's College London 
King's College London offers a postgraduate midwifery program that gives you the opportunity to influence an area of ​​current practice, using the latest clinical evidence to suggest changes to improve the quality of service.
Here, you'll develop your critical thinking and analytical skills while learning how to use new research to support your clinical role.
Some courses are geared toward registered nurses to become registered midwives. Other courses are aimed at midwives who wish to improve their skills, understanding, and management skills, and these courses are often taken part-time.
However, this midwifery college in London has an acceptance rate of 13% and the retention rate for freshmen is 73%. Also, the student-faculty ratio is N/A.
Finally, tuition is £9,250 for UK/EU students per year.
Accreditation: Middle States Commission on Higher Education.
#8. Catholic University of the Sacred Heart
Pontifical Catholic University of the Sacred Heart (English: Catholic University of the Sacred Heart), known as  UCSC or Catolica, is an Italian private research university founded in 1921.
Its nursing college offers more than 10 undergraduate and graduate nursing-midwifery programs.
In addition, it has an acceptance rate of 60% with 84.0% of students passing their first year. Also, the student-faculty ratio is 13:1 while the annual tuition and fees will cost $43,070.
Accreditation: Italian Ministry of Education
#9. University of Minnesota
The full-time, three-year midwifery program offered at the University of Minnesota will require a Bachelor of Science in Nursing or a Professional Master of Science in Nursing prior to admission. Accredited by ACME, students start with four days of on-campus courses, which increase over time.
Students will also cover a variety of topics, including evidence-based practice, computer science, and economics. Many of these courses will be available through the Center for Spirituality and Healing, which takes a comprehensive and holistic approach to women's health.
'Upon successful completion of the midwifery course of study, graduates are eligible to take the American Midwifery Certification Board (AMCB) national certification exam.'
Acceptance rate: 44% Graduation rate: 78.4%
#10.University of Washington
To assist students already established as advanced nurse practitioners, the University of Washington offers a graduate certificate in Nursing-Midwifery. The degree curriculum is thorough and consistent "with the requirements for the preparation of nurse-midwives as defined in the American College of Nurse-Midwives (ACNM) Core Competencies for Basic Midwifery Practice.
Classes are taught from a holistic approach that covers a wide range of topics, from patient education on nutrition and lactation, to the use of pain relievers and epidurals during childbirth. Students are also taught to be sensitive to cultural preferences.
Upon graduation, students will be prepared to sit for the American Midwifery Certification Board exam. Therefore, the current practicing midwives at the University of Washington working at the Northwest Hospital Birthing Center.
Therefore, the University of Washington has an acceptance rate of 45.3% and a graduation rate of  83.9%. Similarly, the student-faculty ratio is 19:1. Well, this best midwifery school has a tuition fee of $11,445.
Accreditation: Northwest Commission on Colleges and Universities  (NWCCU)
What are the best schools for Midwifery Online?
Working nurses who want to advance to a career as a midwife can look into online and hybrid programs. Plus, getting your degree online can also help you bond more with the women you're helping as a midwife.
So, here are some online midwifery schools that offer the best programs:
University of Minnesota
James Madison University
University of Colorado
Georgetown University
What are the best midwifery schools in the United States?
Even here in the United States, we have some of the best midwifery schools in the world. They include:
University of Washington
University of Minnesota
University of Michigan
Utah College of Midwives
Old Dominion University
FAQs on the best midwifery schools in the world
How much do midwives earn?
List of Most Licensed Nurse Midwife Programs Tuition Costs Per Credit On average, nurse-midwifery students enrolled in an MSN or DNP program can expect to pay between $500 and $700 per credit.
Can I do a master's degree in midwifery?
Of course, you can do a master's degree in midwifery after earning your bachelor's degree.
How much is the midwifery annual salary?
Honestly, according to a Bureau of Labor Statistics survey, the annual pay for a midwife in 2018 is $113,930.
Conclusion
In reality, midwifery is the care and services provided by midwives, the medical professionals who support women and their families during pregnancy, childbirth, and recovery, ensuring that both mother and baby are healthy. 
However, once you study midwifery at the undergraduate level, you will learn the basic sciences of midwifery, basic health skills, midwifery care, ethics, and law, as well as other additional modules that will help your development. professional.