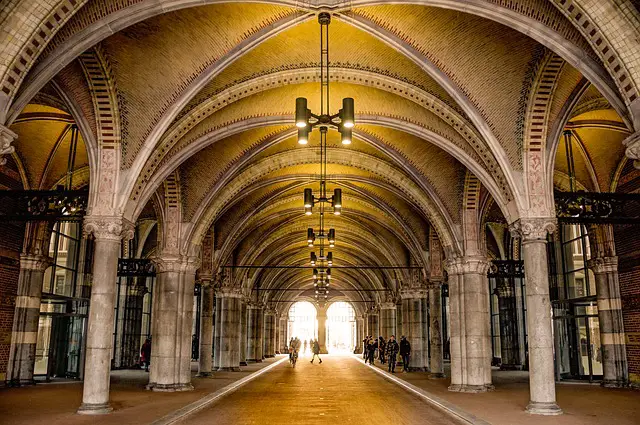 The Vrije University of Amsterdam is not only located in Amsterdam, the Netherlands but is best known as a research center that is accessible to the public. This unique institution was founded in the late 1800s, which was rightly dubbed the "Free University." Vrije University has remained on the top of the best and academically excellent universities in the world. With a rounded amount of 150 ivy league and public institutions that make the list each year, Vrije University is always within the top 15%. The Vrije University is one of two large, publicly funded research universities in the city, the other being the University of Amsterdam. "Free" refers to the independence of the university from both the State and the Dutch Reformed Church. Both within and outside the university, the institution is commonly referred to as "the Vrije University". Although founded as a private institution, Vrije University has received government funding on a parity basis with public universities since 1970. The university is located on a compact urban campus in the southern Buitenveldert neighborhood of Amsterdam and adjacent to the modern Zuidas business district.
As of October 2021, Vrije University has around an average of 30,000 registered students, most of whom were full-time students. That year, the university had 2,300 faculty members and researchers, and 1,400 administrative, clerical and technical employees, based on FTE units. The university's annual funding portion from the 2013-2014 school year was near a total of €480 million. About three-quarters of this endowment is government funding; the remainder is made up of tuition fees, research grants, and private funding.
The official university seal is entitled The Virgin in the Garden. Personally chosen by Abraham Kuyper, the Reformed-Protestant leader and founder of the university, it depicts a virgin living in freedom in a garden while pointing towards God, referring to the Protestant Reformation in the Netherlands in the 16th and 17th centuries. In 1990, the university adopted the mythical griffin as its common emblem.
Vrije University has multiple scholarship advantages available and we will comb through each one.
If students are trying to narrow down the right scholarship for them, there are several available articles.
Amsterdam – The Academic Excellence Scholarship
This scholarship has a very shot open window submission time frame which is from February 1 – April 1, 2022. This is because the scholarship is only available to certain students, not that all scholarships have an eligible section, but only a few students will be notified that they can apply for this award.
A primary essay question that is posed with this scholarship is "why does this student deserve this scholarship and what they benefit from it?" This is a typical essay application question, however, it means the applicant will need to be precise, accurate, and must not create any promises that cannot be made. There are a total of 4 separate essay questions that all coordinate with one another. Another example of one is "what is the reason and drive for selecting this scholarship and how will learning from this program benefit enough to lead an impact on a student's community?" As one can see, this is about community impact and a student would be expected to have a plan ready or at least a general outline of what they intend to learn and take, from this experience.
This particular award is directed at Vrije University's Summer Program. Now, where only a select amount of students can apply for this scholarship, they have to rank with an 85% grade point average or above. That means no one who averages with a B- grade can apply. While the marking, grading system is on a 10 point scale in the Netherlands, this means a student cannot receive an 8.4 to be considered for this scholarship. A student would need passing of 8.5 out of 10 to be deemed passable.
Necessary things a student would need to turn in with this scholarship:
Applicants would need to turn in their CV or resume (must contain all volunteer information and references
The must recent record available of that student's transcripts, this can be acquired by admissions (if enrolled with this university) or by the seondary education that a studen tmay be attending instead
Students are required to turn in a professional letter of recommendation, and this can be written by a professor or a school faculty member (not from this university)
The applicant who applies, needs to state clearly, only one course or program that they would like to choose to use this scholarship. A student cannot pick more than 1 course or subject matter.
The reward aspect:
The reward involved with this excellent summer scholarship involves the coverage of the entire course (student does not have to pay any tuition), then this scholarship also covers all room and boarding expenses. Although, a student will not receive a monthly allowance since this is only covered for a summer program, which is no longer than a 2-month duration.
Applicants will be notified in the month of April (the same month as the deadline date). This is because there is a very low amount of these scholarships that the university can hand out. But over thousands of applications are sent in, so the panel of judges has to quickly go through each one and see that the application has been filled out correctly first. If an application has blanks or is left incomplete, they will simply ignore and toss the application.
However, to actually secure a spot within the course (this is before the applicants that are the recipients have been announced) it is highly requested that the program be paid for beforehand and then the reward amount will be granted as a check to the student.
The Photographer Scholarship
This available scholarship is strictly for students that have prior programs under their belt that involve photography. If a student has never worked with photography before, it is best requested that they apply for a scholarship that better benefits their field study.
This is another summer scholarship program that is available for a 2-month duration.
Expectations from this scholarship when a receipt has been awarded would include:
Receipent would show the photos they have taken from events or all events that they have attended because of this scholarship
The student would essentially be in charge of the University Instagram Page. And the student would be in charge of updating and creating stories.
There are a few photographer meeting that are involved with this scholarhsip, and recepients are expected to willingly participate.
The reward:
A student can expect to receive €500 on the program as a discount for the total cost of the course. Along with the exceptional option for students who win this scholarship, they can attend any social event as long as they can photograph the event. This means students could attend an event per night without paying any fee.
The Research Integrity and Responsible Scholarship or (FSS Scholarship)
This FSS scholarship is strictly for Ph.D. students who already attend the university. This scholarship has a single sole purpose and it is to introduce the "code of conduct" to the new Ph.D. students.
Involved in the tuition aspects, or the scholarship package:
Student must attend meetings
Student must be invested in discussion panels when it comes to ethic reviews
This program also acts a work-study program, so their will be times the student will be part of a 2-person group to workout strategies
Mulitple small group meetings will take place and the student is expected to attend all fo them
This scholarship program picks less than 15 students per year to become a recipient. The full program cost is not only covered (free to students) but allows everyone involved to further their network and doctorate career by taking the time to become part of a peer and professional worldwide panel ethic review committee. This is also widely respected worldwide since the Netherlands is a leader in healthcare research.
International Student's – Master's Degree Scholarship
As it is clearly stated in the title above, this is solely for individuals who are looking to gain their Master's Degree. This also means this is for only international transfer students who have been accepted to the University of Amsterdam. This scholarship is actually split up into 3-different mini scholarships called:
Amsterdam Student Loan Program Scholarship
International Scholarship
University Master's Scholarship
The main eligible criteria would be that the student is a non-EU transfer student, preferably from a developing country. Between the ages of 19 – 24, can be either male or female, and starts off their first year with this university studying for their Master's degree.
VU Fellowship Program Scholarship
This scholarship is solely for international students, domestic students are in no way eligible for this scholarship. Also, even if a student is not a citizen of the Netherlands, they cannot of a Dutch passport either. This is for international students with no connection or heritage to the area.
The eligible aspects needed are:
Students must prove their excellent academic records.
This is for students who are majoring in the field study "English" and have been already accepted to the University as a full-time students.
Applicants must also know that if they need to attend a preparatory program beforehand, they are not eligible for this scholarship, this is for students that do not need a preparatory program and are ready to start their master's degree.
Individuals from these countries are welcome to apply:
Algeria
Angola
Benin
Botswana
Burkina Faso
Burundi
Central-African Republic
Comoros
Congo Brazzaville
Congo-Kinshasa
Djibouti
Egypt
Equatorial Guinea
Eritrea
Ethiopia
Gabon
Gambia
Ghana
Guinea
Guinea-Bissau
Ivory Coast
Cape Verde
Cameroon
Kenya
Lesotho
Liberia
Libya
Madagascar
Malawi
Mali
Morocco
Mauritania
Mauritius
Mozambique
Namibia
Niger
Nigeria
Uganda
Rwanda
Sao Tome and Principe
Senegal
Seychelles
Sierra Leone
Sudan
Somalia
Swaziland
Antigua and Barbuda
Argentina
Bahamas
Barbados
Belize
Bolivia
Chili
Colombia
Costa Rica
Cuba
Dominica
Dominican Republic
Ecuador
El Salvador
Grenada
Guatemala
Guyana
Haiti
Honduras
Jamaica
Mexico
Nicaragua
Panama
Paraguay
Peru
Saint Kitts and Nevis
Saint Lucia
Saint Vincent and the
Grenadines
Trinidad and Tobago
Uruguay
Venezuela
Afghanistan
Armenia
Azerbaijan
Bahrain
Bangladesh
Bhutan
Brunei
Cambodia
Cyprus
Philippines
Georgia
Iraq
Japan
Yemen
Jordan
Kazakhstan
Kyrgyzstan
Kuwait
Laos
Lebanon
Maldives
Malaysia
Mongolia
Myanmar
Nepal
North Korea
For the University of Amsterdam, it is highly important that these underrepresented countries receive the first and primary spot with most of their scholarships, not just this one.
Also, this Master's program is granted for a total stay of 2-years as a full-time attending student. This program scholarship covers all tuition fees that are presented.
Holland Scholarship Program
This is a Dutch Government-based funded scholarship. Only students from outside of the EEA area are allowed to apply. And solely, first-year Master's students are the only eligibility criteria for this scholarship.

The reward:
This scholarship covers all student's costs of essential living. This means the student receives a monthly allowance that will be deposited into their college bank account. Up to 10,000 Euros for the entire student's duration, which is typically however long the master's program that student has chosen.
Orange Tulip Scholarship Program
This scholarship program is few a select few countries and their students who show academic excellence. The countries accepted to apply are Vietnam, India, Russia, South Africa, South Korea, and Indonesia students.
The reward:
The essential purpose of this scholarship is to act as a full-coverage tuition waiver. However, there is no monthly allowance available with this scholarship, this means all applicants who become a recipient would need to find a part-time job to afford their daily living expenses.
There are at least 2 scholarship durations available for each country listed above, this means a student can renew their scholarship a total of two times.
Fulbright Center Scholarship
The Fulbright Scholarship is a worldwide United States-originated scholarship option. The Fulbright Scholarship is known as one of the few full coverages including tuition, allowance, accommodation, and extra fees scholarship. A student would not have to pay for anything out of pocket whatsoever.
This is only for American students to apply so they can go on to study at the University of Amsterdam. All students accepted would need to apply for their student visas through immigration. This can be addressed and students can receive a step-by-step process from admissions.
NN Future Matters Scholarship
This is another highly specific and categorized scholarship that is only available to native citizens from their domestic lands of the Netherlands, Belgium, Luxembourg, Bulgaria, Czech Republic, Greece, Hungary, Poland, Romania, Slovakia, Spain, Turkey, or Japan. Followed by highly recognized master's programs that only revolve around certain subjects like (finance, risk management, or economics).
This is also called the "First Generation Future Scholarship" where students are from families who have yet to break the mold for being a generation who has attended college.
The reward:
Recipients will receive a hefty 5,000 Euros towards payment (free tuition). This will be split in half to cover the full Master's Program year. Then students can expect to receive a generous 500 euros to use as they like.
Desmond Fortes
This is s scholarship presented by a trusted bank in the Netherlands. This means this would go to a student who is working towards an accounting degree. This scholarship will only go to individuals from Africa or Asia who show incredible academic promise and determination to succeed.
The reward:
Recipients will receive 10,000 Euros to cover either half or part of the tuition (it will be decided by the student). Previous recipients have used only half to make sure the other half or 5,000 Euros would be deposited to their savings account to use later in life.
Stuned Scholarship
This is a strict bachelor's degree program scholarship only available to students pursuing their bachelor's degree in education of government education. Only students that come from Indonesia are eligible to apply. If a student from outside of Indonesia applies, they will not be seen as fitting the criteria.
The official deadline date for this is March 22, 2022 however, it must be for students that already planned on attending their Bachelor's Degree year starting in September of 2022.
The reward:
This is another full coverage scholarship that will pay all tuition plus fees for the student who is picked to receive this incredible scholarship.
Russian Global Education Scholarship Program
This is a guaranteed work-study scholarship that is only available to Russian citizens. This scholarship was created to help Russian students to achieve a higher education degree in a foreign country while being able to secure those students will a career placement after they finish their schooling.
These are the available field study categories that can apply:
Computer and Information Science
•Information and Computer Engineering
• Information Security
• Chemical Technologies
• Architecture
• Health Science and Preventive Medicine
• Fundamental Medicine
• Clinical Medicine
• Pharmacy
• Earth Science
• Technosphere Safety
• Environmental Engineering and Biotechnologies
• Biology
• Geology, Mining, Oil and Gas Industry and Geodesy
The reward:
Students would not have to worry about searching for a career placement afterward. recipients of this scholarship are guaranteed a permanent career within the categories listed above.
While this is not all of the scholarships that are available from the University of Amsterdam, there are well over 50 plus scholarships, programs, and work-study programs available for certain students that fit the eligibility.