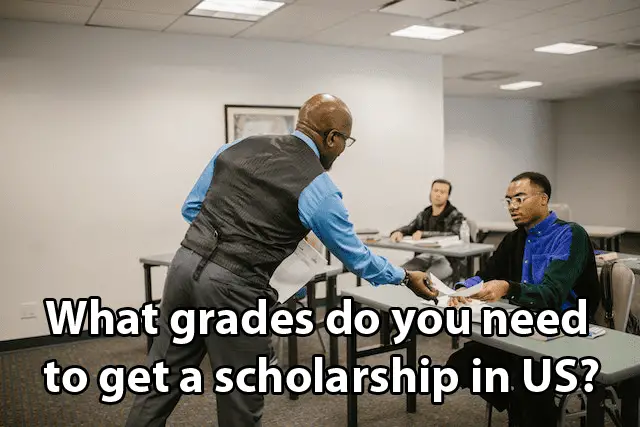 Eligibility Requirements for Scholarships in the US
The eligibility requirements for scholarships in the US vary depending on the specific scholarship program. However, there are some common criteria that applicants need to meet. Academic performance is often a crucial factor in determining scholarship eligibility. Most scholarships require applicants to have a minimum grade point average (GPA) to be considered. Additionally, standardized test scores, such as the SAT or ACT, may also play a role in determining eligibility for certain scholarships. It is essential for students to understand the importance of maintaining a strong academic record and performing well on standardized tests to increase their chances of qualifying for scholarships.
In addition to academic achievements, extracurricular activities can also have an impact on scholarship eligibility. Many scholarships value applicants who have participated in clubs, sports, or other organizations outside of their academic studies. Demonstrating leadership skills through involvement in student government, community service, or other leadership roles can enhance an applicant's chances of being awarded a scholarship. Furthermore, volunteer work and community service are often highly regarded by scholarship committees, as they reflect an applicant's commitment to making a positive impact on their community. While not all scholarships have specific requirements in these areas, highlighting one's extracurricular involvement and leadership skills can give applicants a competitive edge during the selection process.
Understanding the Importance of Academic Performance for Scholarships
Academic performance plays a crucial role in securing scholarships for students. Scholarships are often awarded based on merit, and one of the main criteria for determining merit is a student's academic performance. The better a student performs academically, the higher their chances of receiving a scholarship. This is because academic success is seen as an indication of a student's dedication, hard work, and ability to excel in their studies.
When evaluating a student's academic performance, several factors are taken into consideration. One of the most important is the student's grade point average (GPA). The GPA reflects a student's overall academic achievement and is calculated based on the grades they receive in different subjects. A high GPA demonstrates a consistent level of academic excellence and indicates that the student has a strong work ethic and a solid understanding of the material. Therefore, it is imperative for students aspiring to secure scholarships to focus on maintaining a high GPA throughout their academic journey.
The Role of GPA in Securing Scholarships
When it comes to securing scholarships in the US, one of the crucial factors considered by scholarship providers is the GPA or Grade Point Average of the applicants. GPA reflects the academic performance of a student and is often used as a measure of their ability to excel in their studies. Scholarship providers typically look for candidates who have consistently demonstrated a high level of academic achievement throughout their high school or college years. A strong GPA not only showcases a student's dedication to learning and their ability to perform well in their courses, but it also indicates their commitment to academic excellence.
Having a high GPA can significantly increase the chances of securing scholarships as it demonstrates the potential for success in higher education. Many scholarship programs have minimum GPA requirements, which serve as eligibility criteria for applicants. These requirements vary from one scholarship to another, with some organizations seeking candidates with a minimum 3.0 GPA, while others require a 3.5 or higher. In highly competitive scholarships, a stellar GPA can set applicants apart from the rest of the pool, giving them a competitive edge in the selection process. However, it is important to note that a high GPA alone may not guarantee a scholarship, as other factors such as extracurricular activities, leadership skills, and personal essays also play a significant role in the decision-making process.
Standardized Test Scores and Scholarship Opportunities
Achieving high scores on standardized tests can significantly enhance your chances of securing scholarships. Many scholarship programs place great emphasis on these scores as they provide a standardized measure of a student's academic abilities. Whether it's the SAT, ACT, or any other required test, performing well can open doors to various scholarship opportunities.
A high score on a standardized test showcases your aptitude in core subjects such as math, reading, and writing. It demonstrates your ability to comprehend complex topics, analyze information, and think critically. Scholarship committees recognize the importance of these skills and value candidates who possess a strong foundation in these areas. Therefore, by prioritizing your test preparation and aiming for impressive scores, you can increase your eligibility for numerous scholarship opportunities.
Extracurricular Activities and Their Impact on Scholarships
Extracurricular activities play a crucial role in scholarship consideration. These activities refer to any involvement a student has outside of their academic pursuits, such as participating in sports, joining clubs, or engaging in community service. While academic performance remains a significant factor, extracurricular activities can provide scholarship committees with valuable insights into a student's character, leadership capabilities, and communication skills.
One key reason why extracurricular activities have an impact on scholarships is that they demonstrate a student's ability to balance multiple responsibilities. Engaging in activities outside of the classroom requires effective time management and organizational skills. Scholarship committees recognize that individuals who actively participate in extracurricular activities are often more likely to succeed academically as well. Additionally, involvement in these activities showcases a student's commitment, passion, and dedication, which are qualities highly sought after by scholarship providers.
Demonstrating Leadership Skills for Scholarship Consideration
Leadership skills are highly valued when it comes to scholarship consideration. Scholarship providers often look for individuals who have shown leadership potential and the ability to take charge in various situations. Whether it is through leading a sports team, organizing a community service project, or holding a leadership position in a school club, demonstrating these skills can greatly enhance an applicant's chances of securing a scholarship.
One of the ways to showcase leadership skills is by taking initiative and actively participating in extracurricular activities. Being involved in student organizations, clubs, or sports teams allows students to take on leadership roles, such as being a club president, team captain, or event coordinator. By actively participating and demonstrating their ability to organize and motivate others, students can prove that they possess the necessary skills to be successful leaders. Additionally, students who have held leadership positions in these activities can speak to their experiences and the impact they have made, further highlighting their leadership abilities.
The Significance of Volunteer Work and Community Service for Scholarships
Volunteer work and community service play a crucial role in securing scholarships for students. When it comes to scholarship applications, demonstrating a commitment to serving others through volunteering can greatly enhance the chances of receiving financial support for education. Scholarship providers often prioritize applicants who have been actively involved in their communities and have made a positive impact through their volunteer efforts.
Engaging in volunteer work exhibits an applicant's dedication to making a difference in society. It showcases their willingness to go beyond academic achievements and invest time and effort in helping others. Scholarship committees look for candidates with a genuine passion for community service, as it demonstrates qualities such as empathy, compassion, and a sense of responsibility. By engaging in volunteer work and community service, students not only give back to their communities but also position themselves as strong candidates for scholarships.
Writing an Exceptional Scholarship Essay
When it comes to applying for scholarships, one of the most important components is writing an exceptional scholarship essay. This piece of writing allows applicants to showcase their unique qualities, experiences, and aspirations. By effectively conveying their passion and determination, applicants can stand out among a competitive pool of candidates. The scholarship essay provides an opportunity for students to highlight their academic achievements, extracurricular involvements, community service, and future goals. It is crucial for applicants to carefully craft their essay, ensuring that it not only meets all the requirements but also effectively communicates their strengths and potential to the scholarship committee.
An exceptional scholarship essay should start with a captivating introduction that hooks the reader and makes them want to continue reading. It is important to clearly state the purpose of the essay and highlight the main points that will be discussed. Additionally, the essay should be well-structured with coherent paragraphs and smooth transitions. Each paragraph should focus on a specific aspect or theme, providing supporting evidence or personal anecdotes to illustrate the applicant's qualifications. It is essential to avoid clichés and use original language to truly reflect the applicant's unique voice and perspective. Finally, the essay should end with a powerful conclusion that summarizes the main points and leaves a lasting impression on the reader. Writing an exceptional scholarship essay requires time, effort, and careful attention to detail, but it can greatly increase the chances of securing financial support for one's education.
Letters of Recommendation and Their Influence on Scholarship Awards
Letters of recommendation play a crucial role in the scholarship application process, as they provide valuable insights into the applicant's character, abilities, and potential for success. These letters, typically written by teachers, mentors, or supervisors, serve as a testament to the applicant's qualities and can greatly influence scholarship awards. Evaluators take into consideration the credibility and relevance of the recommender, as well as the content and tone of the letter.
In order for a letter of recommendation to have a positive impact, it is important for the recommender to highlight the applicant's strengths and achievements in a genuine and sincere manner. The letter should provide specific examples that demonstrate the applicant's exceptional qualities, such as leadership abilities, dedication, intellectual curiosity, or perseverance. Additionally, letters that speak to the applicant's personal growth, character development, and impact within their community can further enhance their chances of receiving a scholarship.
Applying for Scholarships: Tips and Strategies for Success
Applying for scholarships can be a daunting task, but with the right tips and strategies, you can increase your chances of success. First and foremost, it is crucial to thoroughly research the eligibility requirements for each scholarship you plan to apply to. Understanding the specific criteria, such as GPA thresholds, standardized test score expectations, and desired extracurricular involvement, will help you tailor your application to meet the scholarship committee's expectations. Additionally, take the time to learn about the values and mission of the organization offering the scholarship, as aligning your personal goals and passions with their objectives can make your application stand out.
Once you have a clear understanding of the requirements and expectations, it is essential to meticulously prepare your application materials. Start by writing an exceptional scholarship essay that showcases your unique qualities and experiences. This is your chance to highlight your academic achievements, community involvement, leadership skills, and any hardships you have overcome. Be sure to convey your passion and enthusiasm for your chosen field of study, as well as your long-term goals and how the scholarship will help you achieve them. Remember to proofread your essay thoroughly and consider seeking feedback from teachers, mentors, or family members to ensure it is polished and impactful.