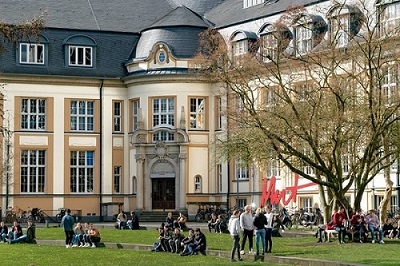 Exploring Telecommunication Master's Scholarships in 2024
If you're enthusiastic about diving deep into the world of telecommunication, honing your skills in engineering and computer science, and preparing to thrive in the fiercely competitive job market, then Telecommunication Master's Scholarships in 2024 are your golden ticket to success.
Building a Strong Foundation
A Master's degree in Telecommunication opens doors to a myriad of career paths. Whether you're inclined towards network design, project management, operating systems, or communication engineering principles, these scholarships offer essential knowledge and expertise.
Customizing Your Path
With a wide array of courses, including systems protocols, performance assessments, and communications security, you have the flexibility to choose the path that aligns with your unique personality and career goals.
Choosing the Right Institution
Before embarking on your scholarship journey, conduct thorough research to ensure that your chosen school aligns with your aspirations. The Telecommunication Master's Program typically spans one to three years.
Broadening Your Horizons with Telecommunication Scholarships
Many students share the hunger for furthering their telecommunication ambitions, only to be held back by financial constraints. The good news is that opportunities abound, not only in international universities but also in domestic ones.
Unlocking Career Prospects
Upon earning a Master's degree in Telecommunication, a world of opportunities opens up. You can explore careers as network analysts, systems developers, systems engineers, telecommunications consultants, or network administrators.
Scholarships For Telecommunication Engineering, M.Sc. at European University Cyprus (EUC)
The European University Cyprus (EUC) offers a program that intensifies and deepens the knowledge gained during your Bachelor's program. This prepares you for a rewarding career in Telecommunications Engineering. The program's focus is on applying mathematical foundations and engineering principles to the modeling, design, and evaluation of telecommunication systems.
EDGE Postdoctoral Fellowships: A Global Opportunity
The EDGE program in Ireland is not bound by borders. It welcomes applicants from around the world. It offers interdisciplinary research themes, career development opportunities, and industry engagement. The program's focus is on Information and Communications Technology, spanning Digital Content Innovations, Advanced Materials, Bioengineering, Future Networks, and Communications.
Mastering Telecommunications and Wireless Systems
The Telecommunications and Wireless Systems MSc (Eng) program is designed for those interested in corporate communications and network telecommunication engineering. It's offered both on and off-campus and is open for enrollment from August to February.
Empowering STEM Scholars
Masergy's Science, Technology, Engineering & Maths (STEM) Scholarship Program in the USA is a gateway for the next generation of STEM students. To qualify, you must be enrolled in an accredited U.S. college or university and share your vision for advancing science and technology in an essay.
Women in Technology Leading the Way
The Women in Technology Scholarship aims to empower female leaders in STEM. It offers $2,500 scholarships to women pursuing undergraduate or graduate degrees in science, technology, engineering, or mathematics.
Advancing Women in STEM
This scholarship is dedicated to supporting young women pursuing STEM careers. To be eligible, applicants must be 18 or older, enrolled as full-time college students in the U.S., and demonstrate financial need.
UNSW Engineering Future of Change Scholarships
These scholarships aim to attract high-quality Indian students to UNSW Engineering in Australia. The program offers full-tuition coverage for the standard duration of an undergraduate or postgraduate coursework degree.
UTS Grant for Masters by Coursework Students
This grant entices international students in Australia to pursue a Master's by coursework program at UTS in Sydney. Eligibility includes being an international student, meeting admission criteria, and holding a Bachelor's degree or higher qualification with a minimum average of 60%.
NCUK Scholarships at the University of Sheffield
Students progressing from an NCUK pathway to undergraduate or postgraduate courses at the University of Sheffield may be eligible for automatic scholarships. These scholarships are awarded based on meeting specific criteria.
Bill Millennium Scholarship
This scholarship program, starting in August 2023, supports students from diverse backgrounds, including African American, American Indian/Alaska Native, Asian American/Pacific Islander, or Hispanic American. It requires a minimum GPA of 3.3 and demonstrated leadership abilities.
Iberdrola International Master's Scholarship Program
Iberdrola's International Master's Scholarship Program for 2024 is designed for senior students or recent graduates seeking top-tier education globally. Up to 70 candidates will be awarded scholarships in areas such as engineering, sustainability, renewable energy, and more.
In your quest for higher education in the world of telecommunications, these scholarships represent the key to unlock your potential and transform your aspirations into reality. Don't miss your chance to shape the future of communication and technology.
Fully-Funded Masters Scholarships at Open University in the UK
The Open University (OU) has proudly awarded five fully-funded Commonwealth Distance Learning Scholarships for citizens of developing Commonwealth countries. These scholarships offer the opportunity to pursue a Master's in Online and Distance Education (MAODE) at the university.
Eligibility Criteria
To be eligible for this scholarship, applicants must meet the following criteria:
Be citizens of eligible developing Commonwealth countries.
Hold permanent residency, refugee status, or be British-protected persons.
Possess a first degree of at least upper second class (2:1) standard. In some cases, lower qualifications with relevant experience may be considered.
Demonstrate an inability to afford their chosen course without this scholarship.
Important Details
It's important to note that proficiency in the English language is required for applicants whose first language is not English. While the scholarship covers total tuition fees, it does not include additional expenses.
Ball State University Department of Telecommunications Scholarship
The Ball State University Department of Telecommunication offers various scholarships for telecommunications students, including:
National Association of Hispanic Journalists awards
David Letterman Scholarship awards
Dr. John Kurtz Scholarship: Awarded to students with a demonstrated aptitude in traditional communications such as television, film, or radio.
Molley Daily Telecommunications Internship Award: Providing up to $1,000 to assist with student internship expenses.
University of Maryland Scholarships
The University of Maryland offers scholarships for degree candidates in the Masters in Telecommunications (ENTS) program, including:
ENTS Academic Scholarships: Awarded to students with academic merit and financial need.
ENTS Assistantship Scholarship Award: Provided to graduate students in a department assistantship.
Kaushal Beda-Joab Noda Telecommunications Research Scholarships: Available for graduate students with outstanding research potential in the industry.
Cox Communications Telecommunications Scholarships
High school seniors from Oklahoma enrolling in telecommunications programs at the University of Oklahoma receive this scholarship award of $2,000. This scholarship also includes an internship opportunity with Cox Communications.
F. Durkee Memorial Scholarship
The J.F. Durkee Memorial Scholarship provides scholarships for undergraduate students specializing in technical management or graduate-level students specializing in telecommunications.
The Jonathan S. and Patricia G. England Foundation Scholarship
This foundation offers scholarships for undergraduate students maintaining a GPA of 2.5 or higher and graduate students with a GPA of 3.0 or higher. Applicants must also demonstrate financial need.
Gerencser Family Scholarship for Cybersecurity Students
This scholarship opportunity is available for undergraduate and graduate students majoring in Cybersecurity. To be eligible, students must demonstrate financial need and maintain a cumulative GPA 3.0.
These scholarships open doors for students pursuing studies in telecommunications, offering financial support and opportunities for career advancement. Don't miss the chance to further your education in this dynamic and evolving field.