Scholarship details
KAIST understands how funding education to study abroad is one of the significant factors to achieve every student's goal. KAIST's goal is to provide assistance to international students to be financially independent and achieve their higher education in South Korea.
KAIST scholarship is a strong funding initiative that has proven immensely beneficial to 94 percent of our international students. This program covers the entire tuition fee and ensures a reliable monthly stipend. Moreover, participating in research projects allows many of our international students to supplement their income effectively, leading to a fulfilling academic journey at KAIST.
Scholarship Provider: Korea Advanced Institute of Science and Technology (KAIST)
About the Provider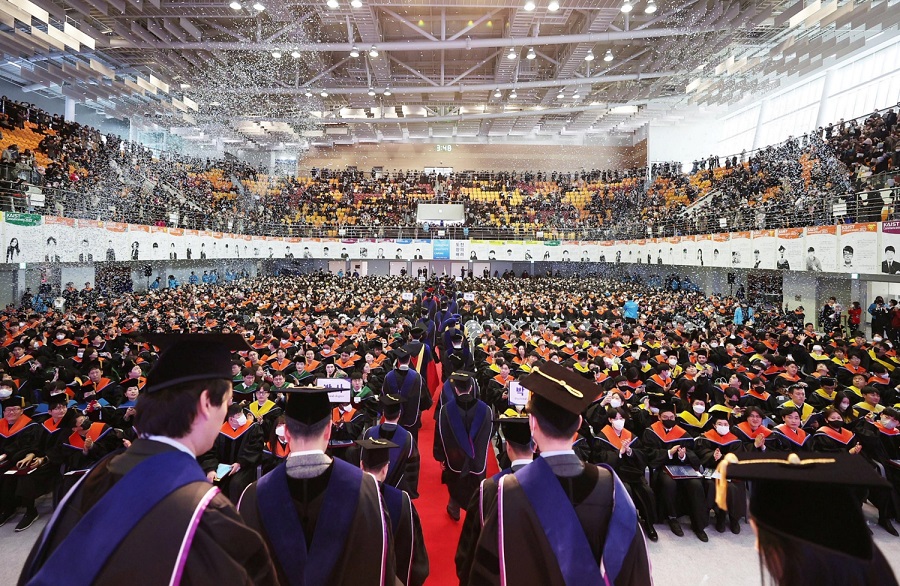 Source: Korea Advanced Institute of Science and Technology (KAIST)
Over the past fifty years, KAIST has left a remarkable imprint on academia and various industries. Established in 1971, it has served as an exceptional breeding ground for nurturing exceptional scientists and engineers. Through their contributions to cutting-edge science, technology, innovation, and entrepreneurship, KAIST has played a pivotal role in fostering the Korean economic miracle, establishing a robust scientific and technological foundation. As we peer into the next fifty years, KAIST continues to amalgamate its excellence in research and innovation with a rich history, aiming to generate substantial value for the global community.
At KAIST, research serves as the primary mode of communication among students. It is through engaging with research topics of interest that KAISTians learn, grow, and foster creativity. However, for verbal and written communication, English is the official language on campus. As a result, a solid grasp of spoken and written English is crucial for admission.
While enrolled in graduate programs at KAIST, international students don't need to worry about the primary language at the university, there is no requirement to learn the Korean language for graduation. Nonetheless, students have the opportunity to explore the Korean language by enrolling in courses offered by the KAIST language center or participating in language exchange programs at KI House. Embracing the Korean language can add vibrancy and excitement to your life at KAIST.
The students from KAIST are considered and known as the best scientists and some of them are international scholars at the university. With the support of the Korean Government in seeking settlements and jobs in the Korean Society they also enable them to perform and show their skills and knowledge in the world. With the help of the Ministry of Justice which establishes the Global Talent Visa Center at KAIST Main Campus it is more convenient to them in accessing an immigration affair. The ministry also offers international scholars a permanent visa for outstanding international professionals in science and technology fields.
Scholarship Summary 
Applicant's Nationality: International
Degree Level: Master's Degree
Field: Any eligible fields offered by the university
Number of Awards: NA
Scholarship Country: South Korea
Renewable: Yes
Offered Annually: Yes
Scholarship Eligibility 
KAIST International Graduate Admission cycles are open to international students without Korean citizenship.
Overseas Koreans with foreign citizenship must submit additional documents:

Proof of renunciation of Korean citizenship for the applicant and their parents.
Official transcripts and graduation certificates from schools outside Korea (if their parent(s) still holds Korean citizenship).
Academic Eligibility Criteria 
Applicants for the Master's or Master's-Ph.D. degree program must have a Bachelor's degree or its equivalent before the course starts.
Applicants for the Ph.D. degree program must possess a Master's degree or its equivalent before the course starts.
The Korean Bachelor's degree equivalent can be shown through various qualifications, including:

A four-year university degree.
A three-year Bologna-compliant Bachelor's degree.
A first-cycle qualification under the European Higher Education Area (EHEA).
A Bachelor's degree with honors in British pattern education.

For other cases, applicants must provide a report on Academic Credential Assessment for Admission from KARIC (Korea Academic Recognition Information Center).
Language Requirements 
English serves as the official language of communication and instruction for international students at KAIST.
All applicants must submit valid English proficiency test (EPT) scores from one of the following tests:

TOEFL iBT: minimum score of 83 (with code 0195)
IELTS: minimum band score of 6.5 (Academic Mode)
TOEIC: minimum score of 720 (Listening & Reading)
TEPS: minimum score of 326

Waivers for EPT scores are available in the following circumstances:

Citizens of specific countries or those with academic qualifications equivalent to a Bachelor's degree or higher from certain countries are exempt from providing EPT scores.
Applicants with academic qualifications equivalent to a Bachelor's degree or higher, with English as the medium of instruction from specific countries, need to provide proof in the form of a certificate.
Students expecting to graduate from regular KAIST degree programs in the semester before their intended course starts may also request a waiver.

Waivers do not apply to applicants enrolled in specific programs: GDI-ITTP track, KINS-KAIST, RCA-KAIST, Impact MBA (KOICA-KAIST Master's Degree Program in Social Economy).
Application Process 
Simply follow the application format for the KAIST Scholarship. The application can be completed on an online platform provided by the university. Tick the KAIST Scholarship option when prompted. This will indicate your interest in being considered for the scholarship opportunity. Be sure to carefully complete the application and provide all required documents as per the application guidelines.
The scholarship committee will be reviewing all the submitted applications based on their eligibility, academic achievements, potential, and qualifications.
Scholarship Awards 
Tuition Grant: 4 semesters (Master's), 10 semesters (Master's-Ph.D.), 8 semesters (Ph.D.).
Monthly Stipend: KRW 350,000 (Master's), KRW 400,000 (Ph.D.).
Master's-Ph.D. Integrated: Stipend varies from KRW 350,000 to KRW 400,000.
Monthly National Health Insurance Premium: Actual cost covered.
Grants based on performance and research project participation.
Application Deadline 
The deadline to complete and submit the application is still open until further notice. The entry for the KAIST International Graduate admission is between August 24- September 14, 2023.