Scholarship details
The 2024 Douglas College Athlete Scholarships application process is currently open and active! This program is designed for both undergraduate and master's level students who have the desire to pursue their studies at Douglas College. If you meet the specified eligibility criteria, you are encouraged to apply.
To ensure a successful application, it is highly recommended that you thoroughly read through this article. Doing so will give you a comprehensive understanding of the scholarship, including details regarding eligibility requirements, necessary documents, the application deadline, and additional relevant information.
Participating in this opportunity could potentially lead you to achieve the esteemed status of being a scholar through this renowned award. To help you prepare, the table provided below offers a concise overview of what you can anticipate throughout the application process.
Remember, this scholarship serves as a chance for dedicated individuals like you to excel academically while being supported by this esteemed institution. Your pursuit of knowledge and excellence can align perfectly with the opportunities provided by the Douglas College Athlete Scholarships.
About Douglas College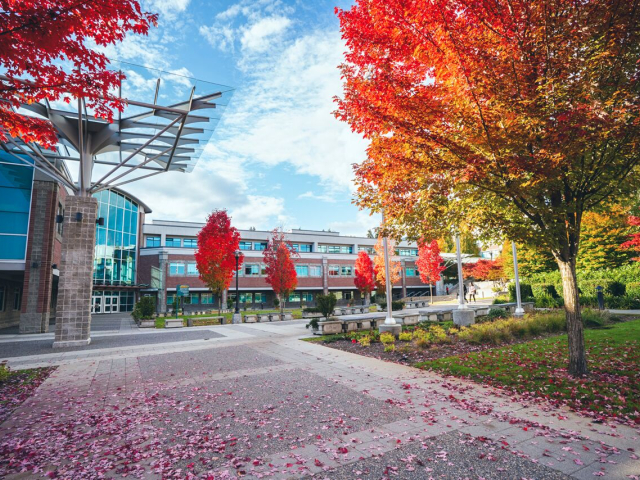 Image Source: Douglas College
Douglas College is the largest public institution for higher education in British Columbia, Canada. The college is committed to academic excellence and provides valuable educational opportunities to a diverse community. It boasts a significant enrollment of around 17,000 credit students, 8,500 individuals engaged in continuing education, and a vibrant international student body of 4,210.
At Douglas College, the educational spectrum is comprehensive, offering both bachelor's degree programs and foundational courses in various fields like arts and sciences. The institution also prides itself on delivering specialized professional programs that cater to sectors such as healthcare, human services, business, and creative arts. This holistic approach ensures that students can access various educational pathways tailored to their interests and career aspirations.
A noteworthy facet of Douglas College is its international reach. The institution welcomes over 4,000 international students hailing from 92 different countries. This international student body contributes significantly to the college's vibrant multicultural environment, enriching the educational experience for all. Remarkably, these international students make up about 18 percent of the total student population, showcasing the global appeal and reputation of Douglas College.
With its diverse programs, commitment to quality education, and strong international presence, Douglas College is a prominent institution fostering learning, growth, and cultural exchange.
Scholarships for Athletes
In 2017, Guangwei Ouyang, who serves as the Vice President of International Education and Strategic Partnerships, established a significant scholarship at Douglas College. This thoughtful initiative was designed with a specific goal in mind: to assist in attracting international student-athletes to become part of the Douglas College community.
The fundamental objective behind creating this scholarship fund is to bridge the financial gap that often exists between the tuition fees for domestic and international students. By offering this support, the scholarship strives to make education more accessible and equitable for international students who bring their talents and aspirations to Douglas College.
Guangwei Ouyang's vision for this scholarship highlights the commitment of Douglas College to fostering a diverse and inclusive learning environment. This initiative is a testament to the institution's dedication to supporting talented individuals worldwide who are passionate about their academic pursuits and bring their athletic prowess to enhance the college's vibrant community.
This scholarship reflects the institution's commitment to global education and recognizes international student-athletes' value to the overall campus experience. Through this initiative, Douglas College continues to uphold its reputation as an institution that values and supports students from diverse backgrounds and pursuits.
Who Is Eligible for Scholarships for Athletes at Douglas College?
To be eligible for this scholarship opportunity, applicants are required to meet certain criteria:
Student-Athlete Status: Candidates must currently be student-athletes at Douglas College. This means they actively participate in sports while pursuing their education at the college.
Education Requirement: Applicants should have either successfully graduated from high school or meet the minimum age requirement of 17 years. This ensures that candidates have a foundational level of education or maturity to excel in college-level studies.
English Language Proficiency: To demonstrate their ability to excel in an English-medium academic environment, applicants must provide scores from recognized English language proficiency tests. The following scores are accepted:

IELTS: A score of at least 7.
TOEFL IBT: A minimum score of 83.
PTE: A score of 56 or higher.
Duolingo: An achieved score of 110.
CAEL: Attaining a score of 60 or above.
Meeting these eligibility criteria ensures applicants have the necessary academic and language skills to succeed in their studies and fully engage in the college's academic and athletic communities.
By setting these standards, the scholarship program aims to support student-athletes who are committed to their sports and dedicated to their education and personal growth. These criteria help ensure that the scholarship recipients will thrive academically and athletically during their time at Douglas College.
Athlete Scholarships at Douglas College- Prize Value:
Successful applicants will receive $7,000 toward domestic or international tuition for the applied program at Douglas.
Eligible Countries
study school
Level of study
Undergraduate or Graduate
Number of prizes
5
APPLICATION Method: Interested applicants are requested to submit an application for admission through the University's Student Portal.
Click the BUTTON below to apply.
Visit the official website for more information
Douglas College Scholarships for Athletes: Application Deadline
The deadline for the submission of registration for this scholarship is September 30, 2023.