Scholarship details
The Auckland Law School Postgraduate Awards have been established with the primary goal of providing support and promoting academic excellence among students pursuing a Master's degree at Auckland Law School. These prestigious awards are specifically applicable to the following study programs: Master of Laws, Master of Legal Studies, and Master of Taxation Studies. The Auckland Law School Postgraduate Awards aims to foster a culture of academic excellence and inspire more outstanding students in pursuing thier higher education in Law.
About the Auckland Law School Postgraduate Scholarship Awards
Each Auckland Law School Postgraduate Award holds significant value, providing a sum of NZ$10,000 to successful recipients. The primary purpose of these awards is to offer financial assistance to students, helping to alleviate the financial burden associated with pursuing a Master's degree.
A maximum of five awards will be granted annually, to ensure that the selected group of exceptional individuals receive the support and recognition they deserve. The tenure of each award is set at one year, allowing recipients to fully dedicate themselves to their studies without additional financial concerns.
These scholarship awards were specifically created to encourage and support academically outstanding individuals who aspire to undertake advanced studies in these fields at Auckland Law School.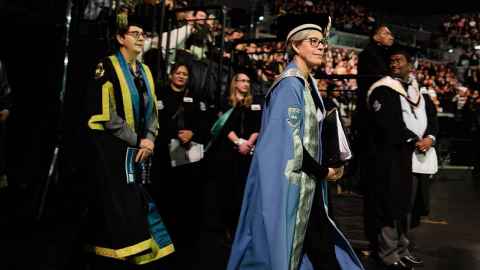 Source: University of Auckland
Postgraduate Law Program at the University of Auckland
Auckland Law School is one of the best law schools in the world, ranked highly in Aotearoa New Zealand. When you choose to study law, you'll gain valuable skills in analysis, communication, and research. Additionally, you'll deepen your knowledge of legal ethics, professional responsibility, and the important role that law plays in society.
Studying for a Law degree will equip you with valuable skills that can be applied in various areas. You'll gain a strong understanding of the law and its impact, develop a sense of justice and social responsibility, and enhance your abilities in analysis, research, and communication. Moreover, you'll learn how to handle pressure effectively. Graduating from the University of Auckland Law School carries a great reputation and is highly regarded in the field.
About the University of Auckland 
Auckland Law School, situated within the prestigious University of Auckland in New Zealand, is widely recognized for its exceptional research and legal education. The university prioritizes practical learning and academic rigor. They offer a wide range of programs intended for undergraduate and postgraduate including research-oriented studies.
The faculties and staff are highly respected experts in the legal field who create a supportive and inclusive learning atmosphere. Students receive a top-notch education and have chances to gain hands-on experience through clinical programs and internships.
Expect that all graduates from Auckland Law School are well-equipped and prepared for their successful careers in different industries, and the university ries with the legal professions will offer a good network of opportunities for their personal and professional growth.
Scholarship Summary
Applicant's Nationality: International
Degree Level: Master's Degree
Field: Law
Number of Awards: Five
Duration: One year
Scholarship Country: New Zealand
Scholarship Awards: NZ$10,000
Scholarship Purpose of Awards: Study Assistance
Renewable: Yes
Offered Annually: Yes
Scholarship Eligibility 
Before proceeding with the application the students must meet the following eligibility criteria of the scholarship program.
Open to students pursuing a Master's degree at Auckland Law School
Applicable study programs: Master of Laws, Master of Legal Studies, Master of Taxation Studies.
Both domestic and international students are eligible to apply for this scholarship opportunity. No specific citizenship or nationality for the applicants.
The scholarship is open to both full-time and part-time students, allowing flexibility for those who may have other commitments or are studying on a part-time basis.
The applicants must be able to demonstrate their academic excellence and meet the academic requirements set by Auckland Law School for admission into the respective Master's degree program.
The scholarship is merit-based, and preference may be given to candidates with exceptional academic achievements, research potential, or relevant professional experience in the field of law.
International students must have good communication skills in oral and written English.
Application Process
To apply for the award, applicants are required to submit their application via email to the designated recipient: the Executive Assistant to the Dean. The email address for submission is [email protected]
Keep in mind that it is important to address the email carefully to ensure that the application will reach the intended recipient.
The scholarship application requires an additional document to be included. These documents include copies of official university transcripts, which should reflect the grades of all completed courses. Successful applicants may also be requested to provide physical copies of their transcripts for verification purposes before the award is confirmed.
Required Documents 
A current curriculum vitae (CV), should highlight the applicant's educational background, including degrees earned and institutions attended. Other relevant information, such as research projects, publications, or extracurricular activities, can also be included in the CV.
Academic referees are individuals who have worked closely with the applicant and can speak to their character, academic abilities, and potential. The referees must have thier contact details accurate and up-to-date.
University transcript of records should reflect the grades of all completed courses.
Additional Information 
Awardees must fulfill admission requirements for a University of Auckland law postgraduate degree program.
Scholarship recipients must be enrolled and commence thier studies in the semester immediately following the award.
In exceptional cases, the candidates may be able to seek approval from the Dean of Law for a deferred commencement date.
Scholarship Awards 
The scholarship value will be amounting to up to NZ$10,000 which can be used for their study assistance.
Application Deadline 
The deadline to complete and submit the application is until June 30, 2023.