Scholarship details
IREX Europe, a fantastic organization dedicated to making a positive impact around the world, is thrilled to provide incredible scholarship opportunities to undergraduate students. These scholarships open doors to exciting educational journeys and new horizons. Let's explore the three remarkable types of scholarships available!
First up, we have the Tunisia Undergraduate Scholarship Program. This program offers a life-changing chance for Tunisian students to pursue their dreams of higher education. With this scholarship, they can unlock their potential and gain valuable knowledge that will shape their future.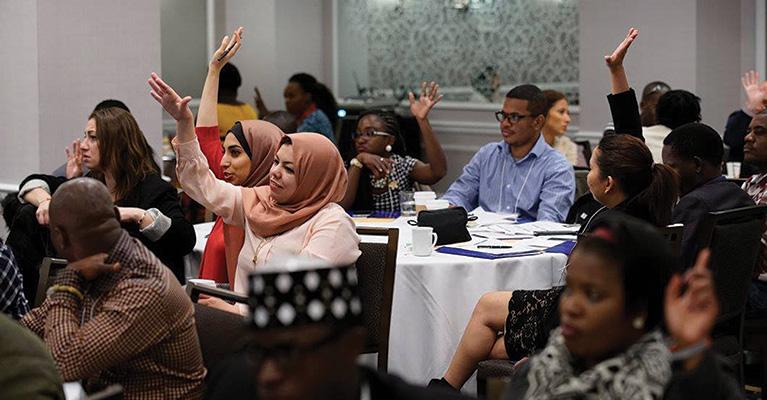 Image Source: Irex
Next, we have the Global Undergraduate Program in Pakistan. This scholarship opportunity invites bright and talented students from all over the globe to embark on an unforgettable academic adventure in Pakistan. It's an amazing opportunity to experience a different culture while gaining a top-notch education.
Last but not least, we have the Tunisian Community Universities Scholarship Program. This program is specifically designed to support and empower Tunisian students who are eager to contribute to their local communities. It provides them with the means to pursue higher education and make a lasting impact on their society.
IREX Europe is actively seeking regionally accredited US universities to participate in these incredible scholarship programs. By collaborating with these universities, IREX can offer diverse educational opportunities to deserving students. It's a win-win situation for both students and universities!
As an independent and not-for-profit international development organization, IREX Europe is committed to improving the quality of education worldwide. They believe in the power of education to transform lives and communities. In addition to its scholarship programs, IREX also focuses on strengthening independent media and promoting the pluralistic development of civil society. Their innovative programs tackle critical issues and create lasting change.
So, if you're an undergraduate student looking for an exceptional scholarship opportunity or if you represent a regionally accredited US university eager to make a difference, IREX Europe is the place to turn to. Read further on the guide below on how to apply and win so you can be a part of something truly remarkable!
Level/Field of Study
IREX Europe's International Undergraduate Scholarship is here to support aspiring students in pursuing their undergraduate dreams. This scholarship provides financial assistance for undergraduate programs, helping students access quality education and open doors to a brighter future.
IREX Europe believes in the power of education to transform lives and positively impact society. With their International Undergraduate Scholarship, they aim to empower talented individuals who are eager to further their education and reach their full potential.
Whether you have a passion for engineering, business, humanities, or any other field of study, this scholarship has got you covered. It provides the necessary financial support to help you enroll in the undergraduate program of your choice, ensuring that financial constraints don't hinder your educational journey.
Host Nationality
IREX Europe International Undergraduate Scholarships 2023, hosted by IREX Europe, are now available. These scholarships offer students the opportunity to study in Tunisia or Pakistan, opening doors to amazing educational experiences and cross-cultural adventures.
IREX Europe understands the importance of providing international students with access to quality education. That's why they have created these scholarships, enabling talented individuals from around the world to broaden their horizons and gain valuable academic knowledge.
But wait, there's more! In addition to the IREX Europe International Undergraduate Scholarships, other USA Scholarships are available for international students in 2023. These scholarships provide further opportunities for students to fulfill their academic aspirations in the United States.
Studying abroad can be a life-changing experience, allowing students to immerse themselves in a new culture, build global connections, and gain a competitive edge in their chosen fields. IREX Europe and other organizations are committed to fostering international collaboration and promoting educational excellence by offering these scholarships.
IREX Europe International Undergraduate Scholarships worth
IREX Europe programs are designed to provide comprehensive support to students, ensuring they have everything they need to thrive in their educational journey. Let's take a look at the fantastic benefits and assistance they offer:
First and foremost, IREX Europe assists students with J-1 visa support. They understand the complexities of visa processes and strive to make it as smooth as possible for students to study in the United States.
IREX Europe also covers return travel expenses from the student's hometown to the host institution in the United States. They believe that students should have the opportunity to reunite with their families and loved ones during breaks, fostering a sense of connection and well-being.
To ensure the well-being of students, IREX Europe provides accident and illness insurance. This coverage offers peace of mind, knowing that students are protected in case of unforeseen circumstances.
IREX Europe covers mandatory university tuition and fees. They believe that financial constraints should not hinder students' pursuit of education, and they strive to alleviate the burden of tuition expenses.
Accommodation and meals are also taken care of by IREX Europe. They understand the importance of a comfortable living environment and nutritious meals for students' overall well-being. This support ensures that students can focus on their studies without worrying about basic needs.
In addition, a small supplement for utilities is provided to help cover additional expenses related to housing.
IREX Europe recognizes the importance of academic resources and offers a limited allowance for books. This support ensures that students have the necessary materials to excel in their studies.
Cultural enrichment is essential to the student experience, and IREX Europe provides limited support for cultural activities. This enables students to explore and engage with the vibrant cultural scene, broadening their perspectives and enriching their overall educational journey.
Last but not least, IREX Europe offers alumni networking opportunities. This valuable resource connects students with a network of successful individuals who have previously participated in IREX Europe programs. It opens doors to mentorship, career guidance, and lifelong connections.
IREX Europe is committed to empowering students and providing them with the tools they need to succeed academically and beyond. With their comprehensive support, students can focus on their education and make the most of their incredible opportunities.
Eligibility for IREX Scholarships 2023
Let's dive into the admission requirements and exciting opportunities available for international students:
Admission Requirements: All international students must have graduated from the esteemed Maine Institute to be eligible for these programs. This is an important criterion that ensures students meet the necessary educational qualifications.
Pakistan Undergraduate Global Exchange Program: This program is specifically designed for exceptional students from Pakistan who wish to pursue a full-time semester of study in the United States without obtaining a degree. It offers an incredible opportunity to immerse themselves in a different academic environment and broaden their horizons.
Community College Scholarship Program in Tunisia: Students from every region in Tunisia can take advantage of this program. It allows them to complete year-long certificate programs in eligible areas of study at US Community Colleges. This opportunity allows them to gain valuable skills and knowledge that will contribute to their personal and professional growth.
Tunisia Undergraduate Scholarship Program: This program is open to young leaders from all across Tunisia. It offers a full year of study in the United States without pursuing a degree. Students have the freedom to choose any field of study that aligns with their interests and aspirations.
These programs are incredible stepping stones for students to experience a different educational system, expand their global perspective, and develop vital skills that will serve them well in the future. It's an opportunity to learn from renowned institutions and connect with a diverse community of students.
Students can enhance their academic achievements, foster personal growth, and establish lifelong connections by participating in these programs. The experiences gained through these programs will shape their future paths and open doors to endless possibilities.
So, if you're a student from Pakistan or Tunisia, don't miss out on these fantastic opportunities to explore new educational landscapes and make lasting memories. Take a leap of faith, challenge yourself, and embark on an extraordinary academic adventure in the United States!
How do I apply for the IREX Europe International Undergraduate Scholarships 2023?
International students are valued for the unique ideas, knowledge, and experiences they bring to host institutions. Their presence enriches campus life by introducing diverse perspectives and fostering intercultural understanding, mutual respect, and cultural exchange.
Students should submit all required documents through the convenient online application system to apply for a program. It's important to note that the online hosting app functions optimally on Firefox or Google Chrome browsers, ensuring a smooth application process.
The selection of host institutions and the placement of students depend on various factors. The availability of slots provided by the United States government is one such factor. Additionally, program participants' approval and receipt of J-1 visas play a vital role in the final placement process.
It's an exciting journey for international students to pursue educational opportunities in a foreign country. By participating in these programs, they not only enhance their own knowledge and skills but also contribute to the vibrant cultural mosaic of the host institutions. Their interactions with local students and faculty foster an inclusive and global learning environment.
So, if you're an international student ready to embark on an enriching academic adventure, make sure to submit your application online and keep an eye out for updates regarding host institution selection and visa approval. This is your chance to broaden your horizons, make lifelong connections, and embrace the wonderful experience of studying in a new cultural setting.
Scholarship Deadline:
The US Host Academic Institution Application can be completed online. Complete applications must be submitted by March 2023.