Scholarship details
STEP BY STEP Guide to Apply For Erasmus Mundus Scholarships
Getting a full scholarship as an international student changed my life. In two years, I could travel to more than 30 cities, live in four, add a master's degree to my studies, and save 6,000 euros in an emergency fund. It also enriched my network and opened opportunities for a longer stay. It wasn't a bad deal at all.
So you might be thinking: Scholarships!? Ha. I'm not a genius, and I won't stand a chance.
Well, I'm proof that that's not true.
You see, most people think the same way… which can actually work in your favour. If you're willing to change your mindset from "I'm not smart enough" to "What's there to lose?" then you're actually increasing your chances of getting it.
I got decent grades, but I had a couple of major classes where I barely got passing grades. I could name many other people who are smarter than me.
What made the difference was that they didn't apply. They are not competing for that spot for whatever reason (family obligations, fear of the unknown, fear of rejection).
Erasmus Mundus is also relatively unknown in some places. In fact, I have met people from all over the world who had never heard of it. So you can definitely use that to your advantage.
What is Erasmus Mundus?
Erasmus Mundus is a European mobility scheme available to university graduates from all over the world. It allows participants to complete a master's degree in at least two universities in different countries.
Launched in 2004, its aim was to promote the European higher education system worldwide by offering scholarships to students from outside the EU. The idea was to attract top students through scholarships, promote a good image worldwide and consequently increase the admission of self-financed students.
So, yes, it came with a bit of vested interest, which is totally fine if you're giving out scholarships worth millions of euros, anyway.
In addition to its goal of promoting European higher education internationally, Erasmus Mundus also had a humanist goal. By bringing EU students and international students together in the same classroom, I hoped to facilitate cross-cultural understanding and dialogue.
In 2013, the Erasmus Mundus programs for master's studies were incorporated into the simplified Erasmus+ programme. There were some changes, but the application procedures are basically the same.
Details of the Erasmus Mundus Scholarships
Sounds good? These are the steps to start your search for full Erasmus Mundus scholarships for international students.
How to apply for Erasmus Mundus scholarships?
Step 1: Learn about the Master's Course Offerings
Engresa al Catálogo EMJMD (Erasmus Mundus Joint Master Degree) https://www.eacea.ec.europa.eu/scholarships/erasmus-mundus-catalogue_en
You will see a long list called "Erasmus Mundus Catalogue". All active Erasmus Mundus program offers that you can apply for are listed here.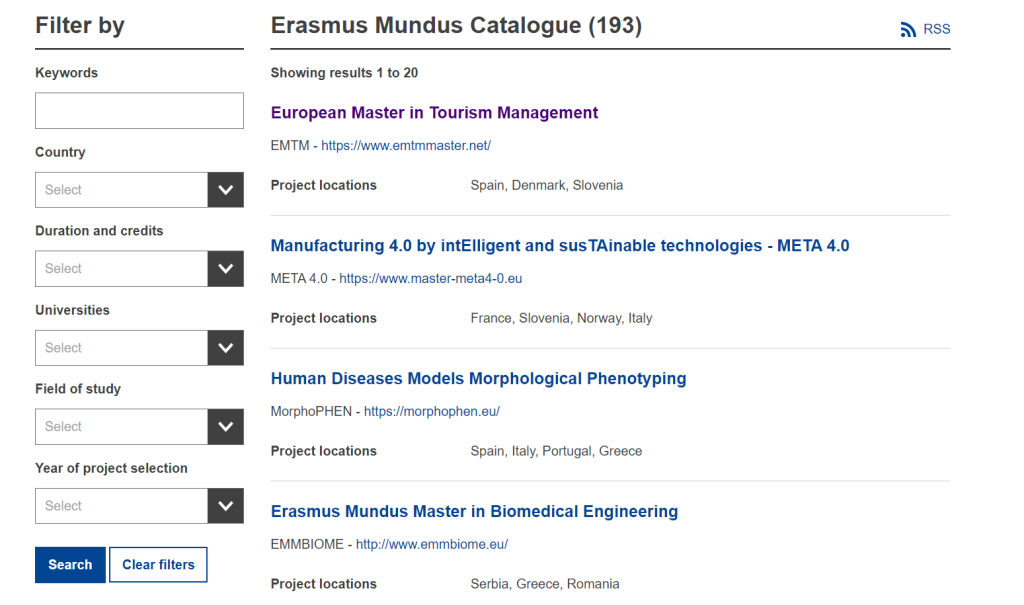 When you process your Erasmus Mundus scholarship application, you are actually applying for admission to the master's program AND the scholarship… no separate applications are required. You submit your application through the course website.
Step 2: Head to individual program websites to learn more about course objectives and structure
You will find the link to the individual course websites below the program titles (as shown in the image). Click through your top choices' websites and see how the program fits your needs.
If you are also interested in living in a specific city or country, you will also be able to see the countries where the course will take place under the title of each program.
When I was deciding which master's degree to take, I limited my search to those relevant to my field and interests and wrote them down on a piece of paper. I reviewed the universities that were part of the consortium and was attentive to those with a Spanish university involved (since I wanted to study in Spain).
It is also worth noting that Erasmus Mundus master courses tend to come and go as they are only funded by the European Commission for 5 years. After reviewing them, they can be extended to another five years, and that's it. So don't be surprised if you see some courses disappear in the space of a year.
Step 3: Check and confirm if you are eligible
So, you've focused on programs aligned with your personal goals and career aspirations. The next thing you should do is check their eligibility requirements.
Some of the information you should keep an eye on includes:
Do you only welcome graduates of certain degree programs, or are you interested in attracting students from diverse backgrounds?

Do they require specific technological skills?

What about your language requirements?
It may interest you:
Step 4: Limit your options to a maximum of 3 programs
Choose a MAXIMUM of three Erasmus Mundus programs to apply to. Remember, your application will be rejected if you submit more than three applications per application round.
Step 5: Prepare a document checklist for each program
Once you confirm you are eligible, review the list of required documents.
Required documents generally include the following:
The biometric page of your passport

Transcript of records of your bachelor's degree

A certified true copy of your diploma, proof of English language proficiency (IELTS or TOEFL)

Motivation letter

2 reference letters from teachers or colleagues

CV in 

Europass format
They may also require an essay on a related topic.
Ensure you have all your documents translated into English or any other language indicated by the coordinators. As this may require time and resources, you need to plan accordingly.
Step 6: Locate and familiarize yourself with the program application platform within the website
As I mentioned, Erasmus Mundus applications require an ONLINE APPLICATION. The platform for uploading applications is located on the program website. However, some of them may require you to submit a mailing in addition to the online application.
At this point, you do not need to complete the online application form yet. Familiarize yourself with the system and what type of information you will be asked for so you can plan.
Let me show you an example of an EMJMD (Erasmus Mundus Joint Master Degree) program website.
Ejemplo: Erasmus Mundus Master in Chemical Innovation and Regulation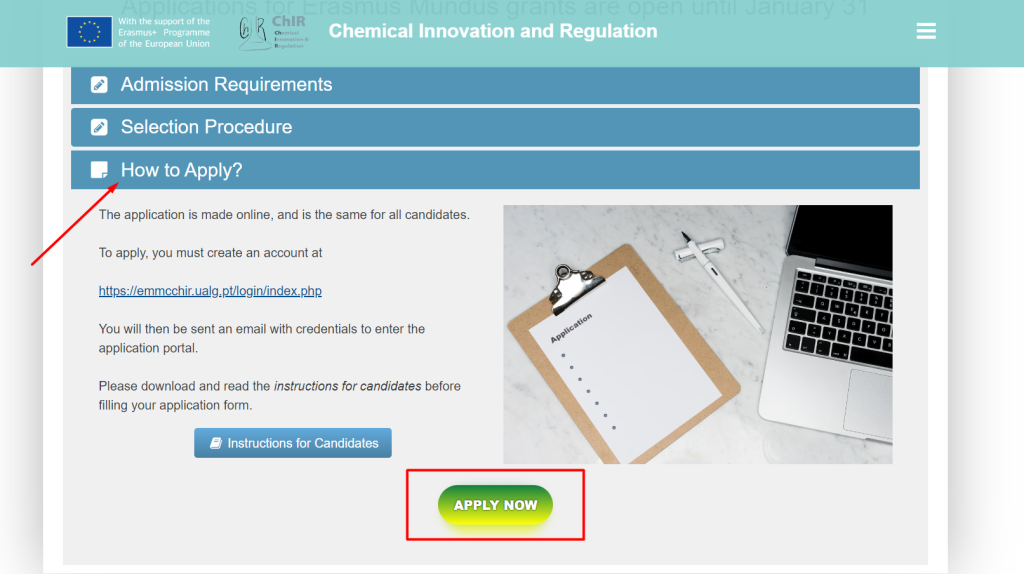 The program application form can be accessed through the drop-down menu, as marked above in red (How to Apply > Apply Now).
You will then be directed to a registration link to fill out a form with your details. The sample program's preliminary application platform looks like this: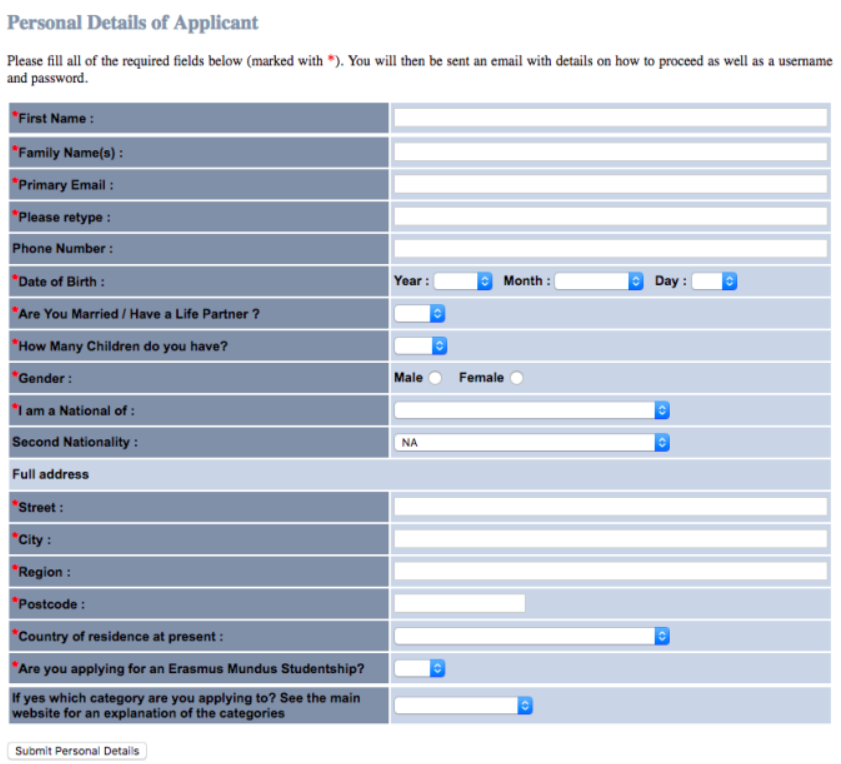 Based on this information, you'll know to provide your demographics and category.
Now that you've narrowed down your options and identified the documents you need to submit and the information you need to provide, it's time to start applying!
Step 7: Mark your calendar, get the documents and apply
Once you have decided which programs you will apply to (maximum three), calculate how much time you have. The call for applications usually opens in October and closes in January, but it's a good idea to check their websites as soon as possible to give yourself enough time to secure documents. I would say that preparations can begin in June.
You should also start planning if you need to take proof of English language proficiency.
Look up procedures for applying for IELTS or TOEFL exams and ensure these tests are accepted by the program you want to apply to. Some Erasmus Mundus only respect the results of the IELTS academic exams, while others also accept TOEFL and Cambridge, among others.
Key points to increase your selection chances
Erasmus Mundus is a highly competitive and, therefore, highly prestigious scholarship.
I have identified some key areas that greatly impact your selection chances (Note: It is not a rule that these points work as I write); it is purely for guidance purposes.
GPA is important in Erasmus scholarships (GRE is not required, so GPA is sometimes the most important factor that can win you the degree or make up for your other below-average areas). However, a low GPA is not a barrier.

English proficiency (95% of master's programs are taught in English); however, very few programs might require proficiency in some European languages ​​as well, as one or a few semesters are offered in local languages, so check the site's websites before applying for any specific program.

The relevance of the field you are applying to and your academic and professional background.

Knowledge of the field you are applying to (interviews are sometimes technical and long, also a kind of test)

Experience in the same field demonstrated through internships/work experience, etc.

Your intention and ability to study/work in very diverse and intercultural contexts (also demonstrate this in your interview if you have carried out trips/projects/work, etc. with some foreigners)

Your motivation letter MATTERS A LOT, so spend time on it.

Recommendation letters

Your extracurricular activities and massive open online courses matter, especially when the field changes a bit and/or when the GPA is not too high.

Your passion and intention to study in the field you applied to, are demonstrated through a motivation letter and an interview, as well as taking relevant courses/internships, etc.
Frequently Asked Questions about Erasmus Mundus Scholarships
How can I improve my profile and increase my chances of selection?
In addition to your educational performance, your complete profile is important. So, always make sure to take certificates for extracurricular activities. The relevant online courses on Coursera, etc. They also help. Relevant internships/experience/projects/research papers, it all counts. Make sure you do thorough preparation.
What happens if I am rejected for ERASMUS?
The biggest reason for rejection is not applying. Apply anyway, take the IELTS! Your hard work can meet ERASMUS this time.
Can I apply for ERASMUS MUNDUS even if I did not graduate from a top university?
The name of your undergraduate university does not matter for ERASMUS. Students from all universities enter.
How do I know which program I am eligible for?
The names of the programs are not typical in ERASMUS. Please review all program websites carefully, and you may find that you are eligible for some relevant programs.
Would ERASMUS help me in my future doctoral goals?
ERASMUS Master is the preferred PhD degree in Europe. Most people can enrol in a PhD abroad immediately after their Erasmus MS. However, Erasmus Mundus is only for MS-level admissions.
Which IELTS exam should I take?
IELTS GENERAL is not acceptable for ERASMUS MUNDUS applications. Only IELTS ACADEMIC or TOEFL.
I am currently enrolled in an undergraduate program. How can I proactively become eligible for ERASMUS?
You should know that if you are applying for the master's degree for the following year, you will need the grades and the degree IN HAND at the latest, at the end of July or the beginning of August. There is no set date, but virtually without a degree and additional certifications, your selection will not become unconditional. Therefore, some programs may allow you to fly to Europe with just a transcript, but most will not.
If you don't have a degree by the end of July, it will be difficult to get to your European universities on time.
How much experience is required to apply for the ERASMUS application?
You do not need full-time experience to apply. Many students, including me, entered while enrolled in undergraduate degrees. Experience is, of course, a merit factor but not an eligibility requirement for most programs at least.
Internships do count in that merit factor. People reading for next year should also focus on internships, volunteer work, etc. I had 11 months of internship for my 4-year bachelor's degree. All of them were purely in the field in which I obtained the ERASMUS scholarship. Whatever you do, make sure it relates to what you want to do in the future. Don't just fill out the CV. Plan things. Be proactive.
What mistakes should I avoid in my application?
Top 5 negatives in ERASMUS applications:
Never lie on your application.

Don't forget to attach evidence of your internships/jobs and almost all important achievements.

Do not apply to more than 3 programs; you will surely fail in all of them.

Do not copy exact lines from any letter on Google or copy and paste last year's Motivation Letter.

Lack of knowledge about the program, the website content, and the purpose of the program represented in your motivation letter and/or interview
Can I omit my photo from the CV?
I recommend attaching a professional photo to the Europass CV when submitting an application.
The entire application process is online. Visit the official website Erasmus Mundus Joint Masters Catalog (EMJMD)