Scholarship details
The MENA Scholarship Programme (MSP) main purpose is to promote knowledge exchange and capacity building in the Middle East and North Africa (MENA) region. By providing opportunities for young professionals to participate in short courses in the Netherlands, and by offering tailored training for regional organizations, MSP aims to create bridges of knowledge and expertise. One of the program's primary objectives is to foster lasting relationships between the participating countries and the Netherlands, with a focus on establishing strong alumni networks. By doing so, MSP not only encourages mutual understanding but also facilitates the sharing of knowledge and experiences among professionals from different backgrounds.
The scholarship program is funded by the Netherlands Ministry of Foreign Affairs as part of the Shiraka program and managed by Nuffic, the MENA Scholarship Program is a testament to the commitments of both the Netherlands and participating countries in promoting academics, sustainable developments, and collaborations.
Scholarship Provider: RNTC Radio Nederland Training Centre
About the Provider 
An internationally renowned training center that was established by RNW Media, formerly known as Radio Netherlands Worldwide. RNTC provides specialized training and coaching in media and capacity strengthening for social change.
Unlike traditional approaches to journalism, media, and campaigning, RNTC takes a unique and comprehensive approach. It combines cutting-edge research, powerful theoretical concepts, practical professional training, and creative innovations to empower individuals and organizations to make a significant impact in the media and communication landscape.
They work worldwide to provide media training and strengthen the capacity for social change. They offer an annual scholarship in partnership with Nuffic Global Developments, they are able to offer a scholarship with restrictive settings.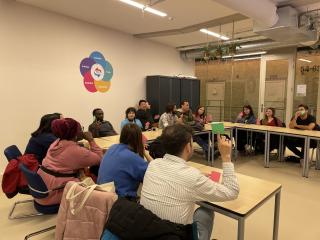 Source: RNTC Radio Nederland Training Centre
More than five decades ago, in 1968, RNTC was established as a collaborative effort between RNW Media (previously known as Radio Netherlands Worldwide) and the Dutch Ministry of Foreign Affairs. Throughout its history, RNTC has acquired invaluable expertise in providing accredited courses and understanding the significant role that media can play in shaping societies, particularly in developing nations and countries undergoing transitions.
Over the course of more than 50 years, the organization has achieved remarkable milestones that have shaped its expertise and global reach. With a presence in 58 countries and proficiency in five languages, they have successfully impacted the lives of over 6000 alumni worldwide.
Their extensive experience has allowed them to continuously grow and evolve, making significant contributions in various fields and regions. As they reflect on their achievements, they are proud of the positive impact they have made and remain committed to driving positive change for years to come.
Scholarship Eligible Countries
Interested applicants who are currently living and working in the following countries are encouraged to apply:
Lebanon
Egypt
Morocco
Mauritania
Jordan
Libya
Algeria
Tunisia
Iraq
Oman
Sudan
Syrian Nationals are welcome to apply if they are currently working and living in one of the listed eligible countries. Specific details and requirements may apply to Sudan; it is important to refer to the provided information for more clarity.
Scholarship Summary 
Degree Level: Postgraduate
Field: Journalism
Number of Awards: NA
Duration: 13 weeks
Scholarship Awards: Fully-funded
Scholarship Country: Netherlands
Renewable: NA
Offered Annually: Yes
Scholarship Eligibility 
Before proceeding with the application, interested students must meet the eligibility criteria for the scholarship.
The Employer's Statement provided follows the format specified by Nuffic.
The age limit for the program is 45 years old.
You possess a valid and official identification document.
Concurrent enrollment in two or more courses is not allowed.
If required, you can furnish a Government Statement (please check eligibility).
Applicants should be below 45 years of age at the time of applying for the scholarship.
Applicants working in organizations that provide in-house staff development are not eligible. Please refer to the official webpage of the provider to know more about the in-house staff list of examples.
Application Process 
Start the scholarship application process on time, divided into two phases: registration on the RNTC website and application in Delta.
During registration, check eligibility, select a course, and receive a link for the Delta application if eligible for the scholarship.
In the Delta application, submit all required documents and ensure they follow Nuffic's provided formats and guidelines.
Prepare and provide a well-structured motivation addressing the issue or problem in your country, how the course will help, and your position's role in addressing the problem upon your return.
After application submission, RNTC provides the Dutch embassy in your country with a shortlist of scholarship candidates.
The Dutch embassy makes the final selection of scholarship recipients based on their Country Focus and application evaluation.
If nominated for an MSP scholarship, RNTC will contact you with further instructions.
Required Materials 
As part of the application process, the applicants are required to submit the following:
Valid Passport
National ID
Employer's Statement must be filled, signed, and stamped
Government Statement only if applicable to your country
Selection Process
After shortlisting applicants for a scholarship, RNTC forwards the selected candidates' applications to the relevant Netherlands Embassy in their respective countries. The decision on awarding the scholarship is made by the Netherlands Embassy, based on their established and publicized (development) priorities. Your motivation letter and employer's statement play a significant role in the selection process.
RNTC will notify you Once you have been shortlisted for a scholarship accordingly. If you were shortlisted for a Nuffic scholarship, you will receive information about whether or not you have been nominated as a scholarship recipient within three months after the scholarship deadline. Once RNTC confirms that you have been awarded a scholarship, they will get in touch with you to initiate preparations for your course attendance in the Netherlands.
Scholarship Benefits 
The awards for the program is fully-funded, and the courses can take up to 13 weeks.
Application Deadline 
The deadline to complete and submit the application is until September 5, 2023.