Scholarship details
Scholarships to study Undergraduate at Boston University
Are you ready to embark on a transformative educational journey in the United States? If you're an international student with outstanding academic achievements, a zest for learning, and a desire to excel, the Boston University Trustee Scholarship could be the bridge to your dreams. In this article, we'll explore this prestigious scholarship, the remarkable Boston University, its rich history, and how you can secure this life-changing opportunity.
About Boston University: A Beacon of Excellence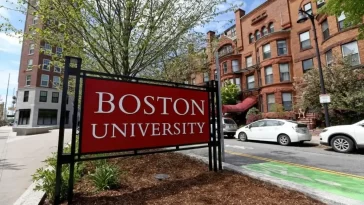 Before we dive into the details of the Trustee Scholarship, let's take a moment to appreciate the institution that offers this golden opportunity – Boston University. Nestled in the vibrant heart of Boston, Massachusetts, this university has a legacy of academic excellence that spans nearly two centuries.
Founded in 1839, Boston University has consistently held a prominent place among the most prestigious educational institutions in the United States. Its commitment to quality programs and tools has forged leaders and innovators across various fields. It's a place where global leaders are groomed, and holistic development is a fundamental principle.
The Boston University Trustee Scholarship: A World of Opportunity
Now, let's turn our focus to the crown jewel of scholarships – the Boston University Trustee Scholarship. This is not just another scholarship; it's a gateway for international students to access top-tier education in the United States. This merit-based scholarship is not restricted to a particular region; it's open to students from around the world.
What sets this scholarship apart is its exclusivity. Only the most exceptional students, the top 20 in terms of academic excellence, are awarded this fully-funded undergraduate scholarship. It's a life-changing opportunity that covers full tuition, making the dream of studying in the United States a reality for many aspiring scholars.
The Trustee Scholarship – Fulfilling Dreams
For international students, the United States is often seen as a dream destination for higher education. The allure lies in the promise of quality education and the multicultural environment that enriches your learning experience. The Boston University Trustee Scholarship opens the door to this dreamland.
Here's a closer look at what this scholarship has to offer:
Where? The esteemed Boston University, located in the United States.
What? This scholarship encompasses a wide range of undergraduate degrees, allowing students to pursue their passions in virtually any subject offered by Boston University.
Who's Eligible? This scholarship is extended to international students, removing geographical boundaries and welcoming talent from all corners of the globe.
Scholarship Perks: Beyond covering full tuition, the Trustee Scholarship is renewable. As long as you maintain the required criteria, this scholarship will support your academic journey year after year. It also includes additional coverage for undergraduate expenses and fees. What's more, it offers you the opportunity to join Boston University, an institution known for academic excellence.
Conditions to Unlock Your Potential
Earning the Boston University Trustee Scholarship is no easy feat, but the rewards are worth the effort. To be a contender, you need to meet several criteria:
Academic Excellence: Your academic performance should shine brightly on your application.
Multifaceted Talents: Boston University values well-rounded individuals. Show them your diverse talents and interests.
Impressive Test Scores: You'll need SAT scores exceeding 1500 and ACT scores surpassing 33.
The Power of Words: Your application wouldn't be complete without a compelling essay. It's your chance to express your thoughts, experiences, and aspirations in a maximum of 600 words.
Two Paths, One Essay: Your Story
The scholarship essay is your opportunity to stand out. You have two prompts to choose from:
The Divine Beauty of Learning: Elie Wiesel, a Nobel laureate and a former Boston University professor, once stated, "There is a divine beauty in learning…" Share a movie, book, podcast, or life experience that deeply connected you to your personal story or identity. What lessons have you learned from this connection?
Stepping Out of Your Comfort Zone: Narrate a situation in which you ventured beyond your comfort zone or faced marginalization or degradation. How did you respond to this moment, and how did it influence your subsequent actions?
Your essay should be a window into your world, your thoughts, and your aspirations.
Application: Your Passport to Success
Now, let's get practical about the application process:
Obtain the Application: Begin by acquiring the regular application form for admission to Boston University.
Meet the Requirements: Ensure you fulfill all the prerequisites for the undergraduate program.
Registration and Writing: Sign up for the fall semester, and make sure to include your essay along with all the necessary documents when submitting your application.
The deadline: December 1, 2023
Time is of the essence. The deadline to submit your application for the Boston University Trustee Scholarship is December 1, 2023. Ensure your application is comprehensive and submitted on time.
This scholarship isn't just a financial boost for your education; it's a life-changing opportunity to experience academic excellence in a vibrant, multicultural environment. Boston University's legacy of producing global leaders is a testament to the quality of education it offers.
Are you ready to seize the opportunity? Start working on your application, craft a powerful essay that reflects your journey and aspirations, and make sure you meet all the requirements. The Boston University Trustee Scholarship is your ticket to academic excellence and a transformative educational experience. Will you be one of the top 20 scholars who embark on this extraordinary journey? The countdown has begun!