Scholarship details
Introducing the Lynn University Merit Scholarships for Undergraduate Students in the USA 2023! The Watson Institute at Lynn University is excited to announce this opportunity for exceptional scholars who are passionate about making a social impact and have innovative business ideas.
At the Watson Institute, they strongly believe that finances should never hinder the pursuit of education. That's why they have created a range of generous scholarships and innovative funding options to support students in their learning journey.
But it doesn't stop there. The Watson Institute offers much more than just financial aid. They provide a truly personalized educational experience that goes above and beyond. Imagine weekly mentor meetings, one-on-one workshops, thrilling out-of-state trips, and even exclusive meetings with renowned entrepreneurs. The Watson education is designed to nurture and empower students every step of the way.
Regardless of your economic background, the Watson Institute is committed to making education accessible to all. They offer a variety of scholarships and funding options to ensure that no deserving student is left behind.
So, if you're a passionate scholar with a drive to create positive change and innovative business solutions, don't miss out on this incredible opportunity. Read on to learn how to apply for the Lynn University Merit Scholarships for Undergraduate Students in the USA and unlock a world of possibilities at the Watson Institute. Your dreams are waiting to be realized!
Table of Content
About the Lynn Merit Scholarship
Level/field of study:
Host Nationality:
Eligible Nationality:
Scholarship Benefits:
Eligibility
How to apply
About the Lynn University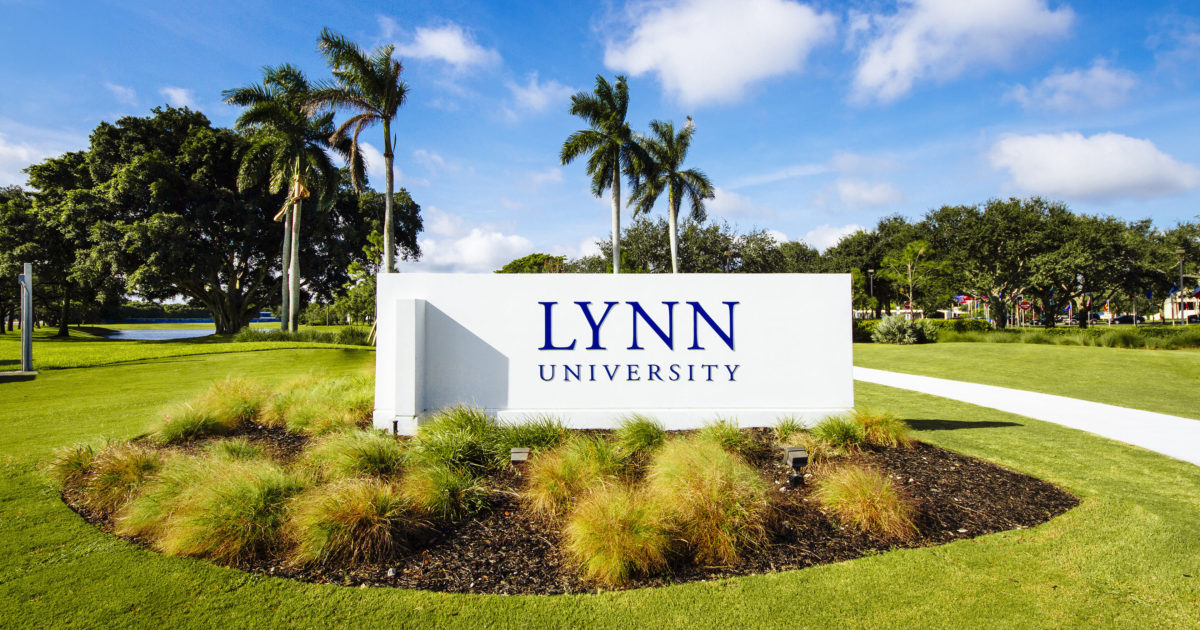 Image source: Lynn University
Welcome to Lynn University, an exceptional independent college nestled in the vibrant city of Boca Raton, Florida. With a diverse student body of nearly 3,500 individuals hailing from over 100 countries, Lynn University offers a truly global educational experience.
Renowned for its innovation, Lynn has caught the attention of U.S. News & World Report, which has recognized the university for its outstanding international student community, value, and commitment to fostering creativity and forward thinking.
But Lynn University is not just about academics. The spirited NCAA Division II Fighting Knights have proudly secured an impressive 25 national titles, showcasing their dedication and athletic prowess. Meanwhile, the Conservatory of Music boasts a world-renowned faculty of accomplished performers, enriching the musical journey of aspiring musicians.
One of the university's notable achievements lies in its nationally recognized Institute for Achievement and Learning, which provides valuable support and empowerment to students with learning differences. Lynn University goes above and beyond to ensure that all students have equal opportunities to thrive and succeed.
At Lynn, the educational experience goes beyond the traditional. The school's Dialogues curriculum, coupled with its award-winning iPad program, equips graduates with the intellectual flexibility and global perspective needed to navigate an ever-changing world. Lynn University understands the importance of adaptability and international exposure in unlocking one's full potential.
So, whether you're seeking a dynamic learning environment, a chance to excel in athletics, a pathway to a vibrant music career, or support for your unique learning needs, Lynn University is here to guide you on your journey. Get ready to embrace new horizons, ignite your passions, and fulfil your potential in a world that is constantly evolving.
About the Lynn Merit Scholarship
Attention incoming, admitted, and full-time freshman students! The Lynn University Merit Scholarships for the 2023–2024 academic year are here, and they're waiting for you. If you're eager to kickstart your college journey and meet the following criteria, you could be eligible to receive a prize ranging from $7,000 to $19,000.
To qualify for this exciting opportunity, all you need is a high school GPA of 2.0 or higher. If you've taken the SATs, your scores should be 920 or higher (if you decide to submit them). It's that simple! These scholarships are designed to reward your hard work and dedication.
But here's the best part: if you maintain the required GPA throughout your time at Lynn, these scholarships are renewable. That means you can continue enjoying the benefits of this financial support as long as you keep up the good work. The Lynn Merit Scholarship has a cumulative GPA requirement that you can renew each year.
If you're a freshman accepted to Lynn for the upcoming academic year, 2023–2024, this scholarship opportunity is yours for the taking. The award range for new students approved for the 2023-2024 academic year is between $7,000 and $19,000. Imagine the possibilities that await you with this financial assistance.
So, if you're ready to embark on an incredible academic journey, seize this opportunity and apply for the Lynn University Merit Scholarships. Let your potential shine, secure your future, and make the most of your time at Lynn University. The possibilities are endless, and the rewards are within your reach.
Level/field of study
Calling all undergraduate students to continue their studies at the esteemed Watson Institute at Lynn University! This incredible scholarship opportunity is specifically tailored for you, particularly if you belong to any of the following academic divisions:
1. Faculty of Aeronautics
2. College of Arts and Sciences
3. College of Business and Administration
4. Faculty of Communication and Design
5. Education University
6. Conservatory of Music
Whether you're pursuing a degree in aeronautics, exploring the realms of arts and sciences, delving into the world of business and administration, honing your communication and design skills, specializing in education, or mastering the art of music at the Conservatory, this scholarship is designed to support and uplift your educational journey.
At the Watson Institute, they believe in the power of education and the transformative impact it can have on your future. They are committed to nurturing students like you, who have chosen to continue their undergraduate studies in these exceptional academic fields.
So, if you're passionate about your chosen discipline and eager to excel in your educational pursuits, don't miss this golden opportunity. Apply for this exclusive scholarship and unlock the doors to a brighter future at the Watson Institute at Lynn University. It's time to take your education to new heights and make your mark in your chosen field of study.
Host Nationality:
USA
Eligible Nationality:
The scholarship covers only international students.
Scholarship Benefits
Introducing exciting opportunities to support your education at the Watson Institute! They understand that financial needs can sometimes be a challenge, so they've developed various options to help you achieve your academic goals while minimizing the burden.
One option is the Work-Study program, available exclusively to exceptional Watson semester incubator students who demonstrate financial need. As a Work-Study Scholar, you'll work 10 hours per week alongside the Watson team. In return, you'll receive a generous $2,500 scholarship per semester, which can be used to cover your tuition expenses.
If you're admitted to Watson, you'll also have the opportunity to explore crowdfunding as a means to finance part of your tuition. Through Watson's dedicated crowdfunding platform, they reach out to potential supporters who may contribute donations to support your educational journey. It's a collaborative effort to help you fund your tuition costs.
Additionally, Watson offers an innovative option called revenue sharing, designed to make higher education more accessible and affordable. This unique approach ensures that once you graduate, you can manage your financial responsibilities comfortably and graduate debt-free. By sharing a portion of your future earnings with Watson, you'll be able to finance your education without the burden of traditional student loans.
To provide flexibility, Watson allows you to choose the amount you're comfortable sharing through their Revenue Sharing Agreement (ISA) Table. Simply move the slider to explore the range of options available and select the one that best suits your needs and financial circumstances.
At Watson, they believe in empowering students like you to pursue your dreams without being hindered by financial constraints. Take advantage of these valuable opportunities and embark on an enriching educational journey at the Watson Institute, where your success is your priority.
Eligibility
Attention, future trailblazers, leaders, and social entrepreneurs! The call is out for individuals who are ready to embark on a groundbreaking educational journey, shaping the next generation of innovation and positive change.
If you're someone who has a genuine commitment to social or environmental causes that permeate every aspect of your life, then this opportunity is tailor-made for you. The Watson Institute is seeking individuals with exceptional academic backgrounds, specifically in the realm of social impact and innovative ventures. They want to hear from those who have a proven track record of making a difference and who are bursting with innovative ideas.
While the applications for the Fall 2023 programs have closed, fear not! You can still explore your options and find out more about their extended-term policy. Simply send an email to [email protected] to inquire and gather additional information.
At the Watson Institute, they are passionate about nurturing the potential of individuals like you who are driven to create a positive impact on society and the environment. They understand the importance of education as a catalyst for change and are dedicated to providing a platform for aspiring change-makers to thrive.
So, if you're ready to pioneer your education, ignite your passion for social impact, and embark on a transformative journey, reach out to them today. Don't miss this chance to be part of a community that shares your vision and is committed to empowering the leaders of tomorrow. The possibilities are endless, and your journey awaits!
How to Apply
Ready to take the next step? Applying online is a breeze! Simply visit their website and click on the link provided to access the application form.
Now, here's an important detail to keep in mind: application deadlines can vary. But don't worry, just head over to their website to find the most up-to-date information about the application dates. It's always a good idea to double-check and stay informed.
So, get ready to embark on an exciting journey! Take a few moments to complete the online application and seize the opportunity that awaits you. Remember, the future is within your reach, and this is your chance to make it happen. Don't hesitate, to start your application process today!