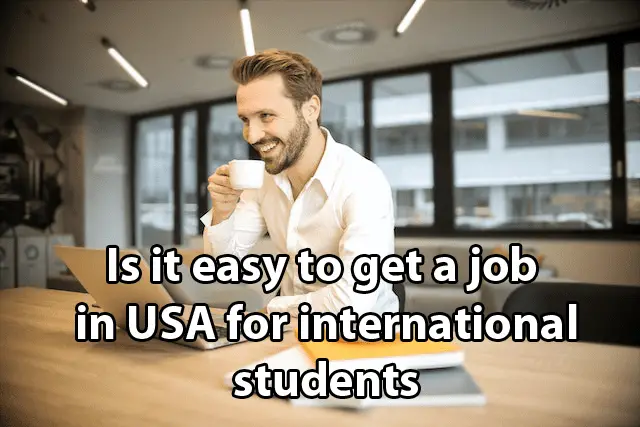 Understanding the Job Market for International Students in the USA
The job market for international students in the USA is a dynamic and complex landscape. As global talent continues to seek opportunities in the United States, it is essential to understand the factors that shape the job market for this specific group. One key aspect to consider is the current economic climate, which affects the overall job availability and competition. Additionally, the field of study and level of education can play a significant role in determining the opportunities available. International students with degrees in STEM (Science, Technology, Engineering, and Mathematics) fields often have an advantage, as these areas are in high demand and offer promising career prospects. On the other hand, students in non-technical fields may face a more challenging job search process, as they may need to demonstrate the relevance of their skills to potential employers.
Aside from these factors, another crucial consideration is the influence of immigration policies and regulations. International students are subject to various visa constraints that affect their ability to work in the USA. The different types of visas, such as F-1 or J-1, come with specific rules and limitations on employment. For example, F-1 visa holders can typically work on-campus during their academic program and may be eligible for Optional Practical Training (OPT) after graduation. However, understanding the nuances of these regulations and deadlines is essential for international students planning their career trajectory in the USA. By gaining a comprehensive understanding of both the economic landscape and immigration policies, international students can navigate the job market more effectively and make informed decisions about their career path in the United States.
Exploring the Opportunities Available for International Students in the USA
There are numerous opportunities available for international students in the USA to enhance their career prospects and gain valuable work experience. One such opportunity is participating in internships and co-op programs. These programs allow students to work in a professional setting, gaining hands-on experience and developing important skills that are highly sought after by employers. Internships and co-op programs also provide a chance to network with professionals in the industry, which can lead to job offers and references for future employment. Additionally, these opportunities often provide a platform for international students to showcase their talents and prove their abilities to potential employers.
Another avenue for international students to explore is campus career services. Many universities have dedicated career centers that offer a range of resources to support students in their job search. These services often include resume and cover letter reviews, mock interviews, and workshops on career development. Career centers also typically host job fairs and recruitment events, giving international students access to a variety of employment opportunities. By taking advantage of these resources, international students can gain insights into the job market, polish their job application materials, and learn valuable strategies for success in the USA job search process.
Challenges Faced by International Students in Securing Employment in the USA
Securing employment in the USA can be a daunting task for international students due to several challenges they face. One significant hurdle is the lack of familiarity with the local job market. International students may not be aware of the specific industries, companies, or job opportunities available in the country, making it difficult for them to navigate the job search process effectively. Moreover, they might lack knowledge about the cultural norms and expectations related to job applications and interviews, which further compounds the challenge of securing employment. Limited knowledge about job search platforms and networking events also adds to the complexity of finding suitable job opportunities.
Another notable challenge for international students is the language barrier. Proficiency in English is crucial for job applications, resume writing, networking, and interviews. International students may face difficulties in effectively communicating their qualifications and experiences due to language constraints. Moreover, cultural differences in communication styles and expectations can also affect their ability to connect with potential employers and demonstrate their skills confidently. The language barrier can often hinder international students' chances of securing employment, even if they possess the necessary qualifications and experience. Therefore, overcoming these language and cultural barriers becomes imperative for international students seeking employment in the USA.
Overcoming Language and Cultural Barriers in the Job Search Process
In the job search process, international students often face language and cultural barriers that can impact their ability to secure employment in the USA. Language proficiency is a crucial aspect of finding a job, as it directly affects communication with employers and colleagues. International students who are not native English speakers may struggle with verbal and written communication, which could hinder their chances of landing a job. However, there are effective strategies to overcome these barriers.
One way to improve language skills is to enroll in language courses or programs offered by universities or language schools. These programs provide opportunities to enhance vocabulary, grammar, and pronunciation, making international students more confident in their communication abilities. Additionally, engaging in language exchange programs or finding native English speakers as conversation partners can help improve speaking and listening skills. Becoming an active member of language clubs or participating in Toastmasters International, a leading organization for developing effective communication and leadership skills, can also be beneficial. By taking proactive steps to improve their language proficiency, international students can effectively bridge the language barrier in the job search process.
The Importance of Networking for International Students Seeking Employment in the USA
Networking plays a crucial role in the job search process for international students seeking employment in the USA. Building professional connections and relationships can open doors to potential job opportunities that may not be advertised publicly. By networking, international students can tap into the hidden job market, which includes positions that are not widely advertised or even created specifically for the right candidate. This is particularly important for international students who may face additional challenges in securing employment due to visa restrictions, language barriers, or unfamiliarity with the US job market. Engaging in networking activities allows international students to establish contacts within their desired industry, gain valuable insights and advice, and increase their chances of successfully finding employment in the USA.
One effective way for international students to network is by actively participating in career fairs, industry conferences, and professional networking events. These events provide opportunities for students to connect with employers, professionals, and alumni who can offer guidance and potentially refer them to job openings. Additionally, joining professional associations and student organizations related to their field of study can also be immensely beneficial. These platforms not only provide networking opportunities but also offer access to dedicated resources, workshops, and mentorship programs specifically designed to support international students in their job search journey. By proactively engaging in networking activities, international students can enhance their professional connections, broaden their knowledge of the job market, and increase their chances of securing employment in the USA.
Leveraging Internship and Co-op Programs for Career Success in the USA
Internship and co-op programs play a crucial role in setting international students on a path towards career success in the USA. These programs provide valuable opportunities for students to gain real-world work experience, develop industry-specific skills, and build a strong professional network. By participating in internships and co-op programs, international students can enhance their resumes, showcase their abilities to potential employers, and increase their chances of obtaining full-time employment in their desired field. These programs are particularly beneficial for international students as they provide a platform to bridge the gap between theoretical knowledge gained in academic settings and practical skills required in the workplace.
Internship and co-op programs also offer international students a chance to immerse themselves in the American work culture, familiarize themselves with workplace norms, and adapt to the professional expectations of their chosen industry. Additionally, these programs allow students to overcome language and cultural barriers by facilitating direct communication with professionals in their field. Through internships and co-op programs, international students can improve their English language proficiency, gain a deeper understanding of American business practices, and develop cross-cultural competence, all of which are highly valued by employers. Moreover, the structured learning environment provided by these programs enables international students to receive guidance, feedback, and mentorship from experienced professionals, thereby accelerating their professional growth.
Navigating the Work Visa Process for International Students in the USA
Navigating the work visa process can be a challenging task for international students studying in the United States. The U.S. immigration system has specific rules and regulations regarding employment eligibility for non-U.S. citizens. As an international student, it is crucial to be aware of the different types of work visas available and the requirements associated with each. Common work visas for international students include the Optional Practical Training (OPT) and the H-1B visa. Understanding the specific criteria, application process, and timelines for these visas is essential in successfully navigating the work visa process.
The Optional Practical Training (OPT) program allows international students to work in the U.S. for up to 12 months after completing their degree. This program provides valuable practical experience in the student's field of study and allows them to gain exposure to the U.S. job market. To apply for OPT, international students need to secure employment related to their field of study and apply for authorization from the U.S. Citizenship and Immigration Services (USCIS). It is important to note that there are specific guidelines and limitations associated with the OPT program, such as the requirement to apply within specific time frames and restrictions on the duration of unemployment. Additionally, some STEM (Science, Technology, Engineering, and Math) graduates may be eligible for a 24-month extension of their OPT.
Tips for Crafting an Effective Resume and Cover Letter as an International Student
When crafting a resume and cover letter as an international student, it is important to highlight your unique qualifications and experiences that set you apart from other applicants. Start by clearly stating your objective, including details about the type of position you are seeking and the skills you possess that make you a strong fit for the role. Tailor your resume to the specific job opportunity by using keywords from the job description, showcasing your relevant coursework or projects, and emphasizing any bilingual or multicultural skills you have.
In addition to highlighting your qualifications, it is crucial to format your resume and cover letter in a professional and easy-to-read manner. Use a clean and simple layout, and ensure that your contact information, education, work experience, and skills are clearly organized and easy to locate. Avoid using excessive jargon or technical terms that may not be familiar to employers. Instead, focus on describing your experiences and achievements in a concise and specific manner, using action verbs and quantifiable results whenever possible. By presenting a well-crafted resume and cover letter, you can effectively showcase your attributes and increase your chances of landing an interview in the competitive job market as an international student in the USA.
Strategies for Interview Success as an International Student Job Applicant in the USA
When it comes to interviewing for job positions in the USA as an international student, there are several strategies that can greatly increase your chances of success. Firstly, it is essential to thoroughly research the company and position you are applying for. This includes understanding the company's mission, values, and culture, as well as the specific requirements of the job. By doing so, you will be able to effectively tailor your responses during the interview and demonstrate your genuine interest in the role.
Additionally, it is crucial to practice and prepare for common interview questions. Familiarize yourself with behavioral and situational questions and think about how you can relate your past experiences to demonstrate your skills and abilities. It can also be helpful to practice interviewing with a friend or in front of a mirror to boost your confidence and refine your responses. Moreover, showcasing your enthusiasm, professionalism, and adaptability during the interview can leave a lasting impression on the employer. By demonstrating your eagerness to learn, contribute, and succeed in the role, you will significantly increase your chances of securing a job as an international student in the USA.
Resources and Support Available for International Students in the USA Job Search Process
International students in the USA have access to a wide range of resources and support to help navigate the job search process. One valuable resource is their university's career services office, which provides guidance on finding job opportunities, crafting resumes and cover letters, and preparing for interviews. Career advisors at these offices can offer personalized advice and assist international students in understanding the requirements and expectations of the US job market. Additionally, many universities organize career fairs and networking events where students can connect with employers who are open to hiring international talent.
Another helpful resource for international students is online job boards and professional networking platforms. Websites such as LinkedIn and Glassdoor provide a platform for students to showcase their skills and connect with potential employers. These platforms often have dedicated sections for international students, where they can find job opportunities tailored to their unique circumstances. Moreover, various organizations and associations cater specifically to international students and offer support in the form of mentorship programs, workshops, and webinars. These resources can provide valuable insights into the job search process, as well as offer networking opportunities to help international students forge connections in their desired industry.