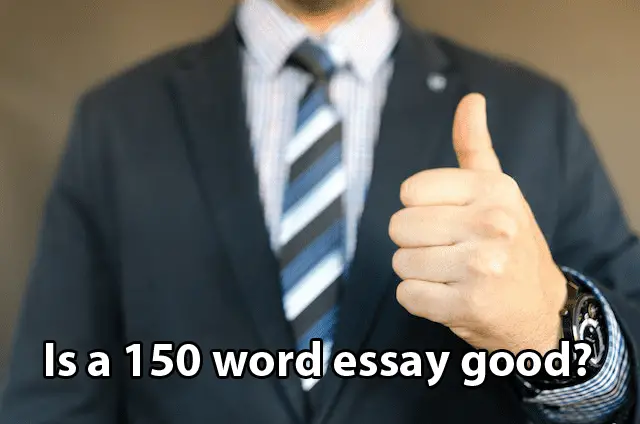 The Pros and Cons of Writing a 150 Word Essay
The task of writing a 150-word essay carries both advantages and disadvantages. On the one hand, the strict word limit forces writers to be concise and selective with their words. This can be beneficial as it encourages clarity and precision in one's writing. Additionally, the brevity of a 150-word essay often demands that the writer carefully considers their main point and supporting evidence, resulting in a more focused and cohesive piece of writing.
However, writing within such a confined word limit also poses certain challenges. The limited word count can feel restrictive, making it difficult for writers to fully develop their ideas or provide thorough explanations. Moreover, condensing thoughts and arguments into a concise format may lead to oversimplification or the omission of important details. Despite these drawbacks, mastering the art of writing within a 150-word limit can be a valuable skill, showcasing the writer's ability to convey information and ideas efficiently.
Understanding the Purpose of a 150 Word Essay
Understanding the purpose of a 150-word essay is crucial in order to effectively communicate your ideas within the given word limit. These short essays are often assigned in academic settings to assess a student's ability to concisely express their thoughts and arguments. With such a limited word count, the primary objective is to provide a clear and concise explanation or analysis of a topic, while still conveying the necessary information and maintaining coherence.
In a 150-word essay, it is important to focus on the key points and avoid unnecessary details or excessive examples. The purpose is not to provide an exhaustive exploration of a topic, but rather to present a concise overview or analysis. This type of assignment encourages students to develop their ability to distill complex ideas into their most essential components, honing their skills in critical thinking and effective communication. By understanding the purpose of a 150-word essay, you can approach the task with a clear objective and ensure that your writing is focused and concise.
Tips for Effective Writing in 150 Words
Effective writing in a 150-word essay requires careful consideration of the limited word count. One tip for achieving clarity and conciseness is to prioritize the information you want to convey. Start by identifying the main idea or thesis statement, and then focus on supporting it with relevant details and examples. By staying focused on the main idea and avoiding unnecessary tangents, you can ensure that your essay remains coherent and effectively communicates your point to the reader. Additionally, using strong and precise language can help you convey your message within the given word limit. Choosing words that are specific and impactful can make your writing more engaging and persuasive.
How to Structure a 150 Word Essay
When it comes to structuring a 150-word essay, brevity is key. With such a limited word count, it is important to create a concise and focused structure that effectively conveys your ideas. To begin, start with a clear and captivating introduction that grabs the reader's attention. This can be achieved by presenting a thought-provoking question or providing a brief background on the topic. Next, move on to the body paragraphs, where you should aim to include one main point or argument in each paragraph. Use relevant keywords and supporting evidence to strengthen your arguments and make your essay more convincing. Finally, conclude your 150-word essay by summarizing your main points and leaving the reader with a lasting impression. Keep in mind that the structure should flow seamlessly and cohesively, ensuring that each paragraph effortlessly transitions into the next. By adhering to a well-structured format, you can effectively convey your thoughts within the limited word count of a 150-word essay.
Being mindful of the word count is crucial when writing a 150-word essay. To achieve an effective structure, prioritize the most important points and present them in a logical sequence. Start by formulating a clear thesis statement that encapsulates the main idea of your essay. This statement should guide the rest of your writing, ensuring that each paragraph focuses on supporting and expanding upon the central argument. Additionally, make use of concise topic sentences at the beginning of each paragraph to provide a clear direction for the reader. Utilize transitions effectively to establish a smooth flow between paragraphs, enabling the reader to follow your thoughts effortlessly. Finally, be sure to allocate an appropriate amount of words for the introduction, body, and conclusion. A well-structured 150-word essay will effectively communicate your ideas in a concise and coherent manner, leaving a lasting impact on the reader.
Techniques for Concise and Clear Writing in 150 Words
Techniques for writing concisely and clearly in a 150-word essay require careful consideration and strategic use of language. Firstly, it is crucial to eliminate unnecessary information and focus on the main ideas. Each sentence should contribute to the overall purpose of the essay, making every word count. Use strong and precise vocabulary to convey your message effectively, avoiding unnecessary adverbs or adjectives that can clutter the text.
Secondly, structuring your essay in a logical and organized manner helps maintain clarity. Begin with a compelling introduction that sets the tone for the entire piece, followed by a focused body paragraph that presents your main arguments or ideas concisely. Ensure that each sentence flows smoothly and transitions seamlessly to the next. Finally, a succinct conclusion wraps up your thoughts and leaves a lasting impression on the reader.
By employing these techniques, you can create a concise and clear 150-word essay that effectively communicates your ideas while staying within the prescribed word count. Remember, practice makes perfect, so don't hesitate to revise and edit your work to polish your writing skills. Empower yourself with these techniques, and you will be on your way to mastering the art of concise and clear writing in 150 words.
The Importance of Editing and Proofreading in a 150 Word Essay
To ensure the quality and clarity of a 150-word essay, editing and proofreading play a crucial role. After completing the initial draft, it is important to thoroughly review the content for errors, inconsistencies, and readability. Editing allows for refinement of ideas, organization, and overall coherence in the limited word count. By carefully examining each sentence and paragraph, unnecessary words and repetitions can be eliminated, making the writing more concise and impactful.
Proofreading, on the other hand, focuses on identifying and correcting spelling, grammar, and punctuation mistakes. It helps in maintaining the professionalism of the essay and ensures that the intended message is conveyed accurately. A thorough proofread also helps in catching typos or errors that may have been overlooked during the writing and editing process. Overall, both editing and proofreading contribute to the effectiveness and credibility of the 150-word essay, ensuring that it meets the desired standards of clarity, coherence, and correctness.
Common Mistakes to Avoid in a 150 Word Essay
While writing a 150-word essay, it is important to be aware of common mistakes that should be avoided. One of the common mistakes is exceeding the word limit. It is crucial to adhere to the specified word count, as going over it can result in penalties or disqualification. To avoid exceeding the limit, it is recommended to plan and outline the essay beforehand, ensuring that each point is concise and to the point.
Another common mistake to avoid is using unnecessary or redundant words. In a limited word count, every word should contribute meaningfully to the piece. Therefore, it is essential to eliminate any superfluous words or phrases that do not add value to the overall message. Additionally, vague or ambiguous language should be avoided, as it can lead to confusion or misinterpretation. By using precise and clear language, the essay becomes more effective and allows the reader to easily understand the intended message.
Examples of Well-Written 150 Word Essays
Examples of well-written 150 word essays can serve as valuable guides for aspiring writers. These samples showcase the skillful use of limited words to convey a clear and concise message. For instance, in an essay about the impact of social media on society, a well-written 150 word piece might highlight the positive aspects like increased global connectivity and access to information. It may also touch upon the negative consequences such as privacy concerns and the spread of misinformation. Such an essay demonstrates the writer's ability to convey a balanced perspective within the prescribed word limit.
In another example, a well-written 150 word essay on the topic of climate change might emphasize the urgency of addressing this global crisis. The writer could skillfully present evidence on rising temperatures, extreme weather events, and their devastating consequences. By using precise language and impactful statistics, they effectively convey the severity of the issue within the limited word count. These examples of well-crafted essays illustrate the importance of selecting relevant information and employing concise writing techniques to deliver a powerful message within the constraints of a 150-word limit.
How to Expand or Condense Ideas in a 150 Word Limit
Expanding or condensing ideas within a strict 150-word limit can be a challenging task. To effectively expand your ideas, consider using descriptive language and providing specific examples. For instance, instead of simply stating that "technology has improved our lives," you could expand by explaining how advancements in technology have revolutionized communication, transportation, and healthcare. By elaborating on the various ways technology has impacted our daily lives, you can provide a more comprehensive understanding of your idea within the prescribed word count.
On the other hand, condensing ideas requires careful selection of the most crucial information. Start by identifying the main point or argument you wish to convey and removing any unnecessary details or redundancies. Use concise and precise language to deliver your message effectively. For example, instead of saying "There are numerous benefits to regular exercise, such as improved cardiovascular health, weight management, stress reduction, and increased energy levels," you could condense the idea by saying "Regular exercise offers numerous health benefits, including improved cardiovascular function, weight management, stress reduction, and increased energy." By eliminating unnecessary words and focusing on key points, you can effectively condense your ideas while still maintaining clarity and coherence within the given word limit.
Strategies for Meeting Word Count Requirements in a 150 Word Essay
When it comes to meeting word count requirements in a 150-word essay, it is important to employ strategic techniques to effectively convey your ideas within the limited space. One such strategy is to carefully choose your words and prioritize clarity over unnecessary details. By using concise and precise language, you can maximize the impact of your writing. Additionally, consider the structure of your essay and aim for a clear and logical flow of ideas. This can help you avoid wasting words on tangents or irrelevant information.
Another effective strategy for meeting word count requirements in a 150-word essay is to condense and consolidate your ideas. Rather than attempting to cover multiple points in depth, focus on presenting one or two key arguments or examples that support your thesis statement. This allows you to provide a succinct and focused analysis, avoiding the need to expand your discussion beyond the allotted word limit. Additionally, consider utilizing strong topic sentences and clear transitions to guide your reader through your essay and ensure each sentence contributes to the overall coherence and message of the piece.