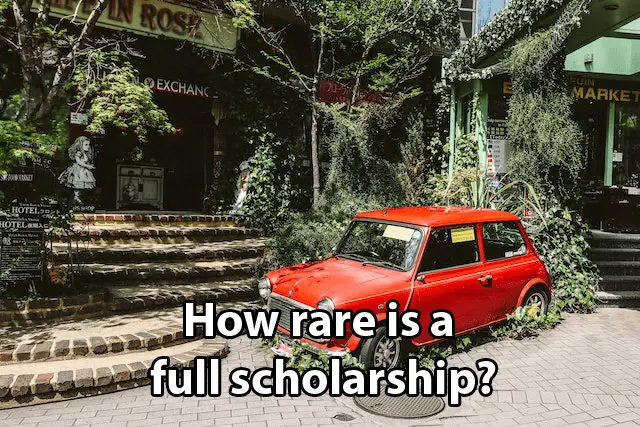 Understanding the Concept of a Full Scholarship
A full scholarship is a form of financial aid given to students that covers the entire cost of their education. It is essentially a gift or reward bestowed upon deserving individuals who have demonstrated exceptional academic achievements, talents, or skills. Unlike other scholarships, which may only cover a portion of the expenses, a full scholarship provides a complete waiver of tuition fees, room and board, books, and other related expenses. This type of scholarship is highly coveted and can open up immense opportunities for students who may not have the means to pursue higher education otherwise. Whether it is awarded by a university, government institution, or private organization, a full scholarship signifies recognition of a student's potential and provides them with the means to pursue their educational dreams without the burden of financial constraints.
The concept of a full scholarship is rooted in the belief that every deserving student should have equal access to quality education, regardless of their financial background. It aims to level the playing field and provides an opportunity for talented individuals to excel without the added stress of financial worries. Full scholarships are often competitive, as there are usually limited slots available and numerous applicants vying for them. Therefore, candidates must meet and exceed the rigorous eligibility criteria set by the scholarship provider. Academic excellence, community involvement, leadership qualities, and extracurricular achievements are some of the factors that scholarship committees consider when selecting recipients. Additionally, financial need may also be taken into account, although it is not always a prerequisite for being awarded a full scholarship.
Exploring the Types of Scholarships Available
Scholarships are a valuable resource for students seeking financial assistance to pursue their educational goals. There are various types of scholarships available, each tailored to different criteria and categories. One such type is the merit-based scholarship, which is awarded based on a student's academic achievements or outstanding talent in a particular field. These scholarships recognize and reward students for their hard work and commitment to their studies, encouraging them to continue striving for excellence.
Another category of scholarships is the need-based scholarship, which takes into consideration a student's financial circumstances. These scholarships aim to provide support to students who demonstrate a genuine need for financial assistance to fund their education. Need-based scholarships consider factors such as income, family size, and other financial obligations when determining eligibility. These scholarships provide opportunities for students from disadvantaged backgrounds to access higher education and pursue their aspirations without the burden of excessive financial constraints.
Factors That Determine Scholarship Availability
Scholarships are a highly sought-after form of financial aid that can significantly reduce the burden of educational expenses for deserving students. However, the availability of scholarships is not solely based on academic merit or financial need. Various factors come into play when determining scholarship eligibility and availability.
One crucial factor that affects scholarship availability is the organization or institution offering the scholarship. Different entities, such as universities, private foundations, or government agencies, have their own criteria and priorities when selecting scholarship recipients. Some may focus more on academic achievements, while others prioritize community involvement or specific talents or skills.
Another factor that influences scholarship availability is the target demographic. Many scholarships are specifically designed for certain groups of students, such as minorities, women in STEM fields, or individuals pursuing specific career paths. These scholarships aim to promote diversity, equal opportunity, and support individuals who may face unique challenges or barriers in accessing education.
Therefore, when seeking scholarships, students should thoroughly research and identify the scholarship programs that align with their specific characteristics, interests, and achievements. Understanding the factors that determine scholarship availability can help students better strategize their scholarship applications and increase their chances of receiving financial support for their educational pursuits.
The Competitive Nature of Full Scholarships
The race for full scholarships is fierce and highly competitive. With a limited number of scholarships available and an increasing number of qualified candidates, the competition becomes more intense each year. Scholarships are often awarded based on academic achievements, extracurricular involvements, leadership qualities, and community service. Applicants must showcase their unique strengths and abilities in order to stand out from the competition. It's a battle to demonstrate why they are the most deserving candidate and why they should be chosen over other highly qualified applicants. With so much at stake, the process to secure a full scholarship can be daunting and nerve-wracking.
Many factors contribute to the competitive nature of full scholarships. One key factor is the high demand for financial assistance in pursuing higher education. As tuition costs continue to rise, more and more students are relying on scholarships to afford their education. This has resulted in an influx of applications for these prestigious scholarships. Additionally, the prestige and recognition that come with receiving a full scholarship attract top-tier candidates from around the world. These exceptional students possess outstanding academic records, exceptional talents, and remarkable achievements, making the competition even tougher. As a result, the selection committees face the daunting task of choosing the most deserving individuals among a pool of extraordinary applicants.
Debunking Common Misconceptions About Full Scholarships
When it comes to full scholarships, there are several common misconceptions that need to be debunked. One misconception is that full scholarships are only awarded to students with exceptional academic achievements. While academic excellence is certainly a factor considered by scholarship committees, it is not the sole determining factor. Other factors, such as leadership abilities, community involvement, and unique personal circumstances, also play a role in the selection process. Therefore, students should not solely focus on their grades but should strive to showcase their diverse skills and experiences when applying for full scholarships.
Another misconception is that full scholarships are only available for undergraduate studies. While it is true that many full scholarships are awarded to undergraduate students, there are also full scholarships available for graduate and professional studies. These scholarships can cover the full cost of tuition, fees, and even provide a stipend for living expenses. Therefore, individuals pursuing postgraduate studies should not assume that they are ineligible for full scholarships and should actively search for opportunities that align with their field of study. By dispelling these misconceptions, students can gain a clearer understanding of the potential opportunities available to them through full scholarships.
Real-Life Examples of Individuals Who Have Received Full Scholarships
In the realm of full scholarships, there are numerous real-life examples of individuals who have attained this coveted opportunity. These individuals, hailing from diverse backgrounds and pursuing different fields of study, have demonstrated exceptional talent and dedication to their academic pursuits. One such example is Jasmine Nguyen, a high school student from a low-income family who received a full scholarship to attend an Ivy League university. Despite facing financial hardships, Jasmine's remarkable academic achievements and passion for learning positioned her as a prime candidate for this prestigious scholarship.
Another inspiring story is that of Michael Johnson, a first-generation college student from a small town. Michael's exceptional talents in athletics and an unwavering commitment to his studies led to him being awarded a full scholarship to a renowned university for his track and field abilities. From facing limited resources and a lack of opportunities, Michael's journey serves as a testament to the transformative power of full scholarships in providing equal access to higher education for promising individuals from diverse backgrounds.
These real-life examples highlight the opportunities that full scholarships can create for talented individuals who might otherwise face obstacles in pursuing higher education. The stories of Jasmine and Michael underscore the transformative impact of scholarships, not only in terms of empowering individuals but also in fostering a more inclusive and diverse society. Such success stories not only inspire others but also underscore the importance of recognizing and supporting exceptional talent and potential in all walks of life.
The Importance of Academic Excellence in Obtaining Full Scholarships
Academic excellence plays a pivotal role in obtaining full scholarships. When it comes to funding an entire education, organizations and institutions prioritize students who have demonstrated exceptional scholastic achievements. High grades, strong test scores, and a rigorous course load are often the minimum requirements to be considered for a full scholarship. Admissions committees and scholarship panels look for candidates who have consistently excelled in their academic pursuits and shown a dedication to learning.
Moreover, academic excellence not only demonstrates a student's ability to succeed academically but also reflects their work ethic, discipline, and commitment to self-improvement. Full scholarships are highly competitive, and applicants with outstanding academic records have a significant advantage over their peers. Achieving high grades and academic success implies a student's potential to contribute to the academic community and make the most of the educational opportunities provided by the scholarship. Therefore, academic excellence remains an indispensable factor in gaining access to full scholarships and securing a bright future.
Financial Need and Full Scholarships: Is There a Connection?
Financial need and full scholarships have often been considered to be directly correlated. The assumption is that students with significant financial need are more likely to be awarded full scholarships. However, while financial need is an important factor for many scholarship programs, it is not the sole determinant of whether a student will receive a full scholarship.
Scholarship committees take a holistic approach when evaluating applications, considering various factors such as academic achievements, leadership qualities, extracurricular involvement, and community service. While financial need may be one of these factors, it does not guarantee a full scholarship. Many scholarship programs also prioritize merit-based criteria, focusing on students who have demonstrated exceptional academic performance and potential. Consequently, students without significant financial need can still be awarded full scholarships based on their academic excellence and other qualities.
Strategies for Increasing Your Chances of Receiving a Full Scholarship
When it comes to increasing your chances of receiving a full scholarship, there are several strategies you can employ. First and foremost, maintaining a strong academic record is crucial. Most full scholarships are awarded based on merit, so it is important to excel academically to stand out from the pool of applicants. This includes earning high grades, taking challenging courses, and actively participating in extracurricular activities that demonstrate your commitment to learning and personal growth.
Another important strategy is to actively seek out scholarship opportunities and apply to as many as possible. Many organizations, institutions, and universities offer full scholarships, so it is essential to do thorough research and identify the ones that align with your goals and qualifications. Stay updated with scholarship websites, online platforms, and bulletin boards that regularly update information about available scholarships. Additionally, reach out to your school's guidance counselor, college fairs, or educational advisers who may have insights into specific scholarship programs that could be a good fit for you. Remember, applying to multiple scholarships increases your chances of success.
The Impact of Full Scholarships on Students' Lives
Full scholarships have a profound impact on the lives of students. Not only do they alleviate the financial burden of attending college, but they also provide opportunities for personal growth and achievement. Through full scholarships, students are able to focus on their education without the constant worry of how they will pay for tuition, textbooks, and other expenses. This financial stability allows them to fully immerse themselves in their studies and engage in extracurricular activities that enhance their overall college experience. As a result, they are more likely to excel academically, develop strong leadership skills, and participate in community service, all of which contribute to their personal and professional development.
Furthermore, the impact of full scholarships extends beyond the college years. By removing the financial barriers to higher education, these scholarships pave the way for students to pursue their career goals and make a lasting impact on society. Graduates who have received full scholarships are more likely to enter high-demand fields, such as medicine, engineering, and education, where their skills and knowledge can make a significant difference. They are also more likely to give back to their communities and support future generations of students by establishing scholarships or mentoring programs. The impact of full scholarships on students' lives is immeasurable, as it not only transforms their own futures but also contributes to the betterment of society as a whole.