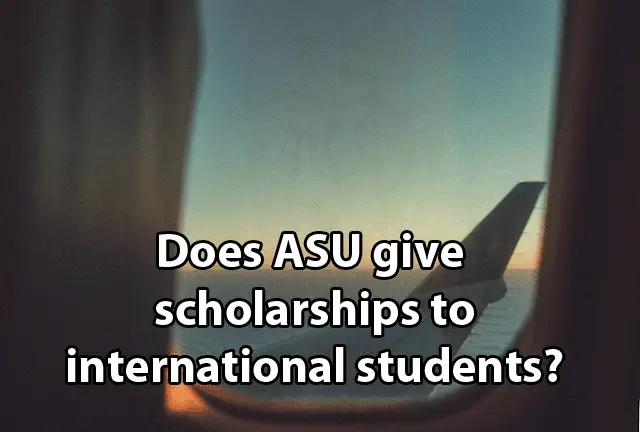 Understanding ASU's Scholarship Opportunities for Global Students
ASU, or Arizona State University, offers a range of scholarships specifically designed to support international students pursuing undergraduate and graduate programs. These scholarships aim to provide financial assistance, recognizing and rewarding academic achievements, leadership potential, and diverse backgrounds. ASU scholarships for global students are divided into different categories, offering opportunities for students from various countries and fields of study. By understanding the scholarship opportunities available at ASU, international students can take advantage of these resources to further their education and achieve their academic and career goals.
One category of scholarships available to international students at ASU is the Global Achievement Scholarships. These scholarships are awarded to highly accomplished students who have demonstrated exceptional academic performance, leadership skills, and a commitment to making a positive impact in their communities. The Global Diversity Scholarships, on the other hand, aim to support international students from underrepresented backgrounds who bring diverse perspectives and experiences to ASU's campus. Other categories include the ASU Leadership Scholarship, the ASU Merit Scholarship, and the ASU Signature Scholarship, each catering to specific criteria and providing unique opportunities for global students. These scholarships not only alleviate the financial burden of studying abroad but also empower international students to thrive and contribute to the ASU community.
Eligibility Criteria for International Students Applying for Scholarships at ASU
When applying for scholarships at Arizona State University (ASU), international students must meet certain eligibility criteria. These criteria may vary depending on the specific scholarship program, but there are some common requirements to consider. First and foremost, students must be admitted to ASU and have a valid student visa. Additionally, they must demonstrate academic excellence by maintaining a minimum GPA and providing official transcripts. Some scholarships may have additional criteria such as specific majors or areas of study, while others may require applicants to have participated in extracurricular activities or community service. It is important for international students to carefully review the eligibility requirements for each scholarship they are interested in to ensure they meet the necessary criteria.
In addition to academic and extracurricular qualifications, international students applying for scholarships at ASU may also need to demonstrate financial need. This is especially important for scholarships that are need-based or provide financial assistance to students from low-income backgrounds. Students may be required to submit financial documentation, such as bank statements or tax returns, to prove their financial situation. It is crucial for international students to carefully review the requirements regarding financial need and gather the necessary documentation to support their application. By meeting the eligibility criteria, international students can increase their chances of being considered for scholarships at ASU and furthering their educational goals.
Exploring the Types of Scholarships Offered by ASU to International Students
ASU offers a wide range of scholarships to international students, catering to various academic disciplines and backgrounds. One type of scholarship available is the Merit-based Scholarship, which recognizes the exceptional academic achievements of students. This scholarship is awarded based on a student's high school GPA or standardized test scores. It provides financial support to deserving students and helps them pursue their education at ASU.
Another type of scholarship offered by ASU is the Need-based Scholarship, which considers a student's financial need when awarding funds. This scholarship is designed to assist students who may not have the financial means to afford their education. It helps cover tuition fees, books, and other related expenses. ASU understands the importance of providing opportunities for students from diverse financial backgrounds, ensuring that financial constraints do not hinder their academic pursuits.
Tips for Finding and Applying for ASU Scholarships as an International Student
Scholarships can greatly assist international students in financing their education at ASU. However, finding and applying for these opportunities can be a daunting task. To simplify the process, there are a few tips that international students should keep in mind.
Firstly, it is crucial to thoroughly research the scholarships available at ASU. Begin by visiting the university's official website and exploring the dedicated section for scholarships. Look for scholarships specifically designed for international students, such as the Global Excellence Scholarship or the International Achievement Award. Additionally, consider scholarships offered by specific academic departments or colleges within ASU. Taking the time to understand the eligibility criteria and requirements for each scholarship will help in determining which ones are the most suitable.
Secondly, international students should maximize their chances of receiving a scholarship by improving their academic performance. Maintaining a high GPA and actively participating in extracurricular activities not only enhances scholarship applications but also showcases an individual's commitment to their studies. It is essential to highlight these achievements in application essays and supporting documents to stand out from the competition.
Remember, the scholarship application process can be competitive, so start early and be proactive in seeking opportunities. Stay organized, meet all deadlines, and make sure to carefully review and proofread your application materials before submission. By following these tips, international students can increase their chances of receiving scholarships at ASU and alleviate the financial burden of pursuing higher education.
How ASU Assesses and Awards Scholarships to International Students
ASU uses a comprehensive approach when assessing and awarding scholarships to international students. First and foremost, academic performance plays a crucial role in the evaluation process. Students with outstanding academic achievements, such as high GPA scores and strong standardized test results, have a higher chance of receiving scholarships. Additionally, the university also takes into consideration factors such as leadership potential, community involvement, and extracurricular activities. Demonstrating active involvement in clubs, organizations, or volunteer work showcases a well-rounded candidate, which increases the likelihood of scholarship support from ASU.
Another important aspect that ASU considers is financial need. The university understands that affordability is a significant concern for many international students. As a result, they have various need-based scholarships available to assist students who demonstrate a genuine financial need. Applicants are often required to fill out the Free Application for Federal Student Aid (FAFSA) or submit other supporting documentation to determine their eligibility for need-based scholarships. This ensures that ASU can allocate scholarships to students who require financial assistance the most. The combination of academic achievement and financial need allows the university to identify deserving individuals who will thrive at ASU and contribute positively to the campus community.
The Importance of Financial Aid and Scholarships for International Students at ASU
Attending a university can be a life-changing experience for international students, offering them opportunities for personal growth, new perspectives, and career advancement. However, pursuing higher education abroad can also come with a hefty price tag. This is where financial aid and scholarships become essential for international students at Arizona State University (ASU). Financial aid, such as grants, loans, and work-study programs, provide students with the necessary financial support to cover tuition fees, living expenses, and other educational costs. Scholarships, on the other hand, offer a unique advantage for international students, as they provide financial assistance that does not need to be repaid.
The importance of financial aid and scholarships cannot be overstated, as they play a crucial role in enabling international students to access quality education at ASU. Many international students come from diverse backgrounds and may face financial barriers to pursuing their academic dreams. Scholarships provide opportunities for these talented individuals to overcome such obstacles and thrive in their chosen academic fields. Moreover, scholarships not only alleviate the financial burden but also recognize and reward students' achievements and potential. They serve as a motivation for international students to excel academically and actively contribute to the university community.
Success Stories: International Students Who Received Scholarships at ASU
International students, regardless of their academic background or financial situation, often aspire to receive scholarships to pursue their higher education dreams. At Arizona State University (ASU), numerous international students have been fortunate enough to receive scholarships that helped them overcome financial barriers and achieve their academic goals. One such success story is that of Ahmed, an ambitious student from Egypt, who was awarded the prestigious ASU Global Scholarship. This scholarship not only covered Ahmed's tuition expenses but also provided him with a generous stipend for living expenses. With the financial burden lifted, Ahmed was able to fully immerse himself in his studies and actively participate in various campus activities, fostering his personal and academic growth. His dedication paid off, and Ahmed graduated with honors, ready to embark on a rewarding career in his chosen field.
Another inspiring success story is that of Mei Ling, a determined student from China who was awarded the ASU Leadership Scholarship. Mei Ling's journey to ASU was not an easy one, as she faced significant financial obstacles. However, with the support of the scholarship, Mei Ling was able to pursue her passion for leadership and make a meaningful impact on campus. Through her involvement in student organizations and community service, Mei Ling developed invaluable leadership skills and was recognized as a role model among her peers. The ASU Leadership Scholarship not only provided Mei Ling with the necessary financial assistance but also opened doors to countless opportunities for personal and professional growth. Today, Mei Ling remains grateful for the scholarship, as it has shaped her into a confident and competent leader, ready to make a positive difference in society.
These success stories of international students who received scholarships at ASU are a testament to the university's commitment to providing an inclusive and supportive environment for all. ASU's scholarships have not only assisted these students financially but have also empowered them to pursue their dreams and leave a lasting impact on their communities. As we explore the various scholarships offered at ASU for international students, it becomes apparent that financial aid plays a vital role in enabling students to thrive academically and pave the way for a brighter future.
Frequently Asked Questions about ASU Scholarships for International Students
Q: What are the eligibility criteria for ASU scholarships for international students?
A: The eligibility criteria for ASU scholarships vary depending on the specific scholarship program. Generally, international students must be admitted to ASU as degree-seeking students and maintain full-time enrollment status. They should also demonstrate high academic achievement, strong leadership skills, and active involvement in extracurricular activities. Additionally, some scholarships may have specific eligibility requirements, such as financial need, major-specific criteria, or geographic preferences. It is essential for international students to carefully review the eligibility criteria for each scholarship they are interested in to determine their suitability.
Q: Can international students apply for multiple scholarships at ASU?
A: Yes, international students are encouraged to apply for multiple scholarships at ASU. However, it is crucial to note that each scholarship program may have its own application process and requirements. Students should carefully read the application instructions for each scholarship and submit all necessary documents and materials within the specified deadlines. It is also advisable to prioritize scholarships based on eligibility and align them with individual academic and career goals. Applying for multiple scholarships increases the chances of receiving financial aid to support the academic journey at ASU.
Resources and Support Available to International Students Applying for ASU Scholarships
One of the key resources available to international students applying for ASU scholarships is the Office of Scholarships and Financial Aid. This office serves as a central hub for providing guidance and support throughout the scholarship application process. The staff at the Office of Scholarships and Financial Aid are well-versed in the various scholarship opportunities offered by ASU and can help international students navigate the application requirements and deadlines. They can also provide information about additional financial aid options and connect students with resources to help fund their education.
In addition to the Office of Scholarships and Financial Aid, ASU offers various support services to assist international students in their scholarship application journey. The International Students and Scholars Center (ISSC) is a valuable resource for international students, providing guidance on immigration regulations, cultural adjustment, and academic success. The ISSC offers workshops and training sessions specifically designed to help international students understand the scholarship application process and improve their chances of securing funding. Furthermore, the academic advisors and faculty members at ASU are always accessible and ready to provide guidance and mentorship to international students throughout their scholarship application journey.
Making the Most of Your ASU Scholarship: Tips for International Students.
When it comes to maximizing your ASU scholarship as an international student, there are several tips that can help you make the most of this opportunity. First, it is essential to familiarize yourself with the terms and conditions of your scholarship. Understanding the requirements, obligations, and any restrictions will ensure that you maintain eligibility and make informed decisions throughout your academic journey. Additionally, staying organized and proactive is key. Take the time to create a calendar or plan to stay on top of deadlines, renewal requirements, and any paperwork or documentation that may be requested.
Another important tip is to take advantage of the resources and support available to you as an international student at ASU. The university offers various services, such as academic advising and career counseling, that can help guide you towards success both during your studies and beyond. Additionally, consider joining student organizations or clubs related to your field of interest. Not only will this allow you to build a network, but it can also enhance your overall experience at ASU. Lastly, don't forget to express your gratitude. Sending a thank you letter or email to the scholarship committee or donor can leave a lasting impression and potentially open doors for future opportunities. Remember, your ASU scholarship is not just financial support, but also a chance to grow and thrive as an international student.