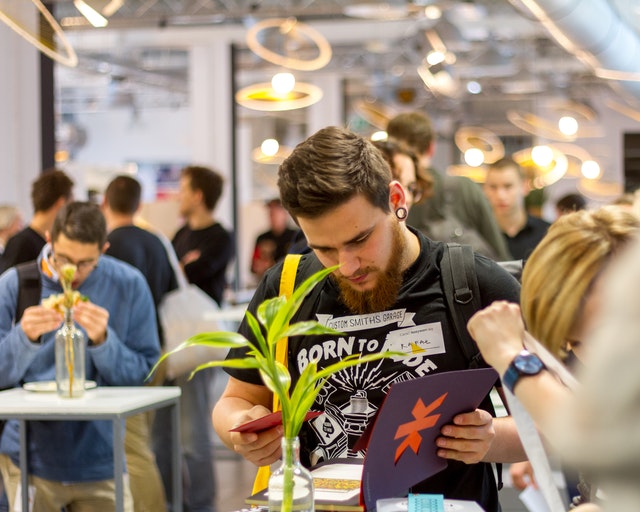 A-level scholarships for international students
If you are an international student seeking financial support to attend college abroad, first check with the student financial aid office at the college to which you applied. This office is in charge of helping students identify sources of financial support, both inside and outside the university, specifically focused on foreign students.
You should go to the following institutions and groups with which you have had a relationship to investigate the possibilities of obtaining scholarships through them:
Government agencies of your country, including education, arts and culture, health, scientific research, etc., as they may have scholarship programs for studies in the United States
Faculty or department in which you plan to study
Local college graduate groups
Community, civic, or religious organizations
Businesses or corporations that employ you, your parents, or your spouse
Most scholarships and education grants awarded by US foundations are for US citizens and residents; there are few sources of support for international students. However, since there are opportunities focused on students from all over the world, you should thoroughly investigate all of these possibilities.
To begin your search for grants from US private foundations, corporations, and public foundations, use the search feature on our scholarship database.
Do you want to study in one of the best universities abroad? In this article, I will list the best international-a-level scholarships in the world in 2022 for students from developing countries and other parts of the world.
The best universities in the world can be found in different parts of the world: the United States, Australia, Canada, United Kingdom, Netherlands, Switzerland, Sweden, Italy, and France, many of these best universities offer scholarship programs for outstanding international students.
1. International Leader of Tomorrow Award at the University of British Columbia (Canada)
The award is open to new international undergraduate students applying to study at the university.
This scholarship offers talented international high school and post-secondary students from developing countries the opportunity to study at the prestigious University of British Columbia (UBC).
The award ranges in value up to the full cost of the program and applicants' living costs. The value of each award will depend on the financial need of the applicant.
The awards will be renewed for up to three additional years of university study or until the completion of the degree.
2. Get Oxford Scholarships (UK)
This approach of « Scholarship offers students from developing countries, who due to poor education facilities, political unrest, or financial reasons are unable to pursue university studies in their home country. The scholarship will cover college and university expenses, take care of living expenses, and one return ticket per year.
3. Denys Holland Scholarship at University College London (UK)
This is one of the international a-level scholarships available for students from developing countries. The Dutch Denys offers scholarships to university students from any country who without a scholarship will not be able to finance their studies at the University of London (UCL). The scholarship is worth $9000 per year which recipients can use all or part of the tuition costs.
4. University of Canterbury First Year International Scholarships (New Zealand)
This is also an international university scholarship. The UC First-Year International Scholarship is one of the ways the University of Canterbury helps excellent international students starting their undergraduate studies to finance their studies. 
The scholarship is currently awarded with values ​​of $10,000, $15,000 or $20,000.
5. University of Bristol International Office Scholarships (UK)
The scholarship offered is worth £8,00-12,000 which can go towards the cost of tuition. The University of Bristol is one of the best international universities in the world offering these International Office Scholarships to new international students who wish to pursue an undergraduate or postgraduate program at the University.
Monash University International Merit Scholarships (Australia)
Outstanding international students who wish to pursue an undergraduate or postgraduate degree at Monash University are offered a number of scholarship programs, including the Monash University International Merit Scholarships.
This scholarship is worth up to $50000 based on a five-year course.
Utrecht University Excellence Scholarships (Netherlands)
Utrecht University one of the best international universities offering some of the world's scholarships offers Utrecht University Excellence Scholarships to outstanding prospective students who want to pursue a Bachelor or Master's degree in various fields from Utrecht University.
The scholarship award will cover tuition and living expenses of 11,000 euros each year.
University of Bologna Study Scholarships for International Students (Italy)
The University of Bologna, one of the most famous international universities in the world, known for awarding scholarships, offers deserving international students who wish to enroll in the first cycle (bachelor's), second cycle (master's), or single cycle programs in the University of Bologna. .
Each scholarship awarded for an academic year amounts to a total of €11,059 gross of all expenses in the beneficiary's account.
Clarendon Scholarships at Oxford University (UK)
The Clarendon Fund is a major postgraduate scholarship program at the University of Oxford, offering around 140 new scholarships each year to eligible postgraduate applicants (including international students). 
Clarendon Scholarships are awarded on the basis of academic excellence and potential in all degree subjects at the postgraduate level at the University of Oxford.  
All Clarendon Scholarships cover full tuition and university fees and a generous grant for living expenses.
Gates Cambridge Scholarships (UK)
The Gates Cambridge Scholarships is one of the World Scholarships that offer full-cost awards for postgraduate study and research in any subject available at the University of Cambridge. 
These international university scholarships are open to all international students from around the world. A Gates Cambridge Scholarship covers the full cost of studying at Cambridge, namely: university fees, maintenance allowances, airfare, etc.
Edinburgh Global Online Distance Learning Scholarships
The University of Edinburgh is one of the best scholarship universities that will offer 4 scholarships for any distance education master's program offered by the University. 
Each scholarship will cover full tuition and will last for three years.
Developing Solutions Scholarships at University of Nottingham (UK)
Are you from Africa, India, or one of the Commonwealth developing countries who want to study for a Masters's at the University of Nottingham? Developing Solutions scholarships are designed for you.
As one of the best universities in the world, each year 105 scholarships are awarded of which 30 are fully funded scholarships, while 75 will cover 50% of the tuition.
TU Delft Excellence Scholarships (Netherlands)
This scholarship is a fully-funded scholarship that covers full tuition and a monthly allowance. The Delft University of Technology, one of the best international universities in the world, offers a number of excellent scholarship programs for international students.
The Justus & Louise van Effen Scholarship is one such program and its aim is to financially support excellent international Master's students who wish to study at TU Delft.
Maastricht University High Potential Scholarships (Netherlands)
Maastricht University High Potential Scholarships is one of the world scholarships made available by the UM Scholarship Fund with the aim of encouraging excellent students from outside the EEA to pursue a master's program at UM.  
The online tool offers scholarships Tuition, living expenses, visa, and insurance costs.
Leiden University Excellence Scholarships (Netherlands)
The Leiden University Excellence Scholarship (LExS) program is open to outstanding students from outside the EU/EEA who enroll in a Master's program offered at Leiden University.
Scholarships come in the form of the following: €10,000 of tuition, €15,000 of tuition, or full tuition minus statutory tuition.
Erik Bleumink Scholarships at the University of Groningen (The Netherlands)
The Erik Bleumink Fund Scholarships are generally awarded for any 1- or 2-year Master's program offered at the University of Groningen.  
The scholarship covers tuition fees plus international travel costs, subsistence, books, and health insurance.
VU University Amsterdam Scholarship Program (Netherlands)
The VU Scholarship Program (VUFP) offers talented prospective students from outside the EU/EEA the unique opportunity to pursue a degree in a selection of Master's programs at VU University.
The scholarship is a tuition fee waiver and does not provide any additional allowance for study or living costs.
Amsterdam Excellence Scholarships (Netherlands)
The Amsterdam Excellence Scholarships (AES) award scholarships to exceptionally talented students from outside the EU to pursue eligible Master's programs offered at the University of Amsterdam. 
The AES is a full scholarship of €25,000 that covers tuition and living expenses.
University of Twente Scholarships (Netherlands)
The University Twente Scholarships (UTS) are scholarships for excellent students from EU/EEA and non-EU countries, who apply for a postgraduate program (MSc) at the University of Twente.
The scholarship amount is €6,000 – €25,000 for one year.
ETH Excellence Scholarships (Switzerland)
The ETH Excellence Scholarships are open to excellent students from both the ETH and other universities (national and international) who wish to pursue their master's degrees at ETH Zurich.
The scholarships consist of a full/partial grant that covers living and study expenses as well as a tuition fee waiver.
University of Lausanne Masters Scholarship for Foreign Students (Switzerland)
The University of Lausanne in Switzerland offers scholarships to international students who wish to pursue a Masters's at the University through the UNIL Masters Scholarships.  
The amount of the grant is 1,600 Swiss francs per month, from September 15 to July 15, for a duration not exceeding the statutory minimum period of the program.
University of Geneva Excellence Masters Scholarships (Switzerland)
The Faculty of Sciences of the University of Geneva, in collaboration with several sponsors, has established an Excellence Scholarship Program to support outstanding and highly motivated candidates who intend to pursue a Master of Science in any of the disciplines covered by the Faculty.  
The Scholarship of Excellence consists of a grant of CHF 10,000 to CHF 15,000 per year.
Lund University Global Scholarships for Non-EU/EEA Students (Sweden)
The Lund University Global Scholarship Program is a selective, merit-based scholarship program that recognizes the best academic students from outside the European Union/European Economic Area (and Switzerland) who wish to apply for a bachelor's degree or program master's degree offered at Lund University.
Scholarships can cover 25%, 50%, 75% or 100% of tuition. Does not cover living costs.
24. Emily Boutmy Scholarships for International Students at Sciences Po (France)
Sciences Po created the Emile Boutmy Scholarship after the founder of Sciences Po in order to attract the best international students from outside the European Union who are first-time applicants and have been admitted to an undergraduate or master's program offered in University.
The Emily Boutmy MSc program can take different forms ranging from €5,000 to €16,000 for 2 years of postgraduate study or €3,000 to €12,300 for 3 years of undergraduate study.
Canon Collins Thekgo Scholarships 2021/2022 for South African Students
Application Deadline: December 17 annually
Eligible Countries:
South Africa
To be taken in (country): South Africa
Eligible Fields of Study:
Languages ​​and Literature
Journalism
gender studies
To participate in this scholarship, you must be a citizen or have refugee status in any African country.
You must be accepted to study at a university in Limpopo and the North West provinces of South Africa in 2021, for a full-time program.
Applicants must be in their first year of an undergraduate degree and also show academic excellence.
Applicants must study a course within an area mentioned above and also show obvious financial need.
Scholarship Worth:
R7500
The actual amount to be awarded to individual successful applicants is decided by the scholarship board and committee, but it is always up to a maximum of R7500.
Apply Here
You can apply by sending your completed application form and other supporting documents to [email protected]
Get the form here.
University of Cape Town Mastercard Foundation Scholarships for African Students – Undergraduate and Postgraduate 2021/2022
Eligible Fields of Study:
Courses in Commerce, Engineering,   Built Environment, Health Sciences, Humanities, Law Firms or the Sciences.
The MasterCard Foundation works with UCT to monitor financial, academic, social, and undergraduate support for students at the University of Cape Town.
The goal of this program is to provide recipients with comprehensive financial aid and create a promising young generation.
This is to give them the courage, knowledge, skills, and leadership necessary to stimulate economic and social progress in Africa.
The program is aimed at young people with academic potential and economically disadvantaged.
It is a scholarship in South Africa but for students who are potential leaders in sub-Saharan Africa.
How to apply:
In order to enter the MasterCard Foundation Scholars Program, you must first apply to study at the University of Cape Town.
Applicants are encouraged to contact the relevant units to which the academic application will be sent.
Square Kilometer Array (SKA) Undergraduate Scholarship Program for South African Students 2021
Application Deadline: 31st July Annual. 
Eligible countries: South Africa
The aim and goal of the SARAO Postgraduate and Honors Block Grant program are to merge with South African universities, to increase the number of South African graduates available to conduct postgraduate research in areas important to SKA and also MeerKAT radio telescopes.
This is just your concise goal.
Eligibility:
SARAO will prefer applications from university departments to support at least four South African citizens or permanent residents studying any of the following degrees below.
Electronic Engineering (B.Eng)
Bachelor of Electrical and Electronic Engineering
Bachelor of Mechanical Engineering
Mechatronics Engineering (B.Eng)
Bachelor of Computer Engineering
Bachelor of Science in Mathematics, Applied Mathematics and Physics
Physics and Electronics (BSc)
Bachelor of Science in Astronomy, Astrophysics and Physics
Bachelor of Computer Science with a specialization in Mathematics Applied Mathematics.
Computer's science.
Prize Value: This student grant covers your cost of living, tuition, books, etc. for a year.
Complete your application here.