Scholarship details
The opportunity to apply for the 2024 Awards of Merit at Samford University is currently available!
Samford University, located in the USA, grants a special merit award to individuals who are interested in pursuing a degree program at the university. This unique program has been designed with the aim of acknowledging exceptional accomplishments in academics, community service, or active engagement within the community.
This program's central mission is to empower current students and alumni by providing them with the necessary tools to make effective decisions, set achievable goals, and foster personal growth. Additionally, the program is pivotal in guiding individuals toward valuable resources for exploring different career paths and nurturing their career development. This also facilitates connections between the broader Samford community and potential employers, opening doors to various career prospects.
Interested candidates must read this article carefully to ensure a successful application process. This comprehensive guide offers detailed insights into the eligibility criteria, mandatory requirements, and the application deadline. Refer to the table below for a quick overview of what to expect from this program.
By considering this valuable opportunity, individuals can set themselves on a path toward educational and personal success at Samford University.
About Samford University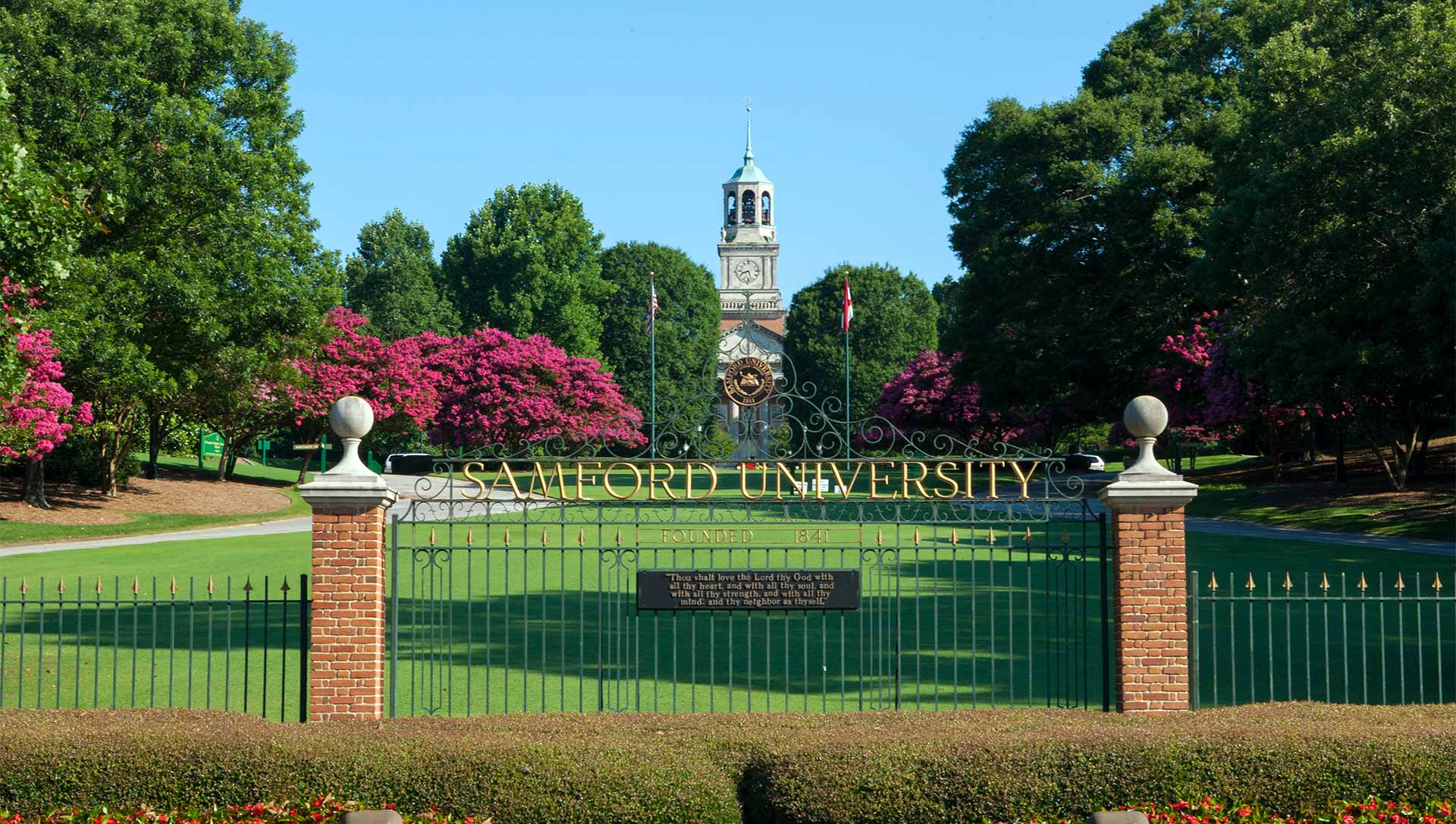 Image Source: Samford University
Situated in Homewood, Alabama, Samford University is a private Christian institution deeply rooted in its faith-based values. With pride, the university proclaims itself as the 87th oldest establishment for higher education in the United States, and this distinction will soon shift to the 86th position when its sister institution, Judson College, concludes its planned closure. Drawing in a diverse community of learners, Samford welcomes 5,729 students hailing from 47 different states and representing 30 countries across the globe.
At its core, Samford University is dedicated to offering a wide range of educational opportunities. Students can engage in undergraduate and graduate programs, choosing from an impressive array of 170 majors, minors, and specialized concentrations. This ensures that each individual can discover their own unique academic path.
Samford's campus is divided into distinct schools; each focused on specific areas of study. These include the School of Arts, the Howard College of Arts and Sciences, the Brock School of Business, the Beeson Divinity School, the Orlean Bullard Beeson School of Education, the Cumberland School of Law, the Moffett & Sanders School of Nursing, the McWhorter School of Pharmacy, the School of Health Professions, and the School of Public Health. This comprehensive range of schools allows students to explore various fields of interest while receiving a top-notch education.
The relationship between professors and students at Samford is noteworthy, with a faculty-to-student ratio 1:13. This close-knit environment encourages personalized attention and meaningful interactions. Notably, most of the university's classes—about two-thirds, in fact—have an intimate class size of fewer than 20 students. This fosters a conducive atmosphere for engaging discussions, collaboration, and in-depth learning experiences.
Samford University is a beacon of higher education, committed to nurturing its students' academic growth and personal development within a nurturing Christian community.
The Scholarship Value of the Merit Awards at Samford University
The educational fund being offered is a valuable opportunity for aspiring learners.
To be considered for this opportunity, applicants should possess a previous degree certificate that showcases outstanding academic performance. This demonstrates the candidate's commitment to excellence in their educational journey.
This opportunity is open to individuals from around the world. You can apply whether you're from the United States, China, India, or any other corner of the globe.
This educational fund is specifically designed for those aiming to pursue postgraduate studies. So, if you want to take your education to the next level after completing your bachelor's degree, this could be a fantastic opportunity.
Language skills are important in the pursuit of higher education. Therefore, applicants should provide proof of their English proficiency. This can be done through standardized tests like TOEFL or TOEFL iBT (Test Code 1302). If you're considering TOEFL, competitive admission will be extended to students with a minimum score of 90 for iBT or 575 for the Paper version.
Another option is the IELTS test, which assesses your English language skills. If you've achieved a minimum score of 6.5 on the IELTS, you'll be considered favorably during admission.
By meeting these requirements, candidates showcase their dedication to their studies and their ability to excel in an English-language academic environment. This opportunity can be the stepping stone towards a successful postgraduate journey.
How to Apply for Merit Awards at Samford University
Easy Steps to Apply:
Applying for this exciting opportunity at Samford University is a breeze. Here's how you can get started:
1. Create an Online Samford Account: Before anything else, having an online account with Samford is a great idea. This account will serve as your hub for all things related to your application process. If you've already begun your Samford/Common App Application for Admission, you can use the same login details to access this scholarship application.
2. Click the Application Button: Ready to take the next step? Just click the button below to be directed to the application page. It's a simple and straightforward process that puts you on the path toward potentially securing a Merit Award.
Important Application Deadline:
Make sure to mark your calendar! The deadline for applying for the Merit Awards at Samford University is December 1. This means you must complete and submit your application by this date to be considered for this valuable opportunity.
So, don't miss out on the chance to take a step closer to achieving your academic dreams. Create your online account, click the application button, and remember to submit your application before the December 1 deadline. Your journey toward a bright future starts with this simple application process.